Cycling can be an intense, competitive endeavour or a means of transportation. Despite its low impact, cycling is a healthy exercise that offers a variety of benefits.
There are also a variety of intensities, so people at all skill levels can experience it. The Capital Development Authority plans to construct bicycle paths in Islamabad.
Various projects for cycling tracks in Islamabad are underway, while others are already completed and in use.
Benefits of Cycling
Cycling offer several benefits, ranging from physical to positive psychological effects. We shall explore all of these benefits individually.
Leg strength can be improved by cycling
You can strengthen your leg muscles by cycling without overstressing your joints. Cycling improves general function in the lower body. Quads, glutes, hamstrings, calves, and thighs are all worked.
Consider lifting weights to make your legs stronger and improve your cycling performance. Squats, leg presses, and lunges are powerful weightlifting exercises.
Weight Loss is Boosted
Weight loss comes down to the simple equation of calories out minus calories in. Depending on intensity and rider weight, cycling burns between 400 and 1000 calories an hour. This means you will easily burn more calories than you consume in a day just by cycling.
Cycling will burn calories if you enjoy it. However, relying solely on this activity for weight loss may hinder results, which is why cycling should be coupled with eating right to see the best results.
Cycling is Low Impact
Due to its weight-bearing nature, running has a higher injury rate. As opposed to running, cycling requires no weight-bearing.
Long-distance runners endured 133-144 percent more muscle damage, 266 percent more inflammation, and 87% more DOMS when compared with cyclists.
Overuse injuries are less likely to occur with cycling, but they can still occur. Skimping here is a false economy if you're going to spend more on physiotherapy in the long run.
It is important to add a little strength training to your cycling program because cycling does not do as much for bone density as other sports.
Cycling Boosts Brain Power and Mental Health
When you are stressed, depressed, or anxious, cycling can help—concentrating on a road or your cadence when cycling can help you develop a sense of awareness and concentration. You may find that this helps take your mind off of your daily activities.
This is backed up by research. A study found that older adults who bike outside are more cognitively capable and feel better.
Spend at least 10 minutes on your bike if you feel lethargic, listless, or if you feel like your brain is working slowly.
Endorphins are released when you exercise, lowering stress levels while making you feel better. The study above found that exercising outdoors exacerbated these effects.
Once you include cycling in your daily life, you will feel more confident and happier.
Cycling Tracks in Islamabad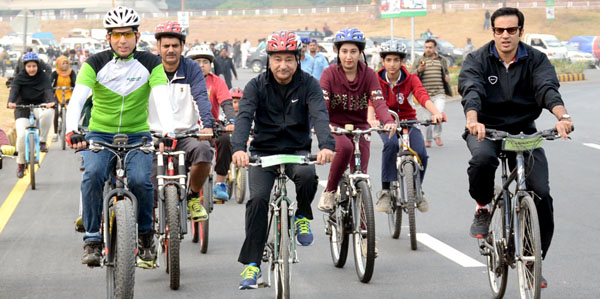 Some of the designated cycling tracks that have been announced by the authorities are as follows.
Gomal Road Cycling Track
There is a 700-meter cycle track along Gomal Road, which was developed in response to a demand from residents. In collaboration with the Machine Pool Organization (MPO), additional bike lanes were also created on Gomal Road.
If you are not sure where Gomal Road is, it is located in Sector E-7. There is a separate running track adjacent to the bicycle track in the capital for those who like to run or stroll.
Cycling tracks in Islamabad along the road provide cyclists with a safe route to ride at their own pace without driving behind them and honking.
Even a small error or carelessness can lead to a mishap when cycling in the middle of heavy traffic. There is thus no need to wait until the evening to enjoy a ride with your cycling partner on Gomal Road.
Shahra-e-Dastoor Track
The Shahra-e-Dastoor cycle track was the first for Islamabad; it was constructed in 2016. Once this was opened to the public, there were plans to create bicycle lanes on key highways for peddlers once this area was made accessible to the public.
F-8 Park Track
In collaboration with the Metropolitan Corporation of Islamabad (MCI), the Islamabad Capital Territory administration has constructed a cycling track in a mini-park of Sector F-8 to encourage positive activity for the locals.
The track is 900 meters long and costs around PKR 0.9 million to build. It's a great place to ride bicycles, especially for children.
Watching your children cycle on the road in a housing society can be worrisome for some parents. If kids enjoy recreational activities, even unsupervised, for a few minutes, a cycle track within a greenbelt and a boundary wall can alleviate safety concerns.
The park offers two advantages. As one example, you can encourage your children to participate in healthy physical activities by cycling, and two, you can walk in the park to maintain your health.
Faisal Avenue Track
The sudden onset of COVID-19 prompted people worldwide to pick up cycling as a hobby. There were no traffic jams, and the air quality was the best it had ever been. Many people in Pakistan followed the same trend and purchased new cycles if they did not already have one.
ICT, CDA, and MCI were prompt in announcing plans for cycling tracks at Faisal Avenue, Margalla Road, and Sector F-6 in response to the rise in cyclists on the roads.
Cycling tracks include lighting at night so that cyclists can ride safety. Some of the tracks were renovated; others were constructed completely from scratch. Construction has reportedly been completed on the Faisal Avenue track.
Kachnar Park Cycling Track
Despite being a relatively young park, it is important due to the good maintenance by CDA and the public. Sector I-8/3 and Islamabad Express form part of the green belt that surrounds the park. Many people around sector I-8 go out for recreation and exercise every day, especially in the evening.
Park residents hold several cleaning events every year to maintain the park's environment. Green trees surround the park. The park has two walking/jogging and cycling paths totalling 2.2 kilometres in length. Ideal for morning or evening walks.
Conclusion
As part of a program, public parks in Islamabad are being enhanced and repaired. Five parks in Sector D-12 will be constructed soon. In addition to dedicated lanes, these parks will include other amenities.
When the city was designated as the capital, cycling tracks in Islamabad were included in a master plan for its development, but they were never finished and fell into disrepair. They have now been restored to fulfil their original purpose.