Pakistan's one of the most tourist-attracted cities is none other than Lahore. From having sight of beautiful historical buildings to a variety of shopping and some fantastic food, Lahore has been the place.
Lahori culture has been more welcoming than any other. In recent times a lot of developments in the entertainment sector have been done in Lahore many entertainment parks and tourist attraction sites have been built.
In this blog, Graana.com lists down 18 fun places in Lahore you and your family can visit.
A List of Fun Places in Lahore
Joyland Park Lahore
source: Facebook
Joyland park located adjacent to the fortress stadium, Saddar Town is an amusement park established in the year 1977. In Lahore, Joyland is one of the largest recreation parks. The park makes sure that happiness comes to its visitors in all forms.
It is one of the best places to visit in Lahore with your family for fun rides not only for kids but for adults as well. From 4 pm to 12 am Joyland welcomes the public for a quality and fun time.
Race Course – Jilani Park
The racecourse is commonly known as Jilani Park located on the jail road opposite the Services Hospital. Lahore is mainly known for its beautiful parks and gardens, and Jilani Park is one of them.
The reason why it is also known as a racecourse is that it is popular for annual horse racing competitions. Beautiful artificial waterfalls and flower exhibitions have been a reason for attracting the general public and tourists for a beautiful sight.
Happy Chappies
If you are looking for fun places in Lahore for your young ones, Happy Chappies is the right place to visit. Located in sector Y, DHA phase 3, this entertaining place has a fantastic kids' play area with lots of fun activities such as a trampoline, imaginative play, slides, a music center, a car track, and so much more. Not only this, but Happy Chappies also has a fantastic cafe with delicious food.
Uptown LA bowling

Located at Lalik chowk sector R, DHA Phase 2, Uptown LA bowling is one of the fun places in Lahore to visit with your family. Bowling alley with almost 10 alleys. It is a Disney-themed area for you to visit with friends and family. They offer a variety of bowling packages which depend on how long you want to stay and play.
At uptown LA bowling you can also arrange birthday parties for which they have packages according to your number of guests. The second most famous thing at this place is its pizza which has always received amazing reviews and feedback
Sozo water park
Sozo water park located at Canal Bank Road, Lahore is an amusement place for kids and adults. It is popular for having several water slides, picnic spots, and joy rides. Sozo Water Park Lahore is the first park ever with a separate water area for ladies only.
If you are looking for fun places to visit in Lahore with a large group of friends or family, Sozo water park can easily accommodate as many people as you want to bring, it is a huge park.
Wonderworld
If you want to visit an indoor entertainment area, wonderworld is one of the fun places in Lahore to visit. It is located at Qarshi Road, Gulberg III Lahore. It is one of the most popular places for amusement in Lahore because of its central location.
It not only has impressive rides but some amazing foot outlets as well, because of its safe and secure environment, parents feel comfortable bringing their children here.
Mo's game and Bubble tea bar
source: TripAdvisor
If you are looking for a gaming zone in Lahore visit Mo's Game and Bubble Tea Bar is the best place to visit. It is Lahore's number one gaming hub with a very decent and sophisticated environment for families.
They have the latest games on Xbox X, Xbox One, Ps5, and Ps4. It is located in sector C of DHA phase 6. Not just this, this is Pakistan's first bursting bubble tea bar, therefore it is not a place to miss if you get a chance to visit Lahore.
Funco's Airpark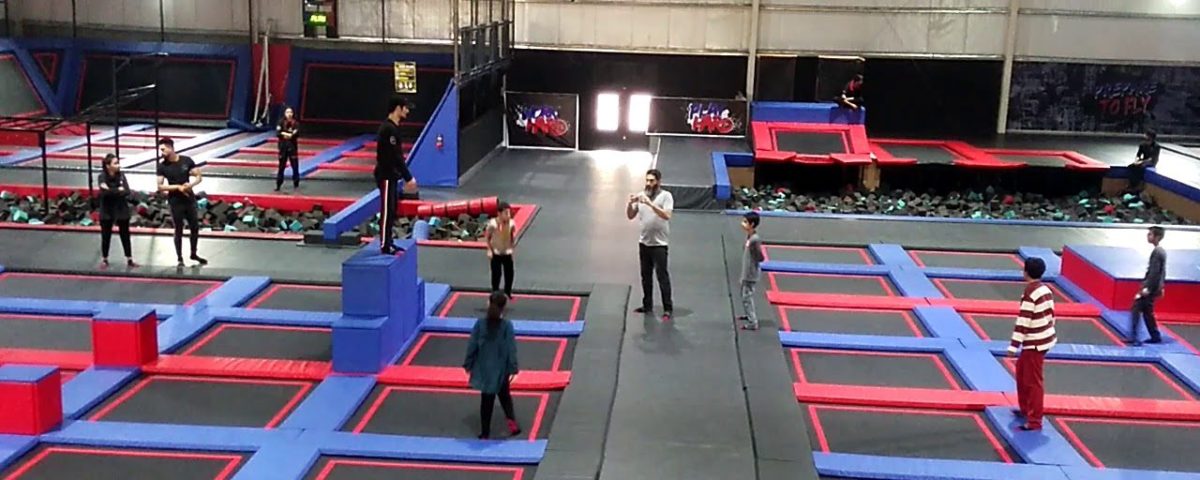 The largest trampoline play park in Pakistan is Funco's airpark located, opposite gate 6, packages mall, Nishtar Town Lahore. They offer a wide range of activities which include volleyball, boxing, dodgeball, foam pit, ninja warrior, and sky pod cardio wall.
The airpark also offers fitness classes, birthday party arrangements, and various promotions. The park offers 30, 45, and 60-minute passes for visitors.
Sindbad's land

Maintaining high standards of entertainment and a friendly environment, Sindbad's land is one of the fun places in Lahore. Located at This amazing place offers non-stop entertainment for everyone in a comfortable environment.
It consists of a 3D simulator and offers some great ventures like helicopter chase, paradise coaster, bumper cars, galaxy wars, and much more with an amazing food court and fun rides like log slide and dragon coaster.
The Oasis Golf and Aqua Resort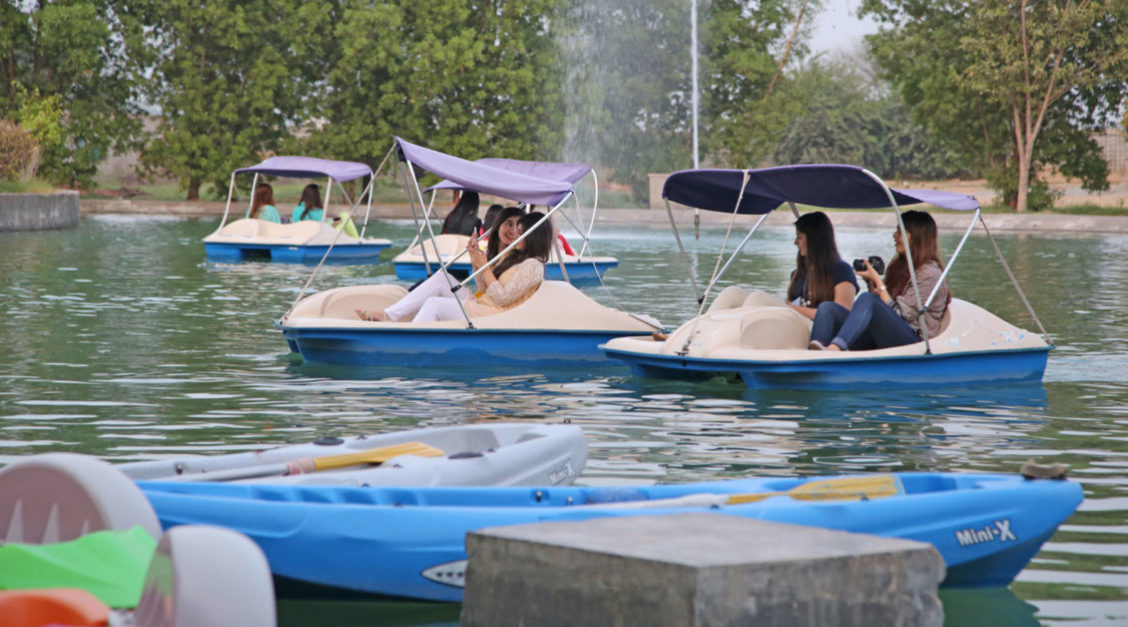 If you are looking for a serene environment with adventure and tranquility, Oasis golf and aqua resort is the right place to visit. It is a membership-based resort in Lahore located at Multan road. It welcomes its members seven days a week from 12 pm to 10 pm.
It comprises an artificial beach, water slides, small kiddy pool, not only this it also offers boating, tennis, and a video arcade for toddlers and adults. If you want to spend a memorable day with your family in Lahore, oasis golf and aqua resort is the right place to visit.
Funholics
From 10 am to 6 pm, funholics situated in packages and emporium mall provide a variety of fun activities. They offer a great facility of indoor cricket simulator and laser tag in a very comfortable and friendly environment.
The good news is, if you are planning to visit in a large group, funholics provide great discounts and deals for you. The ticket for both the activities is of the same price RS 500.
Air Safari
Lahore aerial joy ride by the travel and tours is one of the most popular and fun-filled activities to be done in Lahore. With this amazing startup now you can have an aerial view of Lahore in private aircraft and have a breathtaking view of Lahore with your family and friends.
The ticket price for the air safari is RS 6500 for one person for a 12 minutes ride, RS 12500 for 25 minutes and if you wish to sit on the co-pilot seat, it will cost RS 13000.
Tour bus
source: Charcoal+Gravel
A project by TDCP is a tour bus which is a great way of sightseeing. In beautiful vibrant colors, the double-decker buses are designed so that the customers can have an amazing experience.
The bus travels to the old and modern Lahore with a stop at Badshahi mosque where people can enjoy some amazing food.
Humpty Dumpty
An indoor family entertainment place in Lahore that welcomes people of all age groups. They have rides of various skill levels to engage everyone.
The activities Humpty dumpty offers include prize games, shooting games, simulators, basketball through the machine, redemption machines, and a lot more. It is located in Model Town, Zainab Towe
Emporium Mall
Emporium Mall, one of the top malls in Lahore, is a great place to visit in Lahore when you want to enjoy shopping and do some fun activities together. They have a fun factory park, bounce, and haunted dungeons.
Factory park in the emporium mall offers great fun activities and is Pakistan's largest indoor theme park. It has a carnival zone, dark city, fantasy land, and ice rink. It also gives a ride on the train inside the mall. The factory park offers great deals if you plan to visit with a large group of friends or family.
Bounce in emporium mall is a trampoline park and offers an amazing experience for both kids and adults both. If you want to do something crazy, it is the right place to visit. Haunted dungeons is a haunted house in the emporium mall for a thrilling and adventurous experience.
EMAC; Extreme Maneuvers Adventure Club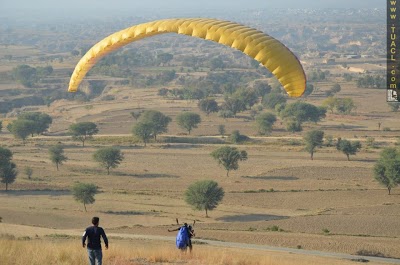 Located in Johar Town Lahore, is the largest adventure club company in Pakistan which provides some exciting opportunities for the people of Lahore. The club offers paintball war games, jeep safaris and air safaris, scuba diving and snorkeling, skydiving and parachute jumps, bungee jumping, and hot air balloon rides.
Transfinity VR

If you are someone who enjoys VR gaming, Transfinity VR is located at Fortress Stadium, Saddar Town Lahore. It welcomes the public from 12 pm to 12 am for an amazing experience.
It is a great place for adults to visit with friends and family. The ticket price for VR gaming is RS 100 for 30 minutes and RS 4500 for 3 hours.
Anarkali Bazaar
If you are a shopaholic and want to experience shopping with some amazing street food, the Anarkali bazaar is a great place to visit. It is one of the oldest places in Lahore, located at mall road.
Now it has been divided into two sections: the old and new Anarkali bazaar. Open from 9 am to 11 pm, Anarkali Bazaar welcomes the public for various shopping and yummy food.
Lahore has always been one of the places where you can find plenty of fun activities to be done with your friends and family. For more information such as Fun Places in Karachi and adventure places in Islamabad, visit Graana.com
FAQs
Which is famous thing in Lahore?
Lahore is a city rich in history, culture, and cuisine, and there are many things that make it interesting and unique. Some of the most famous and interesting things about Lahore are:
Lahore Fort and Badshahi Mosque: These are two iconic landmarks in Lahore that are known for their grand architecture and historical significance.
Food: Lahore is known for its delicious and diverse food, including street food, traditional Pakistani cuisine, and international dishes.
Parks and gardens: Lahore has several beautiful parks and gardens, such as Jilani Park, Shalimar Gardens, and Bagh-e-Jinnah, which are popular for recreational activities and picnics.
Cultural festivals: Lahore hosts several cultural festivals throughout the year, such as the Lahore Literature Festival, Basant Festival, and the World Performing Arts Festival.
Which is the best area in Lahore?
As for the best area in Lahore, it would depend on your personal preferences and requirements. Some of the popular residential areas in Lahore include DHA, Gulberg, Bahria Town, and Model Town, which are known for their modern amenities, security, and proximity to commercial areas. It's always recommended to do thorough research and consult with a real estate expert before making a decision.
Is Lahore safe for families to visit?
Yes, Lahore is generally safe for families to visit, but it's always recommended to take necessary precautions, such as avoiding crowded areas at night and keeping an eye on your belongings.
Can I find any outdoor activities in Lahore?
Yes, Lahore has several parks and gardens where you can enjoy outdoor activities, such as jogging, cycling, and picnicking. Some of the popular parks in Lahore include Jilani Park, Shalimar Gardens, and Bagh-e-Jinnah.