Dalazak Road is one of the busiest commercial areas of Peshawar. It is located east of the city, stretching from Bacha Khan Chowk to Islamabad-Peshawar Motorway. The locality is named after the Dalazak tribe, settled in this area.
Dalazak Road Peshawar is a great place to find all sorts of items, from clothes and jewellery to furniture and home appliances. In addition, there are also several banks and ATMs in the area. If you need to buy something or get your finances in order, Dalazak Road is the place to go.
The area is home to many educational institutions, including the Peshawar Model College, Westford Systematic School, Government College for Women, along with other schools. Several hospitals, including Emarat General Hospital and Tazkaar General Hospital, are located in this area. The locality has many markets, including Dalazak Bazaar and Sarhad Bazaar.
The road is a two-way road that vehicles heavily use, especially during rush hours. The road has a number of intersections which can cause traffic jams during peak hours. There are also a number of mosques and schools located on this road which add to the traffic congestion.
The Malik Saad Shaheed flyover and Jinnah Park are also adjoining Dalazak Road and at one end.
Moreover, the majority of the residents of Dalazak Road are middle to upper-middle-class families. There are a few high-end apartments for sale on Dalazak Road Peshawar. However, most of the houses for rent or sale on Dalazak Road are two- or three-storey. Also, the area is well-maintained and has a sound security system.
Restaurants on Dalazak Road
There are many available options on Dalazak Road for eating and munching. There are many Pakistani, Indian and fast food restaurants serving delicious cuisines.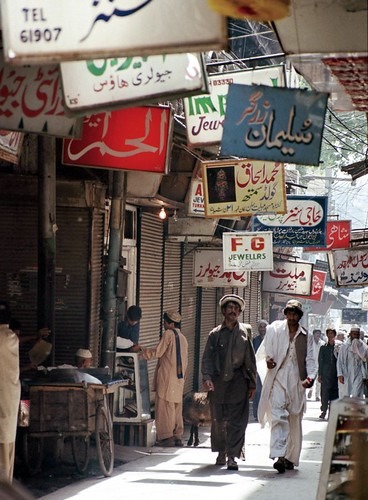 Some of the most popular restaurants on Dalazak Road include:
Bacha Kabab House

Mr MD Fast Food

Sher food Restaurant

Qadarmanad Restaurant

Pak Ghazi Biryani
Hospitals/Clinics on Dalazak Road
There are several hospitals and clinics located on Dalazak Road. The availability of these medical facilities is convenient for people who live or work in the area. Some of the hospitals and clinics on the road include
Family Health Centre

Haseeb Health Clinic

Dr Ali Clinic

Ayesha Maternity Home

Noor Maternity Home

Al Shifa Clinic

MMC General Hospital

Eastern Teaching Hospital
Schools & Colleges on Dalazak Road
There are many schools and colleges located on Dalazak Road. The most popular ones include
Westford Systematic School

The Oxford Education System

Farabi School System Chamkani

Shaheen Model School

Peshawar Model Girls High School
Ongoing Projects on Dalazak Road
| | | |
| --- | --- | --- |
| Project | Completion | Project Cost |
| Rehabilitation of Abbaseen Flour Mill Dalazak Road to Link Road Arbab Niaz Stadium Peshawar | 80% | 35.913 |
| Improvement of Dalazak Road from Bacha Khan Chowk to K.R.C. Yousafabad Peshawar | 15% | 59.599 |
| Improvement of Dalazak Road from Yousafabad to Ring Road Peshawar | 5% | 59.599 |
Price Trends of Dalazak Road
Following table enlists the price range of houses for sale on Dalazak Road Peshawar.
| | |
| --- | --- |
| Property Size | Price Range |
| 2-3 Marla | 50 Lac – 1.3 Cr |
| 5 Marla | 1 Cr – 3 Cr |
| 10 Marla | 1.5 Cr – 4.5 Cr |
| 1 Kanal | 4 Cr – 7 Cr |
Apart from houses and apartments for sale, you will also find budget-friendly options for the apartments for rent on Dalazak Road Peshawar.
Emergency Contact Numbers
| | |
| --- | --- |
| Department | Phone No |
| Chief Minister Complaint Cell | 091-9222460 |
| Chairman CM KP Complaint Cell | 0331-8596062 |
| Chairman Peshawar District Complaint Cell | 0314-9044205 |
| Police Complaint Cell | 8855 |
| Schools & Teacher Complaint Cell | 8889 |
| Revenue complaint cell (Patwar Khana) | 0345-9103799 |
| Tehsil Dar Complaint Cell | 091-9210553 |
| Transport & Transporters | 0321-9347630 |
| Traffic Police Complaint Cell | 8333 |
| Illegal Clinics & Unregistered Drug Store & Laboratories Complaint Cell | 091-9216922 |
| Khyber Pakhtunkhwa Terror Complaint Cell | 080057784 |
| Secretary Peshawar District Complaint Cell | 0346-9048844 |
| Commissioner Peshawar District Complaint Cell | 080091133 |
| Complaint on Shopkeepers & Milk Sellers | 8333 |