Hall Road is a well-known commercial district in Lahore that primarily features stores that sell a wide variety of electronics, including mobile phones, laptops, computers, audio and video equipment, along with various other accessories.
Hall Road is also renowned for markets that sell hardware and tools, printing supplies etc., in addition to electronics. It also has several dining establishments, including food stalls and restaurants that serve both Pakistani and international cuisines.
Graana.com gives a detailed overview of this popular market below.
History of Hall Road Market
Hall Road's history dates back to the British colonial era. The road was named after Sir James Hall, a British administrator who served in the region during the early 19th century.
The neighbourhood was once primarily used for residential purposes, with only a few stores catering to the residents. It eventually became a commercial district due to the boom in Lahore's economy and the rise in demand for electronics.
The road became the main electronics market in the city in the 1970s. Various products are now available here, including computers, audio and video gear, mobile phones, and other electronic devices.
It is one of the busiest marketplaces in Lahore, despite its old infrastructure and the rise of e-commerce, thanks to its reputation for providing high-quality goods at reasonable costs.
Location
Located in the centre of the city, Hall Road is easily accessible from all parts of Lahore. It begins at the junction of Nisbat Road and McLeod Road, and travels northwest towards Anarkali Bazar.
The Lakshmi Chowk metro station on the Orange Line Metro in Lahore is the closest metro station to Hall Road. With multiple bus routes passing by the region, the market is also conveniently reachable via public transport.
Things to Buy at Hall Road Market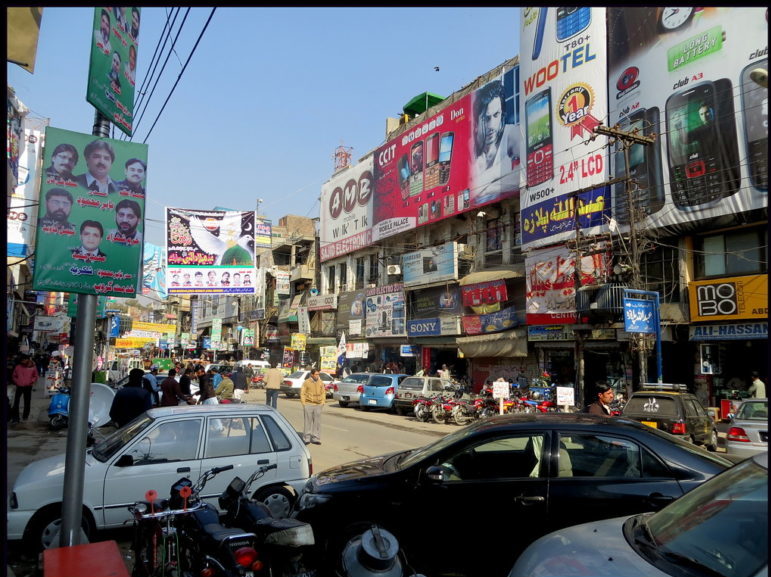 The following are some of the most popular items sold at Hall Road Market:
Mobile phones are available from various companies at Hall Road, including Samsung, Apple, Huawei, and Oppo. Prices for both new and secondhand phones are competitive.
You can find both new and old laptops here, from well-known manufacturers like Dell, HP, and Lenovo. If y ou are looking for best laptops in Pakistan, you should visit this market.
You can find a range of alternatives at Hall Road Market for audio and video equipment, including speakers, headphones etc.
It is also a great spot to buy electronic parts like transistors, resistors, and capacitors. The store owners can also help construct your electronic projects or fix malfunctioning equipment.
Hall Road is well-known for selling quality vehicle parts and accessories as well.
Investment Opportunities
Hall Road Market also presents many real estate investment opportunities, for instance, buying or renting out commercial properties like stores, showrooms, and warehouses.
Investing in commercial real estate, like a store or a showroom, can offer a reliable rental income or the chance to resell the property at a higher price. The location, size, and type of commercial property can affect the price at this Market.
Given the high demand for storage space, investing in a warehouse or storage facility can be profitable. Businesses of Hall Road Market frequently need storage space for their inventory, and purchasing a warehouse can offer a reliable rental income.
Investing in office space can also offer a reliable rental income and the potential for capital growth.
There are also some well-developed residential properties in the area, which can generate rental income or offer a higher return on investment.
In general, Hall Road Market's real estate investment opportunities provide a variety of choices to investors, with the potential for future capital growth and rental income.