Amidst the rapidly changing decor trends for furniture in homes, cane furniture has surged as a vintage and chic addition to home interiors. This handmade furniture embraces the old and classical craftsmanship that roots back to Indonesia.
Cane furniture is light, modern and ideal when it comes to handling. Adding just the right touch of cane furniture can enhance your interior space.
Graana.com— Pakistan's smartest property portal, brings you unique ideas that you can use for cane furniture in Pakistan. These ideas will help you quickly revamp your home by giving it a chic and vintage finish.
What Makes Cane Furniture a Good Choice?
Cane is a versatile material that offers strength and durability at economical prices. Compared to wooden furniture, cane furniture sets come around as a reasonable option.
In addition to this, the material is both tensile and lightweight, making it convenient to be used in homes.
Cane furniture has a bohemian yet trendy design, that blends in with both modern and vintage decors. Because of its durability to endure dust and humidity in all seasons, cane furniture is a great choice for homes.
Best Cane Furniture Ideas for Your Home
Now that cane furniture is making a comeback, interior design ideas with cane furniture are slowly being adapted in homes to give a unique edge to the interior.
Cane furniture materials have this characteristic weave pattern and classic dip-dye finish that gives off a vintage aura.
Cane Sofa Set
Cane sofa sets are an excellent choice if you're looking to make a serious style statement in your home. These cane sofas paired with luxury upholstery create an inviting aura that gives your room just the casual edge that it needs.
Rattan sofa sets are commonly used in areas where you expect casual sitting and gatherings; for instance in reading rooms, activity areas etc.
Cane Arm Chairs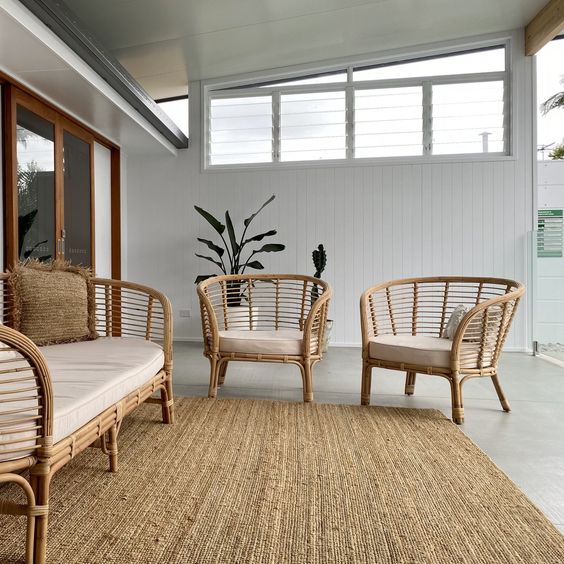 Cane armchairs are the perfect addition to your house interior. These bring in a natural element in a modern setting and are a comfortable and lightweight element.
Opt for the ones with contemporary, sharp silhouettes, or the curvy colonial-era designs. You can set them with Victorian cane furniture footrests of the same color.
Cane Swing
Cane, commonly referred to as Rattan, is very similar to palm trees. The vines of these are typically found in jungles. Unlike other trees that stand their ground, these require support from other trees in the face of storms and windy conditions.
Since Rattan is durable and tensile, this is a popular material that is used for making furniture. These are made by skilled laborers who make stunning pieces.
Cane Accessories and Home Decor
If you're looking for smart and vintage wall decor for your home, cane accessories are an excellent option to go for. These accessories come in the form of lamps, baskets, wall hanging planters, etc.
Rattan lamps add an elegant lighting effect to your bedroom. Besides this, cane mirrors are also becoming the new rage, especially in hotels, and in places by the beach.
Cane Storage Hacks
Using rattan cupboards will help bring in a lot of storage space to your home, especially for people who live in small spaces. These storage boxes can store extra cushions and linens.
The cane boxes are usually built as cane trunks or chests which double up as consoles. These are excellent for storing extra blankets in your bedroom.
Cane Baskets
Cane baskets are not only used for fruits and vegetables, rather they are an ideal storing compartment for your closets. If you're looking to organise your wardrobe and cupboards, cane baskets serve an excellent purpose along with being a reasonable option.
These cane baskets also make chic plant holders and organisers for miscellaneous items in the house such as magazines, toys, other handy items.
Cane Outdoor Furniture
Cane is a very popular material for outdoor furniture. This is because cane does not wear out in humidity, rain and winds, leaving it good as new.
The most popular cane furniture items that are used for patios and decks are the swing, daybeds, or hammocks.
Other than these, outdoor cane garden furniture is also commonly preferred to be used in home lawns and gardens since they are extremely convenient in terms of maintenance.
Cane Bed Sets — A Game Changer
Although cane bed sets are not a common feature in modern homes, they are an excellent choice for beach houses, and countryside residences where you need a convenient and lightweight furniture option.
It also gives a country chic and elegant vibe to your space. Because of this reason, cane bed furniture is now gaining a lot of popularity amongst modern homes.
Shades of Cane Furniture
If you're thinking shades of sand-colour for cane, then there's a twist for you— cane can be easily stained or painted in any shade.
This little touch of artistry instantly modernises your furniture, making it an expensive addition to your room.
Selecting a colour is entirely your own choice. You can easily select the shade that matches with the theme of your room or just go for a bold look overall. The variety of shades in cane furniture is a major plus when it comes to choosing this furniture type.
Pros and Cons of Cane Furniture
There are multiple reasons why cane furniture is a very popular choice in modern housing and interior settings. Let's find out what brought this back in the current fashion.
Advantages of Cane Furniture
Following are some prominent benefits of using cane furniture in homes.
Light in Weight
The light weight of the cane makes it ideal for moving around the house. As it requires less effort because of its weight, people tend to be inclined towards adding it to their houses.
Easy Maintenance
Contrary to wood, cane requires far less maintenance.
Besides the occasional polishing to maintain its beauty and shine, cane furniture retains its strength and beauty way better than any other materials.
Environmentally Friendly
Cane furniture material is environmentally-friendly because it is a naturally occurring material. To make this furniture, stems of large rattans are used that are commonly found in the wild.
Since this is a naturally occurring material, it blends in well with the climate conditions and storms making the furniture safe and secure for years to come.
Versatility of Cane
Cane material can easily be weaved into any shape and design which is why they come in unique sets of styles and cuts. This variety of designs in the material makes it a very crafty and elegant addition to your home.
Weather Resistant — Is Cane Furniture Waterproof?
Cane is an excellent material that withstands harsh weather conditions, no matter the scorching heat or the rainy weather. This is because of its water-resistance and rust proof properties.
All these advantages of cane make it an ideal option to be used as furniture for homes.
Disadvantages of Cane Furniture
With a long list of benefits for cane material in furniture, there are also a few drawbacks that need to be considered before making a final choice. Let's take a look.
Can Cost Higher than Other Materials
Although cane itself is not that high-end and expensive, the skill of weaving it into furniture that endures through heavy weight and climate is why this is expensive.
Cane furniture may seem costly because of the handcraft involved, however, it can be derived as a good investment rather than spending money on changing and repairing other furniture.
May Lose its Strength Over Time
A common problem amongst all cane items is that even though it lasts for years, the material may suffer from loosened weaving and knots over time. This happens because it endures a lot of pressure, and as a result loosens up.
Comparatively Less Comfortable
Where there is a unique fashion, there is bound to be another element commonly found; discomfort. Cane furniture cushions are a popular way that is opted to make it cosier.
Armchairs and sofas are often lined with seating cushions or upholstery to make it cosier, as these are typically less comfortable than other sofa chairs. However, the difference between wood and cane furniture is not drastic, which is why the latter is still becoming a common trend in homes.
Tips on Fixing Old Cane Furniture
Retouching and fixing old cane furniture is not a difficult task at all, but rather an easy DIY that can be done by anyone. Following are some tips you can follow to tweak and fix your old cane items.
If your cane weaving is fine, get the item polished to renew its look.
In case the weaving is loosened, remove all the old cane if possible.
Clean out the entire surface.
Soak the cane entirely in water for a good 30 minutes.
Now use that cane to weave again.
These useful furniture ideas and tips on cane will take you a long way when it comes to modern and stylish home furnishing. If you're looking for more home decor ideas, visit Graana Blog.