Pakistan Armed Forces hold the title of being one of the most efficient defence forces in the world. There are mainly three divisions of military forces in Pakistan i.e. Army, Navy and Airforce. Graana.com has come up with a detailed account of the naval, air force, and army ranks Pakistan below. 
Ranks of Serving Personnel in Pakistan Armed Forces
Before Pakistan gained its independence, India and its military forces spent many years fighting for the British. Hence, the nation's military is similar to the hierarchical system of the English forces. 
As a result, there are different ranks of officers in the army, navy, and air force, who lead the enlisted soldiers.
| | | |
| --- | --- | --- |
| Pakistan Army | Pakistan Navy | Pakistan Air Force |
| Second Lieutenant  | Midshipman | Pilot Officer |
| Lieutenant  | Sub Lieutenant  | Flying Officer |
| Captain | Lieutenant  | Flight Lieutenant  |
| Major | Lieutenant Commander | Squadron Leader |
| Lieutenant Colonel | Commander | Wing Commander |
| Colonel | Captain | Group Captain |
| Brigadier | Commodore | Air Commodore |
| Major General | Rear Admiral | Air Vice Marshal |
| Lieutenant  General | Vice Admiral | Air Marshal |
| General | Admiral | Air Chief Marshal |
Additionally, each rank has a unique military emblem that is displayed on the serving personnel's uniform shoulder. From one-star to four-star ranks, the highest positions are represented by the final four rows of each division.
As we go through each division and its ranks individually, you will get an understanding of the roles of these ranks and duties attributed to them.
Army Ranks Pakistan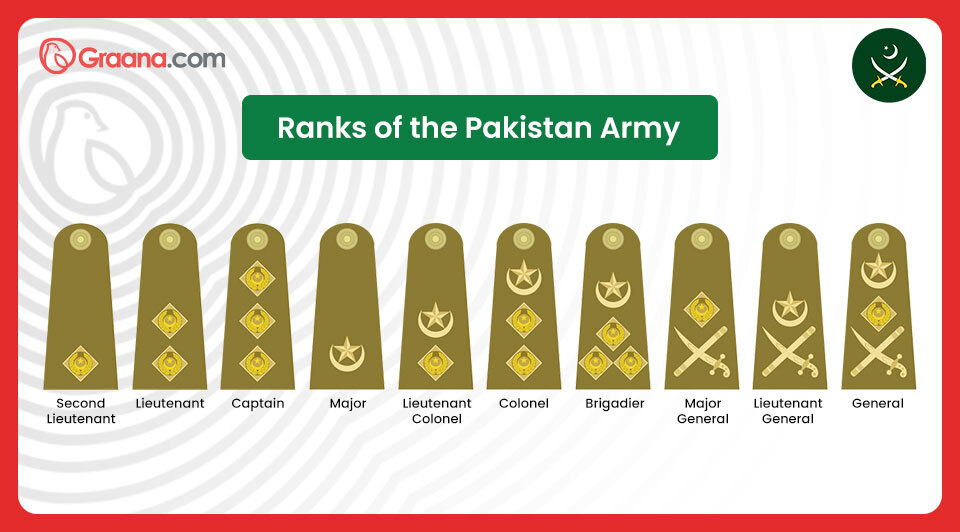 The army has the largest number of officers, mainly because it is responsible for the entire land. The ranks in the Pakistan Army start from Second Lieutenant and go up to General. Following are all army ranks Pakistan explained for your reference.
Second Lieutenant (2nd-Lt.)
The Pakistani Army's second-lowest commissioned officer rank is that of a second lieutenant. 
Generally, the second lieutenant is in charge of leading the infantry troops into battle and issues commands to the platoon sergeant, who then conveys them to the squad leaders and troops as necessary. Around 30 soldiers are under their charge, and the role is typically held for one to two years.
Lieutenant (Lt.)
Sometimes referred to as a first lieutenant, this is the next rank in the Pakistan Army after a second lieutenant. 
They usually have more experience on the battlefield and may only command designated platoons. They are sometimes also provided control of the artillery unit's indirect fire systems and long-range weaponry.
Captain (Capt.)
Captains lead a company-sized force of more than 100 men, usually with the help of a Non-Commissioned Officer (NCO). 
This is also the highest rank where officers are expected to personally lead and direct soldiers. Additionally, they also share their knowledge by teaching in cadet schools and training facilities.
Major (Maj.)
Majors typically serve in administrative roles rather than on the front lines of battle. Additionally, they might be in charge of managing a task force for logistical or operational objectives.
Lieutenant Colonel (Lt. Col.)
With an experienced NCO aide, a battalion of up to 1,000 troops is under the command of a person in this rank in the Pakistani Army. They could also be chosen to lead a task force as executive or commanding officers.
Colonel (Col.)
Colonels, another rank that performs the duties of a staff officer, frequently serve as a conduit for information between the office and the field of battle. They might also be permitted to offer vital advice to senior officials.
Brigadier (Brig.)
Brigadiers often have the option of either staying on the battlefield to lead a brigade or serving as a staff officer to oversee operations and missions.
Major General (Maj. Gen.)
A major general, who might potentially be nominated to a senior staff position in the Ministry of Defence, commands division-sized troops of roughly 10,000 to 15,000 soldiers.
Lieutenant General (Lt. Gen.)
Lieutenant generals frequently participate in the selection of personnel for the Ministry of Defence, while also commanding corps units with more than 20,000 soldiers.
General (Gen.)
A general in the army is the highest level of commissioned officer and typically has decades of experience. They are in charge of all responsibilities that fall under their designated area. A general also serves as the Army's Chief of Staff.
Pakistan Navy Ranks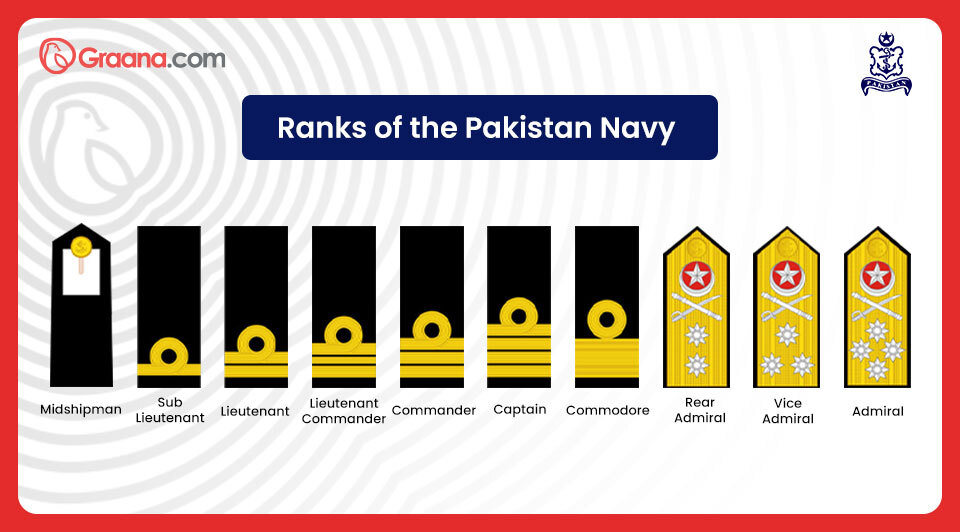 The Pakistan Navy provides defence at sea. Its work mostly involves coastal security, ship warfare, and other administrative tasks. Following are the ranks in the Pakistan Navy.
Midshipman
Cadets who are in their final term at the Naval Academy are given the rank of a midshipman in the Pakistan Navy. This is the training phase for becoming a naval officer, and it only lasts for six months before cadets are promoted from the academy.
Sub-Lieutenant (S/Lt.)
Midshipmen are promoted to the sub-lieutenant rank after approximately 6 months of sea training, where they are tasked with monitoring the crew.
Lieutenant (Lt.)
In a naval fleet, lieutenants oversee the sailors to make sure they are performing their responsibilities. Lieutenants frequently post a crew member on guard to keep an eye out for enemy attacks.
Lieutenant Commander (Lt. Cdr)
A small craft's commanding officer, known as the lieutenant commander, has a small crew of their own. In the navy, officers of this rank are elected to head a specific division.
Commander (Cdr.)
A commander, second in command after the captain, is in charge of a warship or a submarine. Additionally, commanders may choose to serve for the Ministry of Defense or in naval bases on land.
Captain (Capt.)
Captains are in charge of bigger ships, or hold important roles in land-based organisations. They are normally in charge of the welfare of the crew and the ship, which includes keeping log books up to date, handling disciplinary matters, assigning duties, rationing food and more.
Commodore (Cdre.)
A naval officer with the rank of commodore can decide whether to oversee a fleet of ships or assume more responsibility in a base on land. Additionally, they support the rear admirals when needed.
Rear Admiral (R. Adm.)
Officers in this post have the authority to command and fly their own flags on their ships in order to defend and support the squadron in combat.
Vice Admiral (V. Adm.)
The vice admiral can command the fleet and the ships in addition to providing aid to the admiral. They might occupy important roles in the government as well.
Admiral (Adm.)
As the highest rank in the navy, it allows an officer full command of a fleet of ships, in addition to having a ship flying their own flag. If necessary, they may decide to have the vice admiral and rear admiral on board. An admiral holds similar power in the navy as a general when it comes to army ranks Pakistan.  
Pakistan Air Force Ranks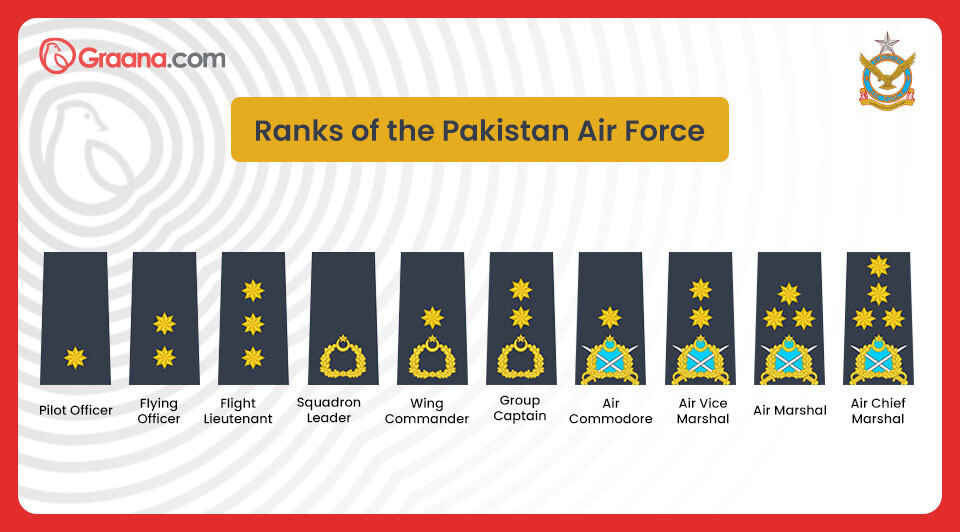 PAF (Pakistan Air Force) is responsible for the aerial defence of Pakistan. Similar to army ranks Pakistan, this military force also comprises several ranks that have different roles and responsibilities. These are mentioned below. 
Pilot Officer (Plt. Offr.)
Being a pilot officer is the first step in the air force's commissioning process. To prepare for the role of a flying officer, this position requires completion of on-the-ground responsibilities.
Flying Officer (Flg. Offr.)
While most flying officers are part of the aircrew, some do have command of missions from ground bases.
Flight Lieutenant
Flight lieutenants, who can choose to join the aircrew or the on-ground branches, usually have command of a small team, typically composed of officers with specialised training.
Squadron Leader (Sqn. Ldr.)
Overseeing squadrons and operations on the ground is the first responsibility of a squadron leader. They will be required to lead a team in the division of their choice. In addition, with the agreement of the wing commander, they can be asked to take over a small aviation squadron.
Wing Commander (Wr. Cdr.)
A wing commander is in charge of flying squadrons and may also act as the squadron leader's supervisor after delegating some responsibilities to them. Additionally, wing commanders have the option of leading an administrative wing as opposed to a flying squadron.
Group Captain (Gp. Capt.)
A group captain's primary duties include managing flying bases and training facilities. Additionally, they might be in charge of groups of military aircraft.
Air Commodore (Air Cdre.)
In general, air commodores are regarded as air officers and hold prominent positions inside organisations. On the base, they might choose to take command of troops or take up ground positions.
Air Vice Marshal (AVM)
An air vice marshall typically commands military aviation units or organisations. The position, which includes a variety of responsibilities, is also frequently known as the Chief of the Air Staff.
Air Marshal (AM)
Air marshals are second in command to air chief marshals, who represent the commander in chief of the air force or hold equivalent top roles. Depending on their military record, fighter pilots may also be promoted to this position.
Air Chief Marshal (ACM)
The highest rank in the Pakistan Air Force is the Air Chief Marshal, who primarily serves as the air force's commander in chief. An air chief marshal is similar to a general in army ranks Pakistan.
For more informative blogs, visit Graana Blog.