House flipping isn't a new concept; in fact, it has been around for a while now. However, the opportunities presented in today's market have increased the popularity of this investment strategy. The kind of returns house flippers are earning has made it appealing for many investors in the real estate market.
Graana.com, Pakistan's smartest property portal, has prepared a complete guide on house flipping.
What Is House Flipping?
House flipping involves buying a property that is below the market value, renovating it and then selling it for a profit. House flippers try to put it up for sale as soon as possible to minimise the risk of losing capital. Their main focus is on speed rather than getting maximum profit from the resale of the property.
How to Start Flipping Houses
It may seem easy, but there are a lot of steps involved in this whole process. Different steps have been outlined below.
Doing Research on Real Estate Market
Before getting started, you need to determine whether the market is a good fit for you or not. For instance, if you have a budget of $20,000 to flip a house, you have to start looking for a property that falls in that price range. You don't want to start in a market where the starting price of a house is $500,000.
Most investors categorise the market according to class ranking, from A to C. Class A markets are where people from the highest socio-economic class live. In such markets, you need a lot of capital to start the business. Class B neighbourhoods are where high-income professionals reside, and Class C areas are populated by the working class.
These two are the markets where you should ideally think about investing. They are considered better compared to class A neighbourhoods, where the risk of losing capital is much higher. The profit margins in class B and C markets are low but they have a relatively much smoother sales process.
Setting a Business Plan
In order to begin with house flipping, you need to create a business plan that includes all essential factors like budget, timeline, total investment needed for the project, and the funds required to renovate the property. As a first-timer, you can start with a house that only needs only some cosmetic changes, like new flooring or a fresh paint job. If you're flipping houses on a small budget especially, then this strategy is best for you. Yes, the profit margins will not be as high but the project will cost you less and involve lower risk.
Finding the Finances for Flipping Houses
Before flipping houses, you need to ensure beforehand that you have enough cash available for buying and renovating the property. You can take a loan from the bank to bridge any financing gap but that can be a risky strategy. You will be paying higher interest rates, which, in return, will have an impact on the total cost of house flipping.
Networking With the Contractors
For flipping houses, you must find professional contractors for the repair work, like electricians, plumbers etc. Check portfolios and get quotes from different contractors so you have an idea of who is the most competent for the job at hand (and at what cost). In this manner, you will be able to complete the renovation work at a lower cost and in a short amount of time.
Finding a House
You have to find a property that is below the market value and requires minimum repair work. You can contact any real estate dealer to find suitable options or you can visit online portals like Graana.com to find the best properties for flipping in the market.
Buying the House
Once you have found the right property for flipping, it is time to make an offer to the owner. Once the deal is finalised, you can make the down payment and start the renovation process.
Renovating the Property
After buying a property, you need to start the renovation work as quickly as possible. This is because, with each passing month, you are paying utility bills and taxes on the house. These expenses demand regular cash flow and if the renovation isn't completed on time, it can lead to cash flow problems.
Selling the Property
The last step in this whole process is finding the right buyer to sell it for profit. You can hire a realtor or list the house on online platforms to get bids from homebuyers. If a bid isn't covering the cost of this project, it is better to wait for the right offer.
How Much Does It Cost to Flip a House?
The cost of flipping a house depends on different variables, like its location and current condition. For some houses, you may require more money for the renovation process and, for others, you may not even have to do any repairs. However, you certainly need the money to cover different expenses. Following are some of the expenses involved in flipping a house.
Purchase Price
This is the initial cost that you need to flip a house. It is also the largest cost in this investment strategy. The acquisition price of the house can tell you how much profit you can get. One way to calculate this acquisition price is to use the 70% rule.
According to this rule, you shouldn't pay more than 70% of the after-repair value of the house. For instance, if a property has an after-repair value of $200,000 and you need $50,000 for the repairs, the purchase price should be $90,000. To calculate this, you need to multiply $200,000 by 70% and then subtract $50,000. This will tell how much you should pay to buy the house.
Renovation Cost
Renovations account for a large portion of your budget, including many hidden costs. It depends on the condition of the house, the quality of the materials used, and the contractor you hire for renovation. This is why you need to estimate the cost of renovation beforehand and set aside a budget for it accordingly. It's always better to consult a general contractor to get an estimate of the total renovation cost.
Taxes
After buying a property, you are responsible for all the associated taxes. Hence, you need to set some money aside for taxes as well.
Following are some other common costs you need to consider when flipping a house.
Agent commissions – If you have hired an agent for buying or selling a house.
Loan payments – If you have purchased a house by getting a loan from the bank.
Marketing costs – Add this cost to the budget if you have purchased or sold a house yourself.
Payment of utilities – During the ownership, you have to pay all the utility bills, like electricity, gas, water etc.
Different Ways to Flip a House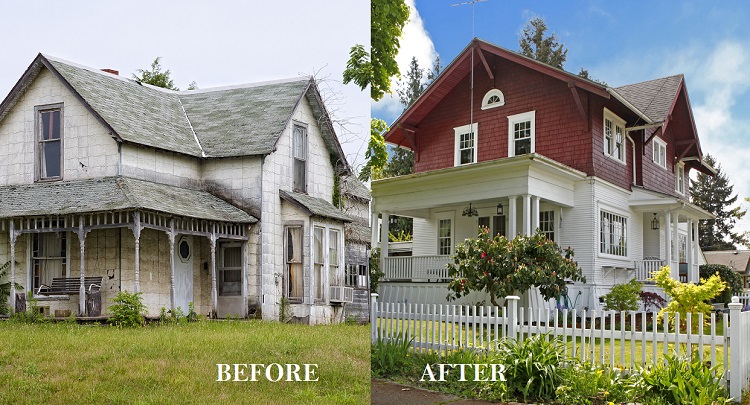 There are two major ways to buy a house for flipping. The first approach is to buy the property that can be purchased below the market value. Most of the time, the owners of such properties are in financial distress and they want to sell the property as soon as possible. The second way is to invest in a fixer-upper, a real estate property with design or structural issues. In these properties, you would have to fix these issues to ultimately increase the value of the property.
Both tactics are widely used to flip a house but a combination of the two can help gain better profit margins.
Some people think this investment strategy is only for those with hundreds or thousands of dollars. However, it is not necessary to have a large capital at hand. You can work with private money lenders or banks to obtain funding for the this business.
If you're thinking about entering this business, you should take the advice of experienced house flippers or you can follow the aforementioned tips for flipping houses.
To know more about different investment strategies, visit our blog.