With its green landscapes and picturesque views of the capital city, Pir Sohawa is the perfect tourist destination that provides a serene and tranquil experience. It is located in Margalla Hills, which is part of the Himalayan Mountain range.
Graana.com provides a detailed guide on Pir Sohawa below to help you plan a short getaway.
Overview of Pir Sohawa
Located on top of the Margalla Hills, Pir Sohawa is just a 17 kilometres' drive away from Islamabad. It is easily accessible from Daman-e-Koh, which starts from Islamabad Zoo.
There are several restaurants here as well, making it an ideal place to enjoy with your family or friends.
The Monal Restaurant especially is the most popular here; many people visit Pir Sohawa just for the premium dining experience with the stunning views.
Tourists Attractions in Pir Sohawa
There are several tourist spots in Pir Sohawa that you can visit. Some of these are as follows:
Monal Restaurant
As mentioned earlier, the Monal Restaurant is one of the top attraction points in Pir Sohawa. The main reason for this is that visitors get to see the whole city of Islamabad from there.
Apart from the extensive views, you have the option of ordering from a variety of cuisines, including continental, Chinese etc. Although Monal has several branches in different cities, this is by far the most popular one due to the scenic views.
La Montana
Located right next to Monal is La Montana, which is another option you can consider if you are looking for a fine dining experience with a view.
You also get a much better indoor space to sit in at La Montana. There is a wide range of cuisines available, as well as a hi-tea menu.
Dino Valley
Dino Valley is a large theme park in the Margalla Hills, with a cafe and play areas for children of different ages. It is located just a 10-minute drive away from the Monal Restaurant.
This dinosaur-themed park offers several fun-filled activities and features, including motion-activated dinosaurs, making it a great option for families to visit.
The cafe in the Dino Valley also has a similar menu to Monal's, and serves a variety of options.
Highland Country Club and Resorts
Nestled in the heart of Margalla Hills, the Highland Country Club and Resort offers a luxury experience with its impressive range of facilities, modern architecture and majestic views.
From burgers and pasta to local dishes, you can find several options at the restaurant. There are well-furnished rooms in the resort as well if you can stay for a night.
Places to Stay in Pir Sohawa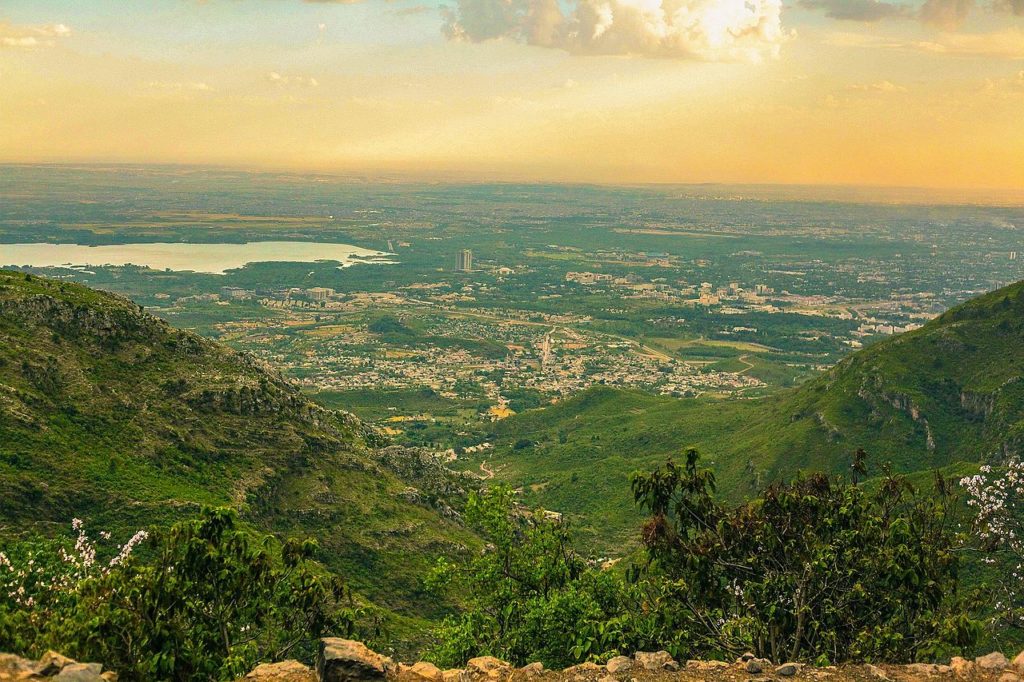 The options to stay at Pir Sohawa are limited, but all these places offer quality services at reasonable rates.
Apart from the Highland Country Club and Resort, Whispering Pines Hotel and Residences is another place where you can book a room and have access to all standard facilities and amenities.
Hiking Trails
The hiking trails in Islamabad are some of the best in the country for hiking, running, cycling and other outdoor activities. Most of these hiking trails lead to Pir Sohawa, near the Monal Restaurant, which is an ideal point to view the whole city.
Some of the best hiking trails in Islamabad that lead to Pir Sohawa are mentioned below.
Trail 3
This can be a difficult trail as it is an inclined climb all the way to the top. However, it leads to the best viewpoint at the top.
The starting point of the trail is from the main Margalla Road, where you can park your car and then hike all the way up to Monal.
Trail 5
This is another hiking trail that leads to the main Pir Sohawa Road. The path is similar to trail 3, but much easier to climb in comparison. It is also connected to trail 3, which takes you directly to the Monal Restaurant. There is also another way that takes you to the main road.
Other hiking trails, like trail 4, is a short trail that serves as the connecting point for trails 3 and 5.
How to Reach Pir Sohawa
Aside from the hiking trails, there is a well-carpeted road that takes you to Pir Sohawa directly. It starts from the Islamabad Zoo and leads all the way to Haripur. Throughout the ride, you will get to see the splendid views of the Margalla Hills and its awe-inspiring landscapes.
We recommend you take your own car to this spot as you can stop at different points to admire the natural beauty of your surroundings.
It is better to take your own car to this ideal tourist spot. Otherwise, you can rent a vehicle or hire a cab to reach there.
It also takes around 1 hour to reach Pir Sohawa from Islamabad International Airport.
Conclusion
This place in Islamabad is quite popular, especially among those coming from different parts of the country.
With the number of restaurants, resorts, hiking trails and themed adventure parks located here, it is definitely worth a visit. To know more about other tourist destinations in Islamabad, keep following the Graana blog.
---
FAQs
Here are some FAQs related to Pir Sohawa
What is Pir Sohawa known for?
Known for its scenic beauty, and breathtaking views, and is a popular tourist spot near Islamabad.
How far is Pir Sohawa from Islamabad?
Pir Sohawa is located approximately 15 kilometers from Islamabad, making it easily accessible for a day trip or weekend getaway.
Is there any entry fee to visit Pir Sohawa?
Yes, there is an entry fee to visit Pir Sohawa. Visitors are required to pay a nominal fee at the entry point.
Are there any restaurants or cafes in Pir Sohawa?
Yes, here are a range of restaurants and cafes where visitors can enjoy delicious food while enjoying the panoramic views.
Can we hike or trek in Pir Sohawa?
Yes, this is a popular destination for hiking and trekking enthusiasts. There are several trails and routes available for adventure seekers.
Is there any accommodation available in Pir Sohawa?
Yes, there are a few accommodation options available, including guest houses and lodges, where visitors can stay overnight and enjoy the serene surroundings.
Can we see the Margalla Hills from Pir Sohawa?
Yes, it offers stunning views of the Margalla Hills, providing visitors with a picturesque backdrop for their visit.
Are there any recreational activities in Pir Sohawa?
Yes, it offers various recreational activities, including paragliding, horse riding, and nature walks, allowing visitors to make the most of their time in this beautiful location.
Is Pir Sohawa accessible by public transportation?
While public transportation options are limited, visitors can hire taxis or use ride-hailing services to reach. It's advisable to plan transportation in advance for a convenient visit.
What is the best time to visit Pir Sohawa?
The best time to visit Pir Sohawa is during the spring and autumn seasons when the weather is pleasant, and the natural beauty is at its peak. It's recommended to check the weather forecast before planning a visit.