Karachi's location along the Arabian Sea makes for a brilliant opportunity for the citizens to enjoy the views of the sea from several spots in the city. However, if you are looking for a clean and safe place with a beautiful view, China Port Karachi is the place to be at.
One of the most attractive additions to the city's coastline, China Port is easily accessible and starts from Sea View Beach in Clifton and ends at Manora Island.
Graana.com brings you a detailed guide on the location and features of China Port Karachi that make it stand out from other popular beach spots.
How the Name 'China Port' Came Into the Picture
China Port is not technically a port; it serves as a breakwater to safeguard Karachi's port from any deadly effects of the ocean waves. These are the two main elements that inspired the name of this place:
China constructed the artificial breakwater.

It was constructed for the defence of the city's port.
Due to its distinct location, it is now considered a part of Oyster Rocks, a group of small islands near the coast of Karachi.
What Makes China Port Stand Out?
Chinese engineers constructed the 2.5 kilometre-long China Port, made up of concrete tetrapods, as a shipping terminal. However, it is only a breakwater for a port; it is not a port itself.
China Port Karachi: Location
China Port is one of the major ports of Pakistan. You can travel directly to China Port through the Sea View Road, and then the Marine Promenade once you pass through Bin Qasim Park in Clifton. Just take a left to a short road in order to reach China Port Karachi directly if you are travelling from Sea View Beach after passing Noor Ali Ground and Summit Tower.
Ban for Tourists on Visiting China Port Karachi | 2018 – 2021
In mid-2018, images and videos of China Port began to circulate on social media. These images showed that the area was swarmed with enormous crowds of visitors virtually every day. The fact that China Port Karachi was not originally intended as a tourist destination meant that there were no preparations to deal with the waste generated by such sizable crowds.
As a result, over a short period of time, the beauty of this artificial barrier was destroyed by the accumulation of waste throughout the entire area. This was one of the key factors why this area was closed to visitors for about three years. However, the area has now been reopened.
Top Features of China Port Karachi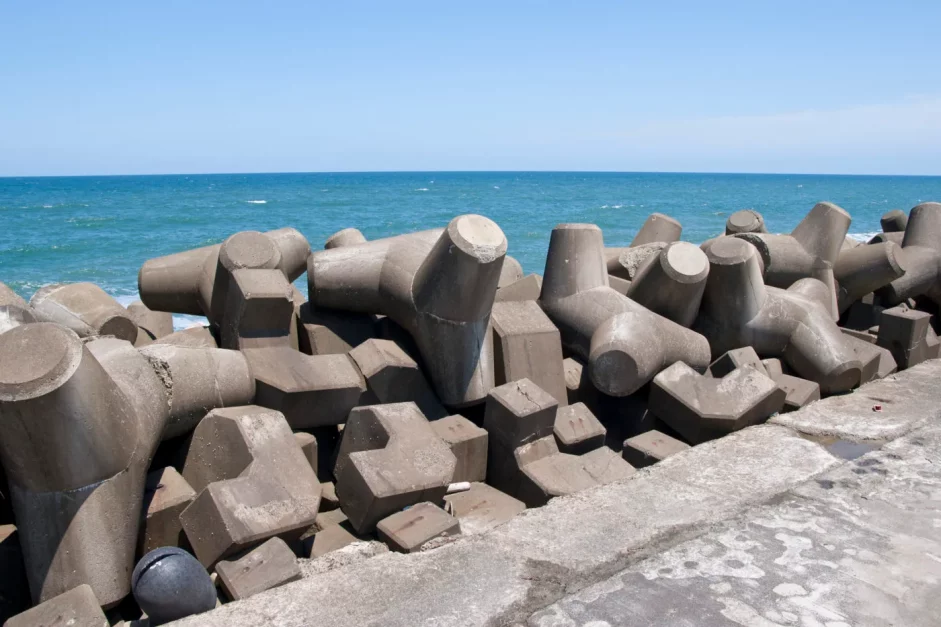 The area's unique attribute is the "tetrapod rocks", arranged across the whole breakwater length. The location also allows you to check the surrounding natural islands and tiny rocky outcrops rising from the water. You can also view the tall cranes working at the South Asia Pakistan Terminal (SAPT) and cargo ships arriving and departing the port.
Breakwater
Engineering constructions called breakwaters are used to protect areas, where ships are moored. These protect against the effects of high tides, such as coastal erosion. The water is typically calm and has few ripples inside the breakwater region.
Tetrapods
Tetrapods are tetrahedral-shaped and built of concrete. The tetrahedral shape of tetrapods, which are composed of concrete, disperses the force of oncoming waves by enabling water to flow around rather than against them.
The fact that tetrapods allow water to flow around them rather than against them aids in reducing the force of approaching waves. These white blocks create a mesmerising view along the fresh blue water, thus making China Port Karachi a popular tourist attraction.
Other Attractions Nearby China Port Karachi
Even though the port itself is a beautiful place to visit, the blue waves crashing against the shore make it fascinating. There are also other places nearby that you can visit. Some of these areas are as follows.
Bin Qasim Park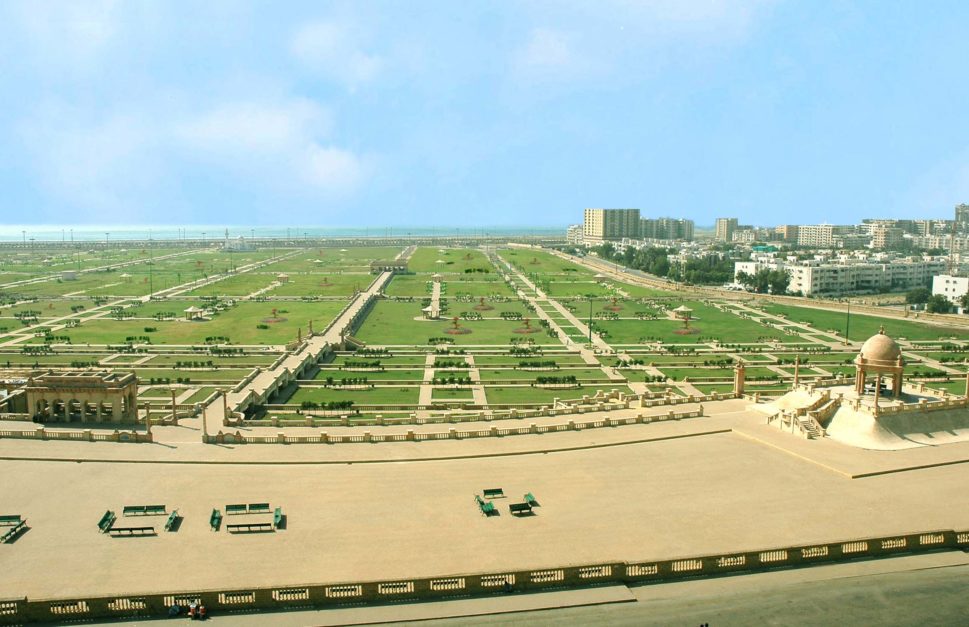 Bin Qasim Park is one of the biggest parks in the city. It is regarded as one of Karachi's top urban green areas for family outings. In addition, it is situated next to Clifton Block 4 on the main Sea View Road, just a short drive from China Port Karachi.
You can find many well-kept gardens here, in addition to a wide seating area with shaded areas. Moreover, you can also enjoy the beautiful views of the Arabian Sea. A turtle pond, rose garden, and dinosaur murals are a few of the other noteworthy aspects of Bin Qasim Park. These features are typically found quite fascinating by kids.
Dolmen Mall
Another well-known retail and entertainment destination close to China Port is Dolmen Mall. The mall is built around a big atrium and is regarded as one of Karachi's top malls. Several major national and international food chains have outlets in the food court here.
The international grocery chain Carrefour has also opened a huge store here. You can spend the remainder of the day shopping here, after your excursion to China Port Karachi.
Sea View Beach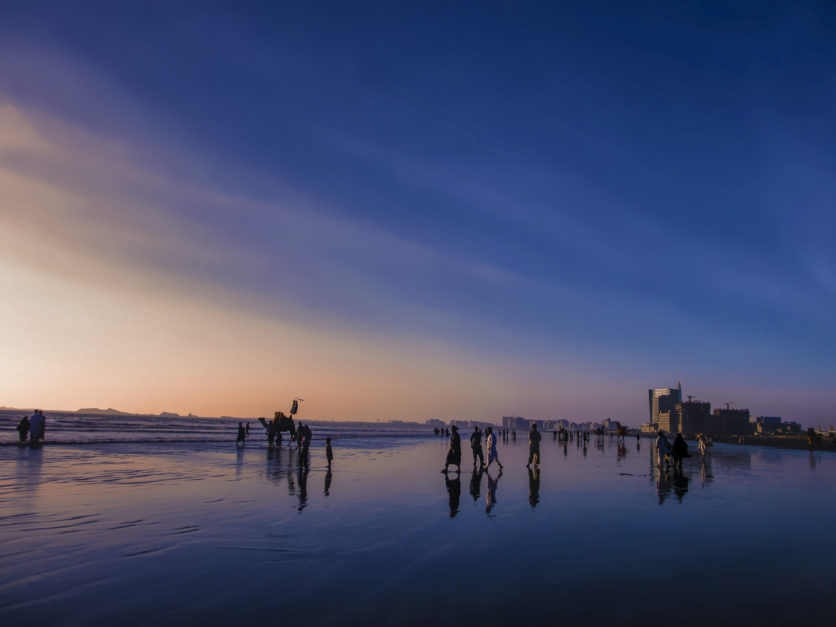 The best way to maximise your experience is to visit Sea View Beach quickly. The coastline there is arguably Karachi's most popular spot. You can go for a walk in the evening by the shore. Additionally, you can also relax on a bench to watch the sunset. McDonald's, Clock Tower (the Grand Food Bazaar), and Chunky Monkey are also located here.
Is China Port Karachi the Sole Breakwater in the City?
Although China Port Karachi might be the most popular choice for people to visit, there are other breakwaters in the city as well. These are situated at the side touching the terminal area on Karachi's western border. These are known as 'Kemari Breakwater' and 'New Manora Breakwater'.
If you are looking for more places to visit in Karachi, visit the Graana Blog.
FAQs
How many ports are there in Karachi?
Karachi, Pakistan, has two major seaports: Karachi Port and Port Qasim. These ports serve as important gateways for trade and maritime activities in the region.
What is the name of Karachi's biggest Port?
The largest port in Karachi is Port Qasim. It is a deep-water port located to the east of the city and plays a significant role in facilitating trade and commerce for Pakistan.
Is Port Qasim and Karachi Port the same?
Port Qasim and Karachi Port are two distinct seaports in Karachi, Pakistan.
Karachi Port: Also known as the Port of Karachi, it is one of Pakistan's oldest and busiest seaports. It is situated near the city center and handles various types of cargo, including containers, bulk cargo, and liquid cargo.
Port Qasim: This is another major port located east of Karachi. It is a deep-water port designed to handle large vessels and serves as a vital industrial and commercial hub. Port Qasim primarily deals with bulk cargo, industrial raw materials, and petroleum products.