ISLAMABAD: The Capital Development Authority (CDA), on Tuesday, auctioned the most expensive plot in the history of Islamabad, measuring 5,952 square yards in Blue Area for Rs 8.54 billion. 
In a tweet, the former Chairman of CDA and Chief Commissioner, Captain (r) Muhammad Usman Younis revealed that a total of four plots have been sold so far with the worth amounting to Rs 11.95 billion.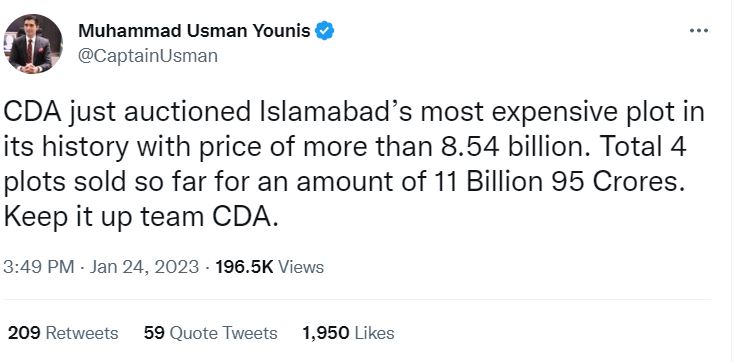 Usman further stated that two plots were sold in I-14 Markaz for Rs 1.3 billion while the sale of another plot in I-8 Markaz was in the pipeline for a price of Rs. 1.2 billion. 
CDA earlier reported that it aims to auction a total of 47 plots including orchards, commercial, poultry and vegetable plots to generate Rs 20 billion. 
For news and blogs, visit Graana.com