Handicrafts are products that are made and embellished with skilled hands without any help from machines or tools. The skill that is required for each craft depicts its traditional, geographical, and regional value.
Handicrafts are the rudiments that demonstrate regional and cultural identities. Pakistani handicrafts have been in the picture for 5000 years. Exporting handicrafts have also marked cultural significance and dignity around the world. Handicrafts of Pakistan come under the umbrella of luxury items for interior home décor and fashion as well.
Roughly 80% of the handicrafts are made in Sindh, while Punjab makes it the second-largest hub of making handicrafts in Pakistan. Pakistan is specifically known for the blue pottery ceramic items; Multan is the main tunnel for these makings.
Pakistan is an old civilization with a rich history encompassing Indus dolphins, the incense of Sufi shrine, spices, gems and so much more that one needs to experience to have its true beauty and complexity.  Nothing is subtle here, every corner of the country reaps with intensity. From home architecture to flavour, design, and fashion. There are many different worlds contained within the geographical boundaries of Pakistan, and with wood, metal, marble, clothes, clay being the canvas, this article will talk about what this part of the world is offering.
List of Famous Handicrafts of Pakistan
Ceramics and Pottery
The roots of ceramic and pottery come from Gandhara civilization. According to facts, even the ruins of Gandhara have yielded toys made with clay. This tradition has been staying alive since then from the outskirts of Punjab and Sindh. In these provinces, you can casually find artisans creating and painting ceramic pots with Niqashi or Kashi Kari.
Brass and Copper
The work of brass and copper is extremely intricate and the history of these come from the northern land of Pakistan, Swat, and old bazaars of Peshawar to be specific. Ever since the Mughals invaded, they were amazed by the skill of local artisans. If you happen to cross the making of these handicrafts you will be stunned with the creation and tedious craftsmanship.
Wood Carving
It goes without saying that wood carving has been inspired by Mughal architecture. Wood carving is not new to anyone, almost every home of Pakistan can be seen with furniture or décor item that is made of wood carving. The origin of these handicrafts is from small cities such as Chiniot and Sargodha.
Marble Carvings
Marble carvings are done on the northern side of Pakistan. Craftsmen work with porcelain marble pieces to create decorative items, utensils, and art that one cannot resist buying.
Khussa
Khussa is like a collage of Pakistani culture that is made from leather and embroidered with traditional motifs and mirrors to create utterly unique footwear.
Ajrak
Ajrak came into existence centuries ago at the banks of Sindh where it was dyed in indigo colors at the time of Mohenjodaro. It shows the entire Indus civilization encoded within its motifs. The designs of the block prints have been the same without any change since its beginning. The design has been taken from the walls of Chaukhandi and from the people of Indus civilization.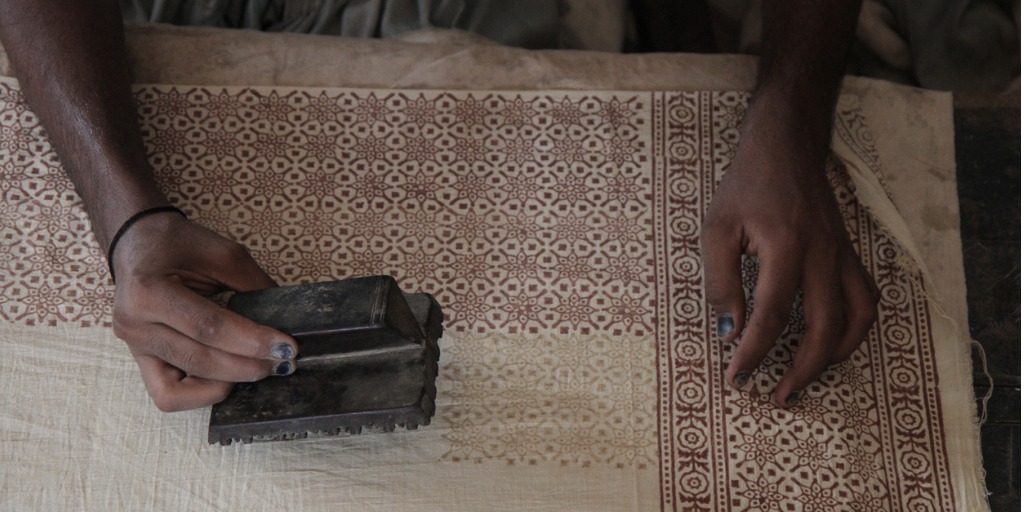 Blue Pottery
Blue pottery is a must if one is talking about famous handicrafts of Pakistan. Blue pottery is inspired by the Persian and Turkish calligraphy and miniatures and made in Multan and Sindh.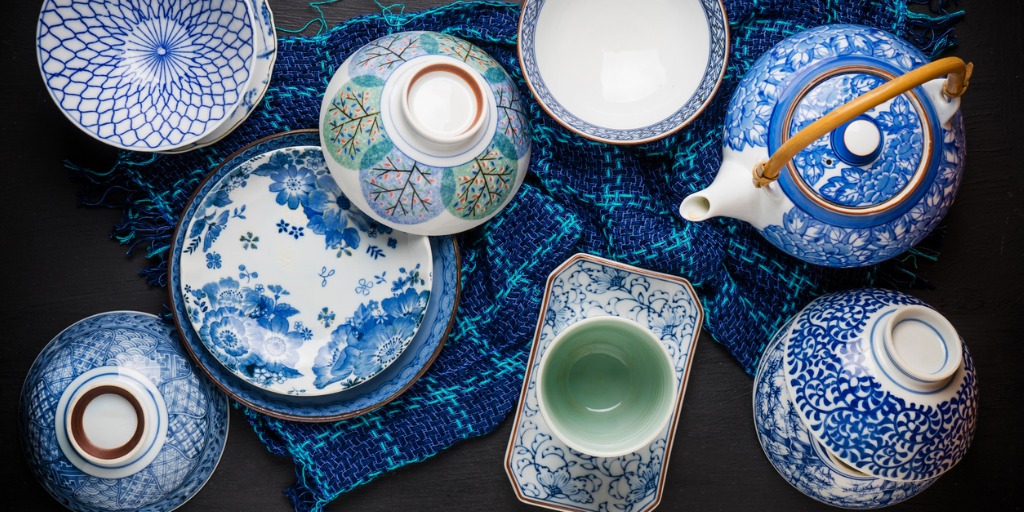 Camel Lamps
Camel lamps are a beautiful creation of the deserts of Cholistan and Multan. They are made from camel skin and then painted over creating an aesthetic art piece that is not found anywhere else. The porous skin of Camel lights up your room creating a shadow of a desert night.
Gems
Gems are a staple if you are fond of jewelry. It is excavated from the Himalayan mountains. Emeralds, rubies, and turquoise are some of the most popular among women.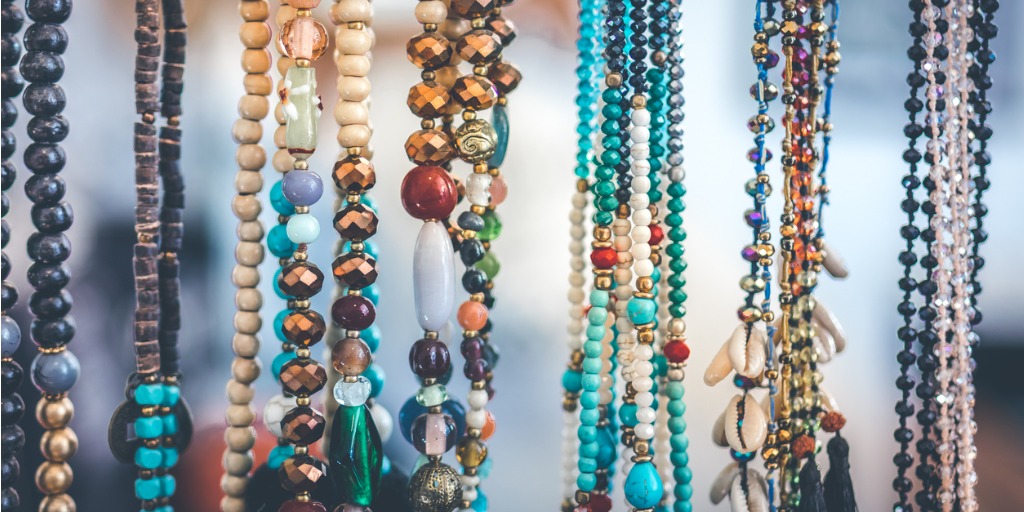 Rilli
Rilli was born out of poverty and improvised by nomadic women who could not afford new clothes. These patchwork quilts are a testament to their resilience and skill in times of need. They gave these patchwork quilts to each other as a gift and some were kept for over decades as a memento to be given to daughters.
Pashmina
It takes an entire village of Kashmiri women to create one pashmina. It is a shawl made of pure lamb wool with intricate handwork designs patched. The flowers motifs illustrate the beauty of autumn and spring flower hues. A pure pashmina shawl is not only hard to find but is also costly.
The northern side is most called for the Pashmina shawl. Handwoven and an eye-catcher for everyone.
Carpets
Carpets originate from the mountains of Balochistan and the glacial hills of Hunza. Transforming threads into a full carpet required not only time but extensive labor and sweat. It is dedicated as a communal craft sustaining the entire village. Some carpets are weaved for weeks and months. Some have Persian art and Ottoman miniature paintings translated onto silk rugs.
Handicrafts of Multan
Multan is famous for its clay pottery, knotted carpets, blue pottery, Ajrak, embroidery, Khussa, camel skin, and bone handicrafts. Some of the handicrafts of Lahore and Karachi can be found in Multan too. Their most renowned art is camel skin lamps.
Handicrafts of Karachi
The handicrafts of Karachi are seen everywhere in the country. Rilli, ajrak, sindhi topi, blue pottery and chunri are the famous handicrafts of Karachi. Rillis are not only made in Sindh but in the adjoining cities as well. They are commonly used as a floor covering, storage bags, dowry and as a cover for baby cots.
Handicrafts of Punjab
As mentioned above, khussa is where Punjab is. Khussa has been in fashion for years. It's a trend that never goes out of fashion. Wearing handmade or hand stitched Khussa at a wedding or traditional event has been in the game since forever. Khussas are made in Lahore in different fabrics like velvet, jamawaar, silk, and cotton. Khussa and brass are the famous handicrafts of Lahore. Other famous handicrafts of Punjab include chunri, gotta, clay pottery and woodwork.
The rich and diverse handicrafts of Pakistan reflect its culture, legacy, people's ethnicity, and generational glimpse that has been inherited and treasured. The skill and craftsmanship (color, shape, style) that goes into each one of these is what makes it unique and special. These timeless Pakistani handicrafts have been surviving through ages and different eras of time. One can find these beautiful handicrafts in every home of Pakistan.
Each city brings its own magic with the color, style, design, and motif that symbolizes its culture, history and handicraft built from people's indigenous hands.
Pakistani handicrafts are like precious stones that need to be preserved for their ethnic beauty and flourishing texture. Time has been a testimony to the evolution of these designs as the civilization kept growing, leaving the world in awe.