Jamshed Town: Amenities, Facilities, and More
---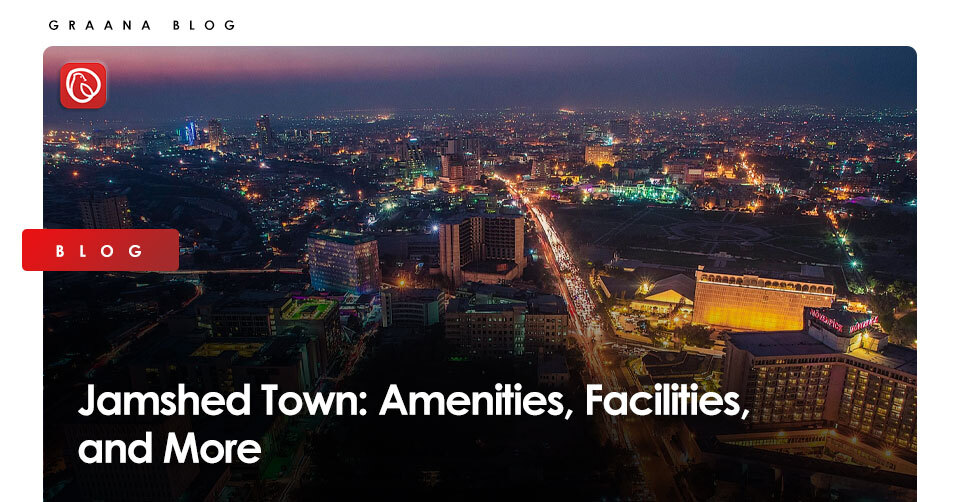 Located in the heart of Karachi, Jamshed town is one of the most affordable residential areas in the city. It lies in the central part of Karachi; to the northwest is Liaquatabad Town across the Lyari River, while to the east is Gulshan Town, and to the southeast is Korangi Town across the Malir River.
Graana.com, Pakistan's smartest property portal, has prepared a guide to help you navigate through one of the oldest areas in Karachi.
History of Jamshed Town
Jamshed town is named after "Jamshed Nusserwanjee Rustamjee Mehta", who belonged to the Parsi community. In 1992, he was elected as the president of Karachi Municipality. He worked towards providing housing and shelter to the people. He developed a housing society, which was named Jamshed Quarters. 
This housing society aimed to provide affordable housing to middle-income families. He provided land free of cost and also provided loans for the construction of houses.
He was rightfully called 'The real father of Karachi.' Jamshed Nusserwanjee got the housing scheme approved, and a few years down the line, many housing societies offered well-constructed homes, suited for the middle-class segment of the society.
Districts in Jamshed Town
In 2000, the federal government of Pakistan introduced changes in the local government – eliminating the administrative divisions, which formed the third tier of the government. Districts, which were the fourth tier, now became the third tier. 
The result was the dissolution of the previous Karachi Division. This merged the five districts to form a new Karachi City District, having 18 independent towns. Jamshed Town was one of those towns.
It is now one of the biggest residential areas of Karachi, comprising 13 union councils.
Mehmoodabad

Soldier Bazar

Garden East

Azam Basti

Akhtar Colony

Pakistan Quarters

Manzoor Colony 

PECHS 1 

PECHS 2

Jat Lane Lines

Chanesar Goth

Jacob Lines, and

Jamshed Quarter
Properties in Jamshed Town
The property market of Jamshed Town Karachi offers a variety of well-constructed houses, apartments, and plots. If you have a limited budget, you will find a place of your own at reasonable rates.
This is the reason why Jamshed Town is a popular housing area among the masses. The standard size of the property begins from 120 sq yds, 240 sq yds, and 500 sq yds. Interested buyers and tenants can choose from available sizes. 
With well-designed architecture, the area offers single-story and double-story houses for sale and rent at very affordable prices. Moreover, it gives you the option of furnished and unfurnished houses for sale and rent.
Price Trends of Properties in Jamshed Town
Jamshed Town offers well-constructed houses at affordable prices. Due to its infrastructure, facilities,  and low price of houses, it attracts a lot of investors, buyers, and tenants. 
The property prices in the area vary with the area, size, sector, condition, type of property, location, and amenities available in the area. In many instances, buyers and tenants may be able to negotiate the price as they are usually a little flexible. 
We have listed down the standard rental and sale price trends of houses and apartments in the area.
Houses Price Trends
| | |
| --- | --- |
| Size of House  | Price Trends (Sale) |
| 120 sq yds | Rs  65 lakh to 4 crores |
| 240 sq yds | Rs 1 to  8.5 crore |
| 500 sq yds | Rs 5 crore to 15 crore |
Apartments Price Trends
| | | |
| --- | --- | --- |
| Size of Apartment | Price Trends (Rent) | Price Trends (Sale) |
| 3 Bed | Rs 18k to 1.1 lakh  | Rs 32 lakh and PKR 3.8 crore  |
| 2 Bed | Rs 20k to 50k | Rs 18 lakh and PKR 2.7 crore. |
| Studio | Rs 10k to 20k | Rs 35 lakhs – PKR 3.45 crore |
Amenities and Facilities
While buying or renting a property in Jamshed Town, a common thing you can find among all areas is the accessibility of basic amenities that are easily available in most areas. Jamshed Town is packed with all kinds of basic facilities and modern amenities.
The society provides the following services.
24/7 electricity system

Sui gas

An underground sewerage system

Availability of clean water 

Prominent commercial spaces

Easy access to hospitals

Restaurants 

Schools & Colleges

Mosques, and Church

Parks 

Multi-purpose centers

24/7 security surveillance 

Financial institutions

Transport Facilities
Educational Institutions in Jamshed Town
Educational facilities come around as one of the key considerations for anyone who is looking to live in the area. Jamshed Town has some of the oldest and most renowned educational institutions in town.
You can take a look below and find out the amazing options that are easily accessible from Jamshed Town.
Mama Baby Care Cambridge

The Kindergarten school

 Happy Montessori school

Kotwal's Casa school

Karachi Model Academy

 Al Badar school

 Rose Petal school

LMS School of Education

 PICS Education Point 

Salvation Army Secondary school

White Rose Grammar school

St. Vincent's High school

St. Peter & Paul high school, 

Mashal Secondary school

 Nizamuddin Secondary school
Hospitals in Jamshed Town
Easy access to healthcare is a key consideration in any area. Keeping this in mind, Jamshed Town has a variety of well-known private clinics and hospitals to cater to any sudden and unfortunate medical issues that may arise. 
To save your time, we have put together a list of top-notch hospitals available in the area.
Asif Dental Clinic

 Dua Welfare Centre

 Al Shifa Clinic

 Sameer Clinic

 Siddiqui Memorial Clinic

 SIUT Hajiani Chatul Bai Dialysis centre

 Fatmiyyah Hospital, Holy Family hospital

Al Razi hospital

Holy Family 

Seth Seoomal Mulchnad Khilnai (SSMK) 

Dar-ul-Sukoon
Filled with all kinds of facilities and amenities, Jamshed town Karachi is one of the most affordable residential areas in the city. 
Jamshed town is an ideal location for people who are looking to buy or rent a house. For more information, visit Graana.com
---
Trending Now