The government of Sindh established the Malir Development Authority (MDA) in order to address the difficult administrative challenges brought on by the rapid increase in the urban population in Malir Town, Karachi. 
Graana.com brings you a detailed overview of the Malir Development Authority below.
About Malir Development Authority
The Sindh government formed the Malir Development Authority in 1993 in an attempt to develop the region, which had been largely ignored in the past. 
It is presently working on three schemes and is especially focused on catering to the ever-increasing housing needs as well as the socio-economic conditions of the masses.
It is concentrating its efforts on designing programs that provide improved residential facilities at more reasonable costs. There are around 125,000 residential plots (that have been scheduled for development) at various stages of completion at this time.
Goals of Malir Development Authority
MDA aims to rebate the residential plots at economical rates, as well as dispose of all commercial sites by open public auction at market price. 
It is intent on enhancing the performance of its portfolio and strengthening its recurring income streams in order to deliver long-term sustainable value to all parties involved.
This objective will be accomplished by leveraging its extensive capability in creating and managing a diversified asset base.
Vision
The alleviation of poverty, the promotion of health and safety, and the provision of equal opportunities for all societies to realise their full potential.
Mission
To develop more self-sufficient, growth-oriented, and optimistic communities with housing that is sustainable, reasonable, and affordable.
Schemes of Malir Development Authority
New Malir Housing Scheme-1
100, 200, and 400 square yards of space have been allotted to 1, 2, 3, and 4-bedroom properties.

Each house is designed to cater to large families; it has ample space, an abundance of windows, and a lush green garden.

It is adjacent to Education City, which is where campuses of many renowned universities are located.

It is situated in the centre of the Bin Qasim Industrial Zone.

In the New Malir Housing Scheme-I, a varying number of commercial plots of different categories are planned to be disposed of through open public auction.

A community park, Townhome Community, Gulmohar Golf Club, private and government hospitals, schools, restaurants, mosque etc. are just a few of the facilities and amenities that are available here.
Shah Latif Town Scheme 25-A
This housing scheme covers an area of about 117,6 million square feet (2,700 acres).

This is the leading real estate project in Karachi, which is to be rated and allotted "Shah Latif Town, Scheme-25A" by MDA.

It would establish a new standard for contemporary construction style and would reassure buyers about the product's quality, transparency, delivery, and legal documentation, thereby ensuring that their investment is protected. 

Shah Latif Town will offer residential plots of 60, 80 & 120 square yards, in addition to flats, commercial & amenity plots. 

MDA aims to offer an elevated lifestyle at affordable prices, a prime location, carefully designed living spaces and ample facilities. 
Taiser Town Scheme-45
Another high-profile project being developed by the Malir Development Authority in Karachi is called Taiser Town. This is a low-cost housing project, and its primary mission is to offer low- and middle-income populations a variety of residential options that are within their price range.
Approximately 20,000 acres are included in the scope of the project. In recent years, real estate investors have been showing a lot of interest in this housing development. 
The fact that Engineering Consultants International Limited (ECIL), an international company headquartered in England, is responsible for its planning is one of the primary factors that contribute to its widespread appeal and overall superiority to other MDA projects.
The project will provide its occupants with access to all the standard amenities and facilities. In addition, Taiser Town is located on a four-lane highway that runs through the middle of the city. 
Roles and responsibilities of Malir Development Authority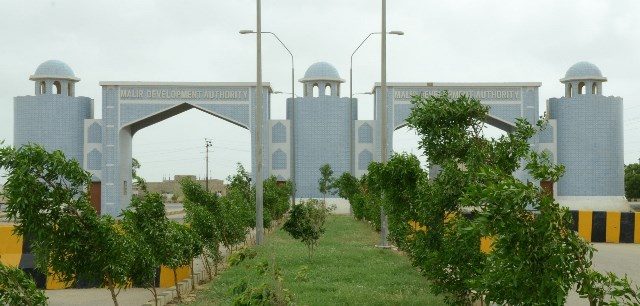 The Malir Development Authority in Karachi is primarily responsible for the following tasks:
The authority is concerned not just with the growth of the area, but also with improving and expanding the infrastructure that is already there as part of its mandate.

MDA is going to be in charge of handling any and all legal disputes that may arise over housing societies, projects, and urban development in the region.

It would be in charge of supervising and approving the map of all housing developments in Malir Town if it is given that responsibility.

MDA would ensure that there have been no illegal interventions in the region, and it is responsible for ensuring that anti-attack drives are carried out at regular intervals to combat this issue. 

In addition to this, it will keep an eye on the local real estate market and provide any solutions to potential issues.

The MDA is the government of Sindh's parent organisation. As a result, it has the responsibility of creating investment plans for all affordable properties and organising election-related events.
For more related information, visit Graana blog.