Wardrobe organisation is probably one of the most hectic tasks that people dread, given their busy routines. Whether or not the rest of your home is clean, messy wardrobes are a shared problem amongst all households.
Closets are prone to get a bit messy since they are an everyday go-to place in your home.
Given that people are always in a hurry when it comes to choosing clothes, wardrobes become a chaotic mess.
Graana.com, Pakistan's smartest property portal, has broken down this complex organisational task into simple and easy steps. Let's take a look at some of the top wardrobe arrangement tips.
Easy Steps on How To Organise Your Wardrobe
Closet organising is a hectic task that everyone tries to avoid. When you're working 5-6 days a week, this clothing mess tends to take a toll on you, since you have no energy left to exert on this chore.
However, there are some tips and ideas that can help you set up your closet neatly, one step at a time.
First, take out all your clothes from the wardrobe and pile them up on your bed or sofa chair. When you're done with this, start folding/hanging them in the hangers whilst sorting them with the following questions:
Does it fit you well?
Is it in good condition or is it worn out?
When was the last time you wore it?
Is the clothing item in fashion, vintage, or very old in relevance to current trends?
Do you have anything to match and wear with it?
Do the shoes feel comfortable while wearing or does it hurt?
Store Your Clothes By Category
Smart storage and organising are the way to go when it comes to setting up a wardrobe. Categorise your items and arrange them together. Shoes at one area, sunglasses at the other, bags aside, jeans and pants set up in another place and so on.
It's best to also separate your clothes in terms of formal, workout, casual, and everyday wear.
When you've sorted clothes in such categories, it becomes easier for you to make a decision when the time comes and also saves you from making a mess.
Hang Your Formal, Fancy and Sturdier Clothes
If you have a huge wardrobe, try hanging your clothes as it keeps the closet clean and organised.
However, if you're short on space, prioritise your delicate and formal clothes that are to be kept in a straight condition. This will save them from wrinkling and unnecessary pressure that can ruin the finish of the dress.
This is especially handy for your dresses and coats. Marie Kondo, the unmatched queen of organising and home enhancement advises on keeping all your wardrobe items in the same direction, with the shorter clothes on right and longer items on the left side of your closet.
Try Using Coordinated Hangers for Your Wardrobe
Unmatched hangers of different colours, materials, and sizes can create a negative impression when it comes to your closet.
To resolve this problem, get coordinated hangers of the same colour and size. A uniform settlement of clothes in the same hangers not only brings neatness to the wardrobe but also minimises the clutter and chaos.
Colour-Code Your Wardrobe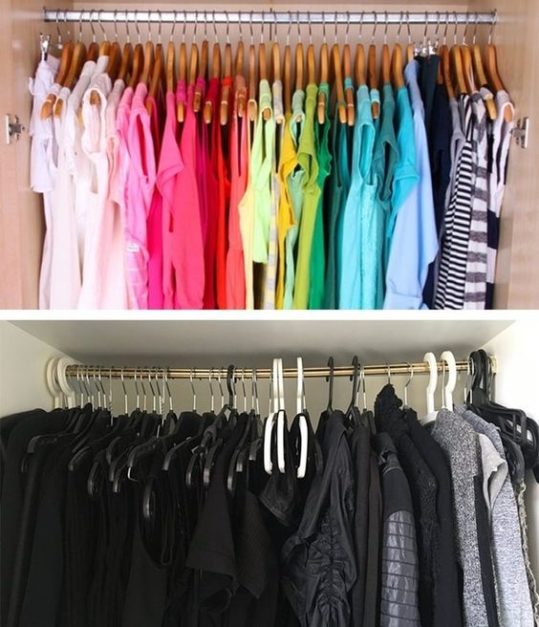 Colour coding your wardrobe brings around an excellent order in your closet. This is a very practical approach to setting up your clothes because you can easily pick out a colour as per your mood.
Moreover, it also hints at the colours you need to include in your wardrobe more, as well as what you should stop buying for a while. This simple tip will help you save time as you'll know exactly where to find the shirt that you've been looking for.
Separate Your Clothes Season-Wise
Stocking up clothes and organising them when it's not the right season can clutter your wardrobe. To get rid of this mess, you can just pack your non-seasonal clothes, and separate them according to three categories; winter, summer, and fall.
This will help you organise your clothes efficiently and keep the extras aside since they aren't of use in the current season.
Get Storage Organisers For Your Wardrobe
Get different sizes of organisers for your wardrobe.
These storage boxes are excellent for storing socks, vests and tights; items that might otherwise be difficult to find if folded up and stored with the rest of the clothes.
Arranging them neatly makes them easy for you to find, along with keeping your closet tidy.
Clear Your Floor Space
Since average closets do not have a vast space, it becomes difficult to organise your bags and shoes.
Most of the time, the floor space in your closet gets cluttered due to this. If you're looking to tidy up your closet and avoid the mess that gathers in the floor space, keep it clean and free of any items.
Don't Hoard Too Many Clothes
If you can't let go of your clothes, even if they have completed their time, you're doing it wrong.
The wardrobe arrangement cannot be complete unless you get rid of the worn-out items of clothes that don't fit anymore. Little things that cannot be used and still take up space are a major problem contributing to your messy wardrobe.
A good rule is to get rid of one item from your wardrobe every time you get a new item. This will allow you to keep a balance instead of hoarding clothes.
Moreover, this decluttering of your wardrobe from time to time can help a lot of people who are in need of clothing, if you donate these clothes.
These organising tips will help you transform your wardrobe into a tidy and neat closet space. If you're looking for more lifestyle tips, visit Graana Blog.