Pros and Cons of Living on a Dead-End Street
---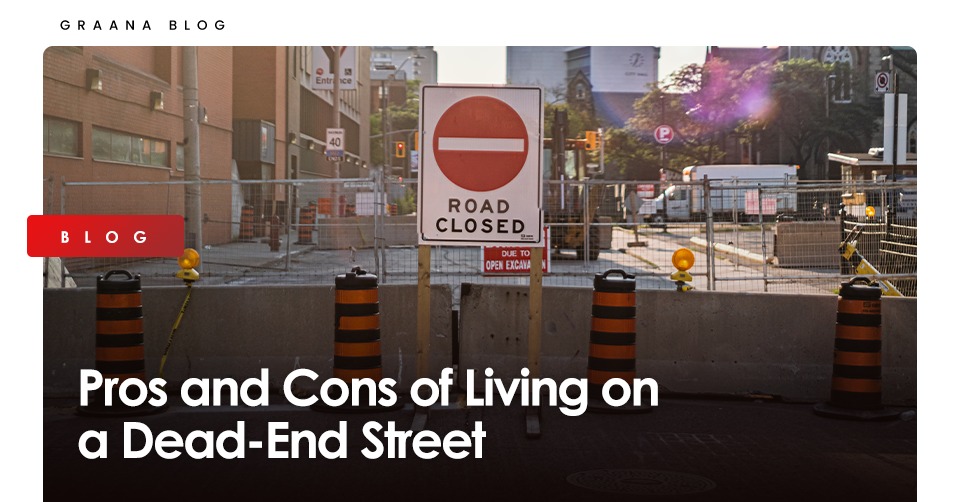 With the rising population and increase in housing and traffic, dead-end streets are simultaneously making their way to the top in the residential real estate industry.
Dead-end street typically stands for a blind alley in which no exit road or any other road is passing through. The single road ends there and then, and is a much-preferred feature in modern-day housing societies, adding privacy to the area and thus increase in real estate value.
But what makes dead-end streets so valuable? Graana.com, Pakistan's smartest property portal, has mentioned the pros, and cons of living on a dead-end street. 
Let's take a look!
What is a Dead-End Street?
Dead-end streets, also known as cul-de-sacs, refer to streets that are blocked at one end; there is only one way to enter and exit.
These were first introduced by Sweden in the 1990s as a project to design better streets and minimize vehicular traffic in residential areas, where people prefer to live in a quiet and peaceful environment. 
This type of street has an entrance on one side but there is no way out on the other side of the street which means there is only one way to come in and out of it.
Pros and Cons of Dead-end Streets 
Dead-end streets are becoming a popular choice when it comes to deciding on a plot, a house, or even a place to rent. Because these are closed at one end, they are ideal for residential investments. However, among multiple benefits, these also come with a few drawbacks. 
Pros of Dead-End Streets
Following are some pros that dead-end streets come with. These are as follows.
Safety and Security:
Dead-end streets are ideal for people who are conscious of the safety of their family, whilst in their own absence. 
As there is only one way in and out of the cul-de-sac, it serves as an additional layer of security to stop a lot of thieves and burglars from trespassing. 
Moreover, in case any burglars or intruders do come into the area, it becomes easy to monitor them with advanced cameras and security systems. This is why dead-end streets are ideal for safety in your neighbourhood. 
Ideal for Families:
Cul-de-sac is ideal for families; especially with kids. This is because kids love to play outdoors and sometimes in busy streets it can be dangerous to play outside because of constant traffic and people passing by.
In dead-end streets, children can easily play as there is no disturbance and no rush of cars that can be dangerous. 
Besides this, it also becomes a calm space for you to sit outside on the porch, and enjoy the evening air at times without a lot of people walking by.
Peaceful Environment:
If there's one thing that becomes a deciding factor to choose a property on dead-end streets, it's the calming and peaceful environment.
Less traffic and intrusion results in a very calm street which is perfect for people who like serenity. Not only this, but less commute in street also helps people to feel safe since there are rarely any strangers that come in the area, only people in the neighbourhood.
Communal Life:
One of the best things about dead-end streets is the fact that it creates a community. People love to live in communities, unrelated of fact that they are outgoing or not.
This is because with time they all get to know each other and help each other out in case it is needed.
Ladies go on walks, children play together and everyone keeps in touch which is why dead-end streets are perfect for people who love to live in communal areas. 
Cons of Cul-De-Sacs
After an extensive overview of the pros of dead-end streets, let's go through how these can affect your perspective when it comes to making the final decision on investing in dead-end streets. 
High Property Prices:
Dead-end communities although peaceful can be a little costly at times. Houses located in dead-end streets cost relatively much higher than property in busy streets.  
The payment plans for corner plots or plots in developing communities cost more than the average because dead-end street plots offer more land.  
For people who are on a budget, it can be difficult to accommodate this cost in their budget to buy a house in a cul-de-sac. 
Solitary Living:
For people who love to keep their space and enjoy a serene atmosphere, dead-end streets are perfect. Contrarily, it can also become a drawback for those who love to stay busy, who enjoy the hustle and bustle of daily life around them.
Moving to such a place can be confining in terms of meeting new people or even hearing the rush of life around them. If you do not prefer solitary living, cul-de-sacs might not be the best option for you.
If you are inclined towards making the decision to live on a dead-end street, you need to consider that living in such a street can sometimes be lonely too. If you're an outgoing and extroverted person, living in such a street might be unexciting for you because it can become very quiet at times.
Property Damage:
If you are inclined towards making the decision to live on a dead-end street, you need to consider that living on such a street can sometimes become a risk for your property as well.
There's a very simple reason for that: children and outdoor activities.
On holidays, it is common for children to gather around outdoors and play football, cricket etc. which sometimes can lead to broken windows, car dents and whatnot.
Neighbourhood:
There's a fair majority who dislikes the idea of a communal neighbourhood. For those, it might not come out as the best option to buy property on dead-end streets. 
This is because contrary to their likes, being surrounded by friendly neighbourhoods might make them uncomfortable. In such a case, cul-de-sacs are not the ideal option to choose.
Parking:
A community or dead-end streets usually have their own parking lot. So whenever any guests come into the neighbourhood to visit someone for a few days; parking their car can be troublesome. 
This is because of the reason that besides allotted parking spaces, dead-end streets do not have extra parking spaces. Thus, parking their cars in allotted spaces or on the sides can get a little crowded and difficult for people to have guests over. 

Cul-de-Sac in Real estate 
For investors, cul-de-sacs come around as a great option to earn high profits. This is because they have a high value in real estate and can yield more profit over time. 
Whether you're buying a plot or a house on a dead-end street, they tend to double after a few years depending on inflation and the demand of the area. 
These pros and cons of living on a dead-end street will help you make an informed decision when choosing an investment plot, or a house. For more information, visit our blog at Graana.com.
---
Trending Now