In Pakistan, about 40.1% of the population lives in urban slums also known as Katchi Abadis. In Islamabad, there are a total of sixty-three slums in 20 out of 26 union councils in the city, according to a 2017 national census conducted by UNICEF.
The census further revealed that;
Out of the total 1 million residents in Islamabad, 38% reside in slums or underserved areas.

3% of these slum dwellers have migrated from different country regions or are temporarily displaced, while 8% stem from various nationalities.

38% of the houses in these slums are made out of non-concrete material, also known as

Kachi Abadis.

73% of the slums do not receive any

water supply.

75% lack a proper drainage system with either no drains or open and filthy drains.

75% lack proper waste management or pick-up services.

32% lack

educational institutions.
Mehrabadi – An Introduction to a Katchi Abadi
Mehrabadi is located near the posh sector G-11 Islamabad, a continuous market with demolitions of illegal construction on the front side. It is home to more than 10 thousand residents, most of whom belong to the Christian community and Afghan nationality.
Although well-constructed houses are in their periphery, beyond that façade is a continuous presence of mud houses and trash lands.
Its residents had always refused to give up their land to the Capital Development Authority (CDA) when it launched its initiative to clear the city of slum areas and have always demanded compensation in return. Here's what a visit to Mehrabadi would reveal.
Sanitation Issues at Katchi Abadi
Here is a list of sanitation issues in Pakistan.
No Proper Sewage System
The settlement is riddled with ditches, open defecation, piles upon piles of trash here and there, open drains that invade mud houses and shops, and a never-ending presence of sharp pungent smell.
In the majority of the houses, available toilets are present with no proper flush system or water supply, while in many houses, open gutters are used for defecating.
Such poor sanitation attracts a lot of bees and mosquitoes that actively spread diseases.
Poor Waste Disposal Management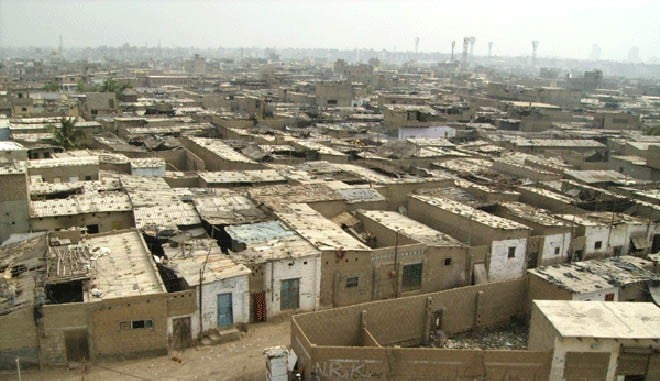 There are no dustbins or systems of waste disposal. In fact, many residents reveal that their houses are used as sites for waste deposits from the nearby areas without their permission.
Heaps of trash dot the nooks and crannies with no sweepers to pick them up. The residents are required to pay Rs. 500 to Rs. 600 to get any private waste removal services.
Unavailability of Clean Water
There are no water plants, tube wells, or hand pumps in the region. On bicycles and trollies, the little kids or boys fetch water from nearby houses or a water plant near the Srinagar Highway.
The other source of water for drinking is boiling the contaminated water using wood branches.
Health Issues in Katchi Abadi
Here is a list of health issues in Pakistan.
High Rate of Diseases
The factors above lead to the emergence of serious diseases like diarrhoea, allergies, hepatitis A, cholera, dysentery, poliovirus, typhoid, gastrointestinal infections, and malaria. In fact, in 2016, a medical camp held in the region revealed that around 25% of the slum dwellers suffered from hepatitis. Children are born with abnormalities due to poor hygiene.
Airborne Diseases
The dirty air, unclean smoke from burning wood, and pungent smell lead to allergies, eye burning, asthma, coughing, bronchitis, and runny nose.
Lack of Medical Services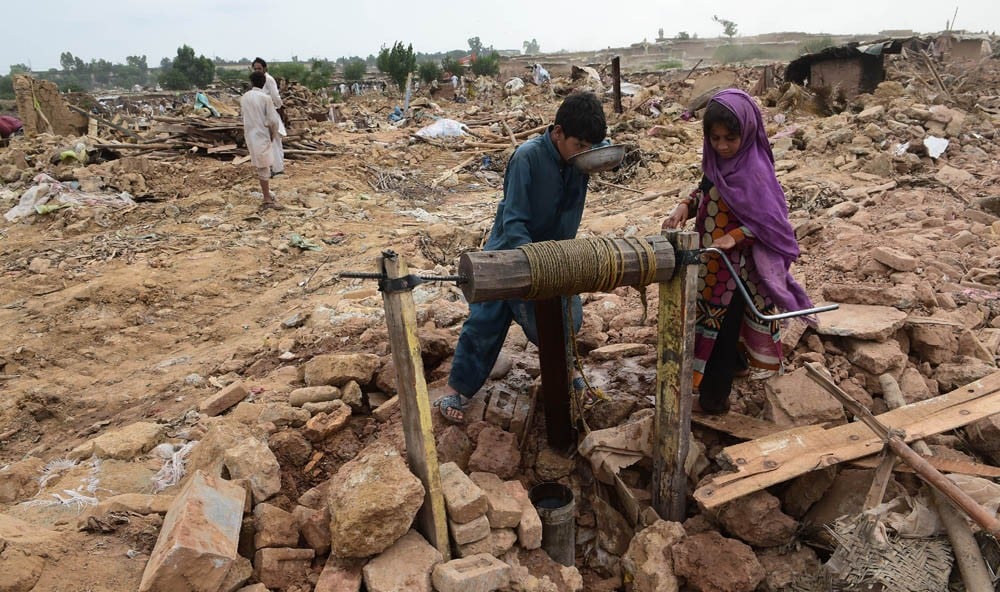 The lack of hospitals, professional doctors, and medical facilities aggravates the situation. The only source of medical assistance is quacks that often order abundant antibiotic courses, use unsterilised equipment and conduct erroneous diagnoses.
Moreover, Afghan refugees cannot access nearby medical services, and the benefits are too costly for others.
Lack of Health Awareness
People cannot discern between healthy and unhealthy living options and cannot test the credibility of quacks and doctors.
Educational Issues in Katchi Abadi
Here is a list of educational issues in Pakistan.
Illiteracy
Most of the parents are illiterate and impoverished that further complicates providing education to their children.
The World Health Organization (WHO) claims that illiteracy is the primary driver of poor living conditions. Moreover, children's poor health decreases their school life, and poverty pushes them out of school.
Informal System
Most of the schools are present in an informal settings lacking basic infrastructure. The teachers are not well-educated or trained properly to teach. The teaching material and curriculum are outdated and insufficient.
Gender Bias
Gender bias is prevalent as most girls do not go to schools, whereas madrassas are built only to sponsor boys.
Housing Issues in Katchi Abadi
Here is a list of housing issues.
No Planning
The region lacks proper housing schemes and land use planning as there are no introductory house provisions, community centres, and housing rights.
In addition, the area also lacks appropriate housing patterns, with most of the people dwelling in mud houses. Dingy and narrow streets with the abrupt presence of mud houses are a commonality.
Expensive Rents
Most houses are available for rent along with expensive rates for poor workers, ranging from Rs. 5,000 to Rs. 15,000. Due to affordability, most dwellers live in dilapidated houses with no proper washrooms or partitions.
Lack of Basic Services
The residents do not receive gas or water supply and depend on gas cylinders (source of accidents) and firewood. None of the services is facilitated by the government authorities.
Discrimination in Housing
Houses owned by refugees and Christians greatly contrast with those belonging to main ethnicities. The former dwell in mud houses with no proper doors, cloth separating regions, twigs used as locks, overcrowding of joint families, open drains, unbearable smell, and small non-concrete walls.
In totality, the region of Mehrabadi sits amid the hustle-bustle of the capital city. It is an active source of cheap labour and daily wagers for the posh neighbourhoods in the vicinity.
Nevertheless, the region still undergoes settlement issues, proper health and sanitation services, and proactive land-use planning. The area is expansive, and its removal can be problematic.
Hence the only way out is gradual modification and introduction of effective policies encompassing community building and self-initiatives of the residents.