Transforming real estate practices, 'Cadastral Mapping' is defined as a comprehensive system to highlights the boundaries of subdivisions of land, helps determine the property's location, indicates its size and shape, and reveals geographic relationships that affect property valuation.
This Digital technology was recently launched in three major Pakistan cities – Islamabad, Lahore and Karachi- to eliminate illegal land grabbing and ensure transparent transactions. 
As the real estate sector of Pakistan expands, Graana.com explains the growing need and role of cadastral mapping in identifying encroachments and Illegal projects. 
Challenges in Pakistan's Real Estate Sector
 There are some real estate challenges in Pakistan, which include; 
Lack of Planning 

Lack of Authority 

Lack of Access to information

Malpractices – illegal possession, projects and dead capital 
Disputes between individuals or government departments over title-to or possession of immovable property or state-owned land and illegal or forcible dispossession of a rightful owner are not unusual in Pakistan.
A class known as 'Land Grabbers' or 'Qabza / Land Mafia' are acting with nefarious objectives to take possession of immovable properties belonging to others forcibly. 
The solution to these significant problems lies in cadastral mapping that helps demarcate land, eliminating illegal encroachments.
Benefits of Cadastral Mapping
Some of the advantages of the existence of an up-to-date and reliable record of land area
Simplified record of land 

Ease in carrying out the acquisition of land for public purposes

Improved administration of forests and other public lands, etc.
Role of Cadastral Mapping in identifying Encroachments and Illegal projects
Under the cadastral mapping, about 50,000 square kilo-metres were covered in the four federating units of Punjab, K-P, Balochistan and Sindh.
After completing the first phase of cadastral mapping in the three major cities of Pakistan, the data released by the Survey of Pakistan revealed that state land worth around Rs5.59 trillion has encroached.  
The document also disclosed that the value of encroached forest land was around Rs1.86 trillion.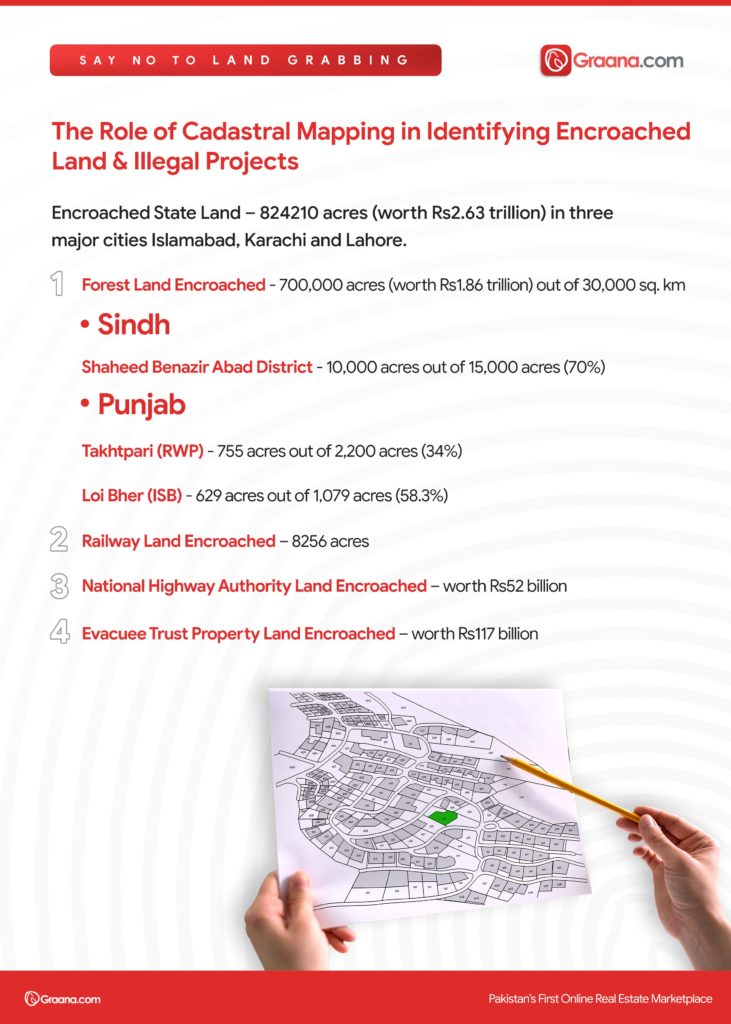 With the induction of technology in all walks of life, developed societies have scanned to map land and real estate to further secure to do away with forgeries of all kinds. The decision to cadastral map state-owned landmass under the supervision of the Survey of Pakistan is a step in the right direction.