Situated next to Pakistan's Federal Capital, Rawalpindi is renowned for its rich cultural diversity and stunning scenery. The two metropolia, which are collectively referred to as the "Twin Cities," function as a powerful economic link between other cities.
Top City 1 is a meticulously planned housing project with a picturesque view of rolling green hills where work is ongoing at a rapid pace in various areas of development.
The city is also a popular tourist destination in Pakistan due to its heritage and facilities. Rawalpindi's growing population has increased the demand for new housing developments.
Furthermore, the demand for high-quality housing paved the way for the construction of Top City-1 Islamabad. It is one of the most recent and significant additions to the capital city's real estate market.
Graana.com, Pakistan's smartest property portal, has compiled a detailed guide of Top City 1 Islamabad to give you a better idea of the whereabouts of the area.
Location of Top City 1 Islamabad
The project is located on the Kashmir Highway's southern end, about 3 kilometres from New Islamabad International Airport. Top City 1, which spans approximately 740 hectares, offers 5 marla, 10 marla, and 1 Kanal plots for sale.
Because the community comes under the jurisdiction of the Rawalpindi Development Authority (RDA), those who are planning to make this residential scheme their new home will be able to enjoy unparalleled benefits.
Launch of Top City 1
The construction of Top City 1 housing schemes began in 2012, with the goal of providing affordable housing solutions to everyone.
It is located at the intersection of M-1 and M-2, offering buyers profitable opportunities to diversify their real estate investment portfolio.
Additionally, the part of the project that faces Kashmir Highway has been reserved for a 5-star hotel, while a high-rise building will be constructed on the land facing Lahore Motorway.
Blocks in Top City 1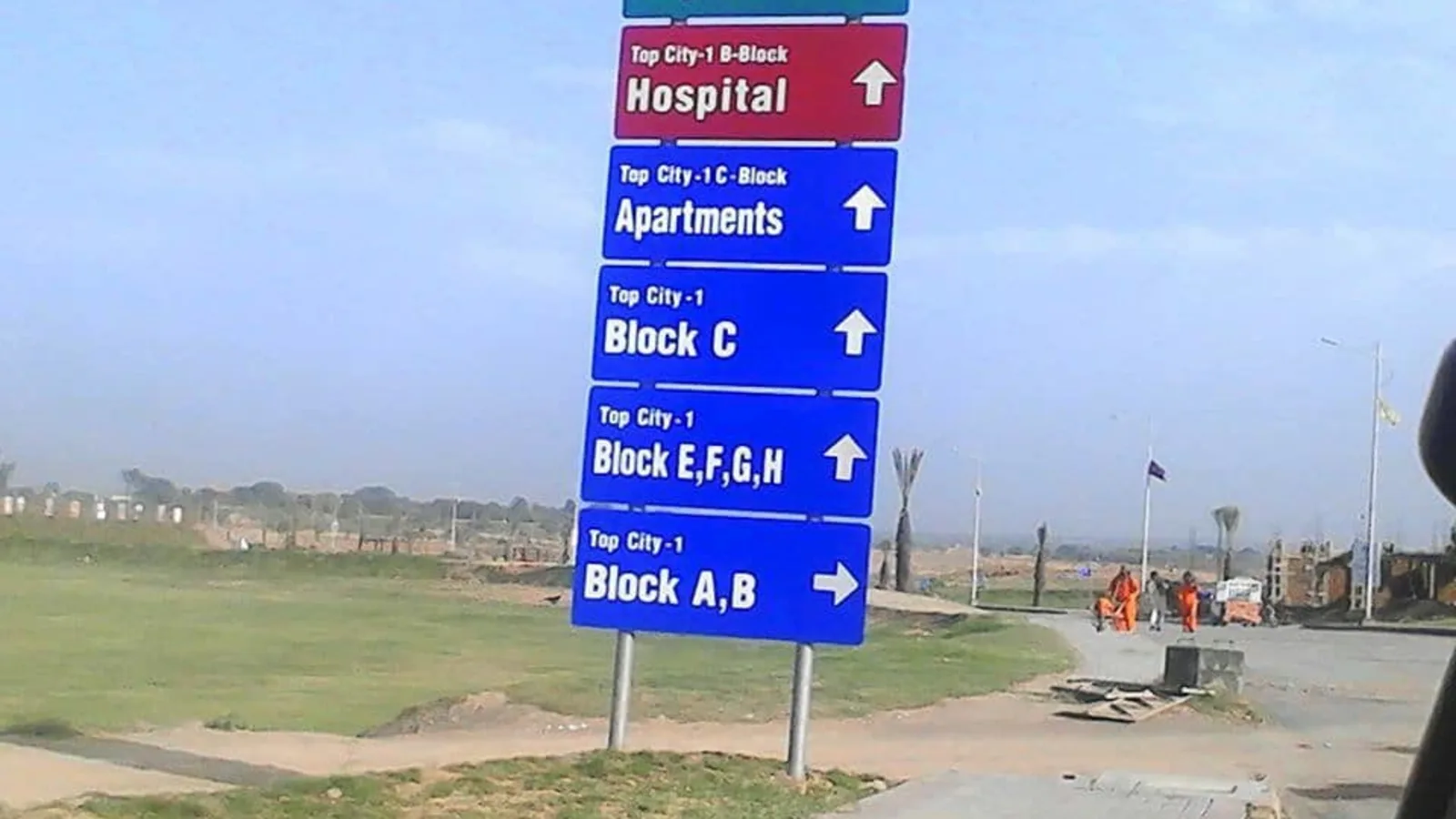 Top City-1 is divided into several blocks numbered A through H. Several of the blocks in Top City 1, Rawalpindi are located close to Islamabad International Airport.
The community features numerous high-rise buildings, plots, opulent farmhouses, and business buildings. Additionally, it offers all the amenities required, such as a sufficient waste management system, a water supply, electricity, and green spaces.
Types of Property Trends in Top City 1
Plots of various sizes are available in the community, including 5 Marla, 10 Marla,1 Kanal, and 2 Kanal.
The sales price trend of properties varies depending on their size, category, and location. The area also offers a large number of commercial plots that are ready for possession, and you can use them for investments and business purposes.
Those who are looking for apartments in Top City 1, Rawalpindi, will find a wide range of 1-bed, 2-bed, and 3
-bed furnished and unfurnished flats for sale. There is also a convenient installment plan to buy a property in Top City 1 to help buyers with their finances.
Price Trends of Property in Top City 1
With rising property prices, an increasing number of people are looking to rent or purchase a house.
As society has developed over time, the area has gained value and now offers market-competitive property prices.
The rental and sale price trends vary with the sector, location, size of the property, and amenities available in the area.
Mentioned below are the price trends of properties in Top City 1,
Plots for Sale Price Trends

Amenities and Facilities in Top City 1
Top City 1 provides affordable housing as well as a peaceful environment. Residents can easily move in and out of the area due to the extensive network of roads and green belts.
A wastewater treatment plant has also been planned, with treated water used for gardening. Educational institutes and medical complexes are also nearby, enhancing the quality of life.
There are multiple supermarkets for the convenience of residents in various blocks.
Commercial and residential amenities available in the area have been listed below.
An underground sewerage system

24-hour electricity

Gas clean

Water supply with filtration plants,

24-hour security system with boundary walls

Open spaces

Parks for children

Financial institutions

Educational institutions

Medical facilities

Indoor and outdoor sports clubs

Fitness centres for men and women

Mosques, and other religious buildings
Shopping Malls in Top City 1, Islamabad
Top City-1 has already set aside exclusive commercial blocks in accordance with the master plan to make it convenient for residents to shop.
Business centres, malls, and mini markets will provide everything, including designer clothing, high-end shoes, and luxurious accessories.
Nevertheless, there are a few other shopping centres in the area that are still under construction such as 5G Emporium, Star Arena Mall and Residency, and Zam Zam Heights – II.
Mosques in Top City 1 Islamabad
According to the master plan, a mosque will be located on each block in the community, enabling the locals to easily fulfill their religious obligations.
Currently, the society only has one fully functional mosque, which is located in Block B of the society close to Kashmir Highway, just one km from Lake Road.
However, residents can find a number of other mosques outside of the neighbourhood. Airport Masjid, and Jamia Masjid Ayub are famous mosques in the locality.
Commute System in Top City 1
Easy access to transportation is a very important factor when looking to invest in property. Residents of Top City 1 who do not have their own vehicles can commute using public transport such as taxis, rikshaw, and local vans.
It is a very economical and feasible mode of transportation. Some other options that residents can use are different cab services such as Careem, Uber, InDriver Cab, etc.
In conclusion, Top City-1 Rawalpindi offers lucrative deals for buyers and investors, allowing them to live privileged lifestyles and diversify their property investments. Get to know about Naval Anchorage Islamabad
If you are looking for properties for sale and rent in Rawalpindi, visit Graana.com – Pakistan's first online real estate marketplace.