If you are looking for a place in Karachi where you can spend quality time with your friends or family, we suggest you consider Wild Venture Water Park and Resort Gadap Karachi.
This resort-come-water park is considered one of the most popular tourist attractions in Karachi and provides a range of fun and engaging activities.
Its popularity may be attributed to several factors, including its exceptional design and architecture, high-end services, well-maintained swimming pool and well-trained staff.
Graana.com has prepared a helpful guide to Wild Venture Park and Resort in Karachi below. It covers the history of the park, its location, operating hours, admission rates, features, and a great deal more.
Overview of Wild Venture Water Park and Resort Gadap, Karachi
Wild Venture Resort, one of the best water parks in Karachi is built on the outskirts of the Karachi-Hyderabad Motorway, is around 5 kilometres from Baqai Medical University, whereas Gadap Road can be found on its east.
It was officially opened to the public on March 23, 2019. It has a lush green area, an artificial lake, a gourmet restaurant and many other features.
In addition, it is regarded as one of the most popular theme parks in Karachi, especially for large group hangouts. This is because it provides a breathtaking view and some fantastic attractions suitable for people of all ages.
The primary attraction in this park is the large swimming pool with crystal-clear water, bordered by tiled seating areas for people who just want to watch from the sidelines.
Location of Wild Venture Water Park and Resort Gadap, Karachi
Wild Venture Water Park in Karachi is easily accessible, even if you are new to the city. It is close to DHA Karachi, Clifton and the Korangi Industrial Area.
It should take forty minutes to an hour to get there from these areas.
It is also worth mentioning that it is close to several other notable water parks, such as Dream World Resort, Cosy Water Park, and Mehran Water Park.
The roads that lead to this resort have recently been reconstructed and are in excellent condition. You can also use the public buses in Karachi, which run nonstop in all parts of the metropolitan area.
Features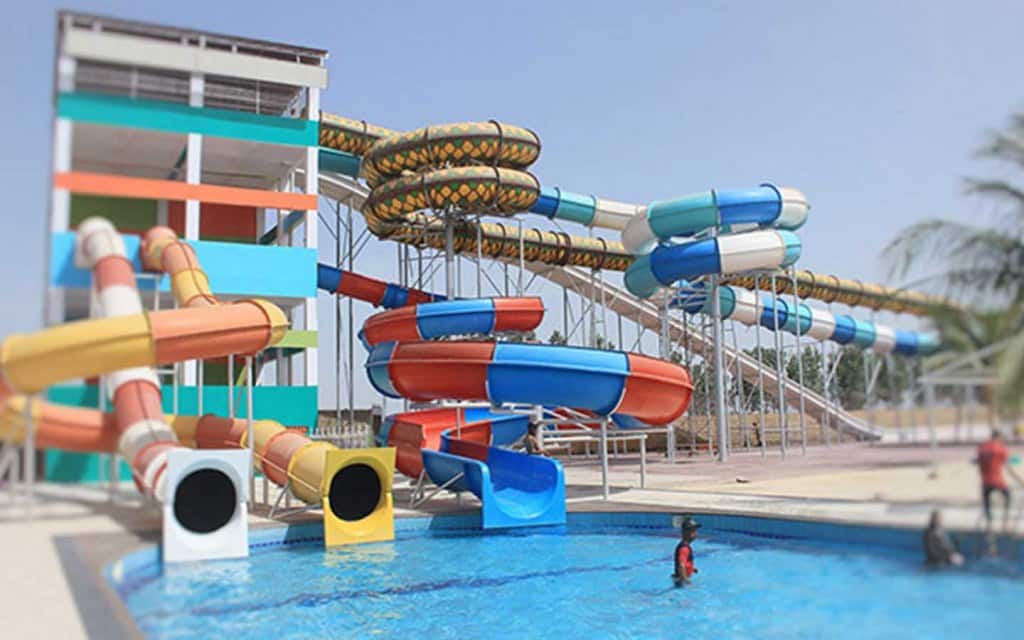 Pool
In addition to a café and a seating area to relax in the shade, there is a pool suitable for people of all ages. In addition, there are changing rooms available, as well as multiple water slides.
Eateries
This park's resort offers a selection of delectable dishes, and its service is second to none. You may get hot coffee or tea, and a wide variety of other snacks and beverages right here.
Raining Umbrella
Visitors can experience rainfall in Wild Venture Park regardless of the weather, thanks to an extraordinary attraction called the Raining Umbrella.
Artificial Lake
A beautiful artificial lake has also been created with a rocky wall, which gives the impression that it is part of the natural landscape.
Gazebos
Several summer cabins are also available for rent in the water park. Guests are welcome to sit in the area and unwind without anyone invading their privacy.
Timings at Wild Venture Water Park and Resort Gadap Karachi
The hours of operation for the Wild Venture Park are from Monday to Friday, 10:00 AM to 5:00 PM. However, on Saturdays and Sundays, the park is open from 9.00 AM to 10.00 PM.
Ticket Price
The cost of admission at Wild Venture Park for each individual is PKR 800/-.
Contact Details
If you are interested in going to Wild Venture Park, Karachi and want any information or make a reservation, you can get in touch with the management by visiting their official website or through the following details:
Contact Numbers:
0301 1166633
0333 2946356
Address:
Gadap Road 04, Away From Baqai Medical University, Super Highway, Karachi
Conclusion
Wild Venture Park in Karachi is home to several traditional gazebos, buildings with stunning architecture, and eateries.
Even though the city is home to several similar amusement parks, this resort stands out above the rest.
For more related content, visit the Graana blog.