Pakistan's motorway network is considerably extensive, spanning over 2816 kilometres, with an additional under-construction patch of 1213 km. The network consists of 11 fully-operational motorways, along with several more partially operational or under-construction motorways. These connect the country's major cities and also provide links to Afghanistan, China, and Iran.
If you're planning a road trip in Pakistan, Graana.com has prepared a detailed guide below about everything you need to know about Pakistan's motorways, from the history of the vast network to its current expansion plans.
History & Importance of Motorways in Pakistan
Pakistan's economy has been growing rapidly in recent years, with the development of new motorways playing a major role. The Motorway of Pakistan was first planned in 1990 and is an integral part of the transport network in the country. Moreover, it is also significant for Pakistan's 'National Trade Corridor Project' as it links three major seaports: Port Bin Qasim, Gwadar Port and Karachi Port.
Moreover, the China-Pakistan Economic Corridor (CPEC) project seeks to connect Gwadar Port and Kashgar in China using motorways, expressways and national highways in Pakistan.
Motorways are a vital part of Pakistan's infrastructure, and they help to connect the country's major cities and regions. They also provide a safe and efficient means of transportation for both people and goods.
The construction of new motorways is an ongoing process, and they are having a positive impact on Pakistan's economy. In addition to increasing trade and travel, motorways are also creating new jobs and boosting tourism.
List of Motorways in Pakistan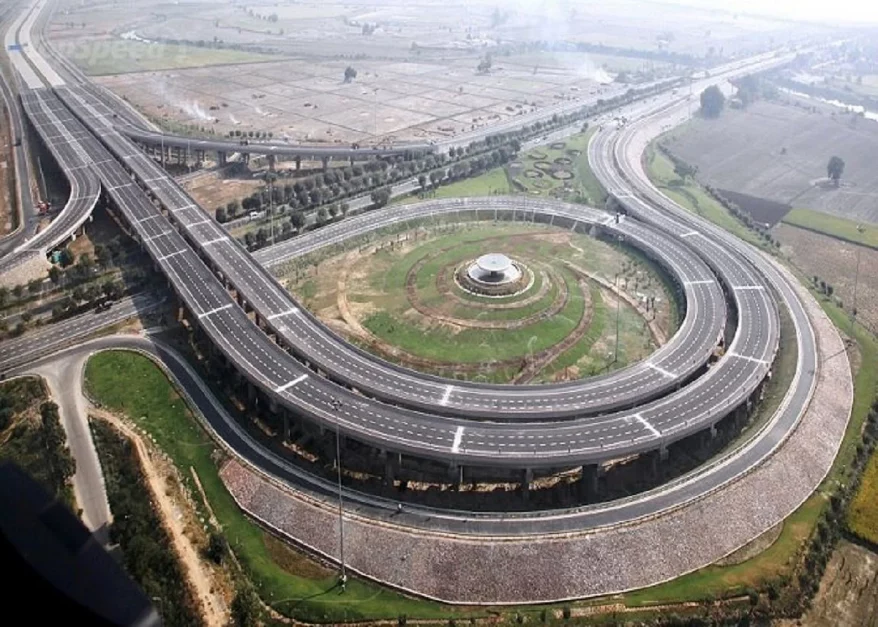 The National Highway Authority (NHA) is responsible for overseeing the whole network of elevated intercity expressways in Pakistan with control exit and entry points. This network is built on the Pakistan motorways listed below.
| | | | | | |
| --- | --- | --- | --- | --- | --- |
| Name | Route | Lanes | Length (km) | Status | Completion Year |
| M-1 | Peshawar–Islamabad | 6 | 155 | Operational | 2007 |
| M-2 | Islamabad–Lahore | 6 | 367 | Operational | 1997 |
| M-3 | Lahore–Abdul Hakeem | 6 | 230 | Operational | 2019 |
| M-4 | Pindi Bhattian–Multan | 4-6 | 309 | Operational | 2019 |
| M-5 | Multan–Sukkur | 6 | 392 | Operational | 2019 |
| M-6 | Sukkur–Hyderabad | 6 | 306 | Pending | 2023 (exp) |
| M-7 | Dadu–Hub | – | 270 | Planned | – |
| M-8 | Ratodero–Gwadar | 2 | 892 | Partially Operational | 2022 (exp) |
| M-9 | Hyderabad–Karachi | 6 | 136 | Operational | 2018 |
| M-10 | Karachi Northern Bypass | 2 | 57 | Operational | 2007 |
| M-11 | Lahore–Sialkot | 4 | 103 | Operational | 2020 |
| M-12 | Sialkot–Kharian | 4 | 70 | Under Construction | 2023 |
| M-13 | Kharian–Rawalpindi | 4 | 117 | Under Construction | 2023 |
| M-14 | Islamabad–D.I Khan | 4 | 285 | Operational | 2022 |
| M-15 | Hasan Abdal–Thakot | 6-4-2 | 180 | Operational | 2020 |
| M-16 | Swabi–Chakdara | 4 | 160 | Operational | 2020 |
M-1 Peshawar-Islamabad Motorway
The 155-kilometre M1 Peshawar-Islamabad Motorway, which begins at the Peshawar Ring Road in the northeast of the city, has 14 interchanges at various locations, including:
Peshawar Ring Road

Peshawar Northern Bypass

Charsadda

Rashakai

Swabi

Ghazi

Hazara Expressway (E-35)

Burhan (Hassan Abdal/Kamra)

Burma Bhatar
Three bridges allow the M-1 Peshawar-Islamabad Motorway to cross the Kabul, Haro, and Indus rivers. Furthermore, the motorway also has 137 underpasses, 18 flyovers, 27 minor bridges, and 571 culverts.
M-2 Lahore-Islamabad Motorway
The M2 Islamabad-Lahore Motorway was built in 1997 and runs 375 kilometres through Punjab's forested terrain. It was the first motorway ever built in South Asia.
It is a six-lane road with 22 interchanges at various locations, including the M2-M1 Junction in Islamabad, Thalian Interchange, Chakri Interchange, Neelah Dullah Interchange M2, Balkasar Interchange, Kallar Kahar Interchange, Lilla Interchange, Bhera Interchange, Saalam Interchange, Kot Momin Interchange, Makhdoom Interchange, Pindi Bhattian Interchange, and M-4 Pindi Bhattian.
On either side of the M-2 Lahore-Islamabad Motorway, there are fuel stations and service areas at 5 different locations, like Sukheki Service Area, Sial Service Area, Bhera Service Area, Kalar Kahar Service Area, and Chakri Service Area. These are typically 60–80 kilometres apart, and are home to some well-known restaurants.
M-3 Lahore-Abdul Hakeem Motorway
The M3 Motorway, which covers a distance of 230 kilometres between the cities of Abdul Hakeem and Lahore, opened in March 2019.
It begins at the M2 Motorway's intersection in Lahore and continues all the way to the interchange of the M4 Pindi Bhattian-Multan Motorway in Abdul Hakeem. Additionally, it is a 6-lane motorway with four interchanges – including Shah Shams Tabrez Interchange, Vehari Road Interchange, Bahawalpur Road Interchange, and Sher Shah Interchange – along with three rest stops.
M-4 Pindi Bhattian-Multan Motorway
The 309-kilometre M-4 Pindi Bhattian-Multan Motorway has four lanes on each side of the road to facilitate traffic flow.
It serves as a connection between several cities in Punjab, including Multan, Rawalpindi, Faisalabad, Toba Tek Singh, Shorkot, and Khanewal. The M-4 expressway has over a dozen interchanges that connect it to some of the most significant highways, including the M-2, M-3, and M-5 highways.
M-5 Multan-Sukkur Motorway
The M-5 Multan-Sukkur Motorway, which is 392 kilometres long, is a part of the 1,100-kilometre-long Karachi-Peshawar Motorway.
Since it significantly cuts down on the amount of time it takes for commodities to be carried from the Karakoram Highway to Karachi and Gwadar, the M-5 highway is regarded as one of the important projects of CPEC.
It connects a number of places in Punjab, including Multan, Jalalpur Pirwala, Rahim Yar Khan, Ahmed Pur East, Sadiqabad, Pano Aqil, Ubaro, and Sukkur. The road is six lanes wide and has eleven interchanges.
M-9 Hyderabad-Karachi Motorway
Covering a total distance of 136 kilometres, M-9 is one of the most important road networks in Pakistan, especially since it connects two major cities of Sindh: Karachi and Hyderabad. This route has been developed over the already constructed Karachi-Hyderabad Super Highway.
This road was later upgraded to a 6-lane highway with controlled exit and entry points at 8 interchanges built along the route. Some of Karachi's most prominent housing societies are also located on Karachi Motorway, such as Bahria Town Karachi and DHA City.
One of South Asia's longest interchanges on M-9 has recently been opened for traffic. It establishes a direct road connection between Sukkur and Bahria Town, Karachi. It was the first interchange in Pakistan and was paid for by a private real estate developer.
M-10 Karachi Northern Bypass
The M-9 Karachi-Hyderabad Motorway is directly connected to the Karachi Port through Karachi's Northern Bypass. The National Highway Authority (NHA) has granted this bypass the designation of a motorway, and it is currently referred to as the M-10 Karachi Motorway.
It features three major interchanges: the M-9 Interchange, the N-25 Interchange and the Trumpet Intersection. It runs from Muhammad Ali Jinnah Road all the way to the KPT flyover.
M-15 Hazara Motorway
The 180-kilometre-long, multi-lane Hazara Motorway, commonly known as the M-15 Motorway, is divided into seven sections. The project's first four sections were finished in 2017, and the remaining ones were finished in 2019-2020.
Some of the tallest bridges in the nation and numerous well-maintained interchanges with security measures connect the whole route. Additionally, the project is a crucial part of CPEC.
The highway links the Burhan junction, which is west of Hasan Abdal, to a number of significant areas in Khyber Pakhtunkhwa, including Haripur, Havelian, Abbottabad, Mansehra, Shinkiari, Battagram, and Thakot.
M-16 Swat Motorway
The most recent highway to join Pakistan's extensive network of highways is the Swat Motorway. It is a 160-kilometre-long, extensive development project that includes a two-way, limited-access expressway. It has numerous lanes to make travel convenient. The Frontier Works Organisation (FWO), which spent PKR 36 billion on the project, has finished it.
The M-16 (Swat Motorway) runs from Karnal Sher Khan Interchange to Chakdara Bridge on National Highway (N-45). The Swat Motorway's first phase was finished in 2019, however, the second phase is currently being built.
Hakla-D.I Khan Motorway Project
This 293-kilometre-long motorway is currently under construction and will comprise 119 underpasses, 33 flyovers, 36 bridges and 11 interchanges.
After its construction is completed, D.I. Khan is set to become a business hub for northern Punjab, Balochistan and south Khyber Pakhtunkhwa. Moreover, the motorway will aid the transportation of agricultural goods to major markets.
For more related information, visit Graana Blog.
FAQs
Here are some FAQs related to motorways in Pakistan
What is the total length of motorways in Pakistan?
The total length of motorways in Pakistan is approximately 1,694 kilometers as of my last knowledge update in September 2021.
Who operates and maintains the motorways in Pakistan?
The National Highway Authority (NHA) of Pakistan is responsible for the operation and maintenance of the motorway network.
How many motorways are there in Pakistan?
There are several motorways in Pakistan, including the M-1, M-2, M-3, M-4, M-5, M-6, M-7, M-8, and more, connecting various cities and regions.
What is the speed limit on Pakistani motorways?
The speed limit on Pakistani motorways typically ranges from 120 to 140 kilometers per hour (km/h), depending on the specific section. Speed limits are indicated by road signs.
Are there rest areas and service stations on Pakistani motorways?
Yes, Pakistani motorways have rest areas, service stations, and restrooms for travelers' convenience. These facilities offer food, fuel, and other amenities.
Do I need to pay tolls to use Pakistani motorways?
Yes, tolls are collected on Pakistani motorways. Toll rates vary depending on the distance traveled and the type of vehicle. Electronic toll collection systems are also in place.
Are motorways safe for travel in Pakistan?
Pakistani motorways are generally considered safe for travel. They have well-maintained roads, signage, and security measures in place. However, it's advisable to follow traffic rules and exercise caution, especially during adverse weather conditions
Can I use a motorway for transportation of goods and cargo?
Yes, motorways in Pakistan can be used for transporting goods and cargo. There are designated lanes for heavy vehicles, and commercial traffic is subject to specific regulations.
What are the major cities and regions connected by the Pakistani motorway network?
The Pakistani motorway network connects major cities and regions, including Lahore, Islamabad, Karachi, Faisalabad, Multan, Peshawar, and many others, facilitating faster and more efficient travel.