A crown jewel nestled in the midst of Khyberpakhtunkhwa's pine-laden hills, Galiyat has garnered immense popularity over the years – and rightly so. Aside from the area's ease of access, the temperature and scenery in Galiyat provide everything you need to enjoy nature's bliss in a tranquil setting.
This region is located between the mountains of Murree and Abbottabad and comprises several areas of varying altitudes. Galiyat is a popular tourist destination for both domestic and international visitors.
To help you plan your next trip to Pakistan's northern areas, Graana.com—smartest Pakistan's property portal—has compiled a list of some of the best places to visit in Galiyat that will make your trip unforgettable.
Top Places in Galiyat Region You Should Definitely Visit
Since the region lies in close vicinity to the Twin Cities, Galiyat comes around as one of the top spots that people opt for to plan a weekend getaway.
The best places that you can explore have been mentioned below.
| | | | |
| --- | --- | --- | --- |
| Sr. No. | Popular Places in Galiyat | Height | Top Areas/Things to Do |
| 1 | Mushkpuri Top | 9,200 ft | Trekking |
| 2 | Miranjani Trek | 9,816 ft | Trekking |
| 3 | Nathia Gali | 7,910 ft | Pipeline Track, Horseriding, Hotelling |
| 4 | Thandiani | 9,020 ft | Horseriding |
| 5 | Ayubia National Park | 8,000 ft | Chairlift, Horseriding |
| 6 | Harnoi Lake | 4,265 ft | Viewpoint, Refreshments |
Mushkpuri Top
Mushkpuri Top is the second-highest mountain summit in Galiyat. It is located around 90 kilometres north of the nation's capital and is about 9,200 feet high.
The trail to this mountain's summit is arguably the most well-travelled trekking path among local and international tourists.
Mushkpuri Top is easily accessible from Ayubia National Park and is just above Nathia Gali. Therefore, tourists and adventurers can be found travelling along this beautiful trail throughout the year.
Trekking to Mushkpuri Top
Reaching the goal from there requires a three-hour trek through a gorgeous pine forest. Moreover, on the western side of the mountain, there is a rather steady trail, perfect for enjoying a peaceful view.
If you're opting to start from Donga Gali, the trek might be comparatively difficult. The beautiful bird sanctuary built close to the trail, however, makes up for the difficulties of traversing through this difficult terrain that stretches all the way to the River Jhelum.
Additionally, it provides a bird's-eye view of the Ayubia National Park. This beautiful location is a favourite among regular hikers who love to trek and enjoy the beauty of nature.
Miranjani Trek
In the Galiyat region, Miranjani sits at the highest peak. It will take you roughly one and a half hours to get to the top if you are an experienced hiker. For beginners, the hike may take three hours or longer.
Miranjani Track 1
The first track for Miranjani Hike begins near Nathia Gali's historic Governor House. Nevertheless, the trail soon splits in two, with one leading to the hilltop in a semi-circle that climbs toward the beautiful little settlement of Namli Maira Village.
Due to its simplicity, safety, and beauty, this route is most frequently chosen by beginners and those trekking with their families. It is a little bit longer than the alternate path, but definitely worth the time.
Miranjani Track 2
The second track is comparatively steep. Children and anyone with health issues may find it a little difficult as it climbs into the Miranjani Top.
If you want to take this path, be sure to bring some water with you because there won't be any source available on the way.
No matter which trail you decide to take, it is advised to engage a local guide to assist you in navigating and getting to the mountain peak. Keep in mind that there aren't many signs in this area, so if you are new to the trial, it is pretty easy to lose your way.
Precautions to Keep in Mind for Miranjani Hike
Start your trek as early as you can, and take plenty of breaks along the way. Ensure that you have enough food and drink to last for up to eight hours; you must set out on your journey as early as you can.
For this hike, you also need to have a basic first aid kit, warm clothing, a walking stick, and hiking boots. Miranjani also offers a glimpse of the snow-capped summit of the impeccable Nanga Parbat, one of the tallest peaks in the world.
Nathia Gali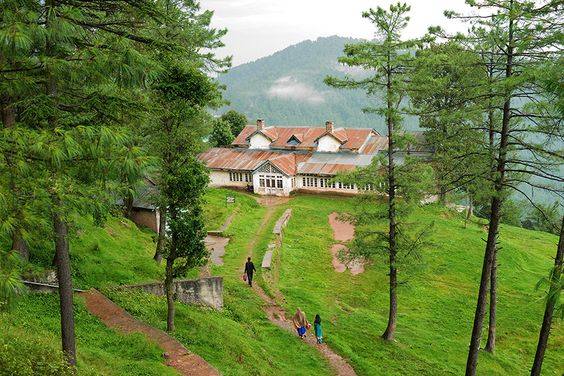 Nathia Gali is regarded as one of the most popular areas to visit in Galiyat, and is well-known for its enthralling scenery.
This area receives a lot of visitors all year round because of its close proximity to Murree. Additionally, holiday vacations with your family are ideal at this mountain resort throughout the summer because of its pleasant weather.
The region experiences significant snowfall in the winter, covering the towering mountain peaks and enhancing its allure and beauty.
Winter temperatures in the region can go to extremes. Thus, December and January might not be the ideal months if you intend to go hiking.
This hill station is made even more alluring by the tall pine, oak, and walnut trees, vivid flowers, stunning hiking trails, old buildings, and delightful marketplaces that are all set against a breathtaking landscape.
Thandiani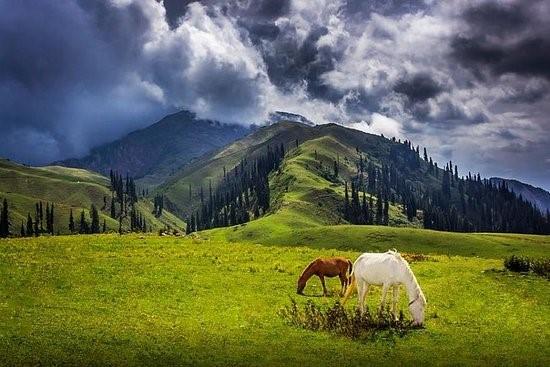 One of the most remarkable sites to visit in Galiyat is Thandiani, one of the famous hill stations in Pakistan. The ideal weekend break from your mundane routine can also be found there.
The Dugri Trek is the route taken to reach Thandiani. Despite being the Galiyat region's longest mountain trail, it is very well-liked by thrill-seekers for its surreal beauty, which is bordered by dense pine forests and a bright sky.
Thandiani offers an incredibly beautiful vista. Thandiani, which means "extremely cold" in the local language, is known for its mild summer weather, which provides much-needed relief from the summer heat for the people of Islamabad, Abbottabad, and the surrounding districts.
If you intend to visit this tourist destination in the winter, be sure to dress warmly.
Ayubia National Park
Ayubia National Park is a place filled with stunning high peaks and lush green woods full of unique wildlife.
In addition to these, some of Pakistan's most well-known hill stations, like Thandiani and Nathia Gali, surround this tourist attraction. At Ayubia National Park, the picnic areas and leisure areas are just breathtaking.
Challenging hiking routes, eateries, a PTDC motel, and, most significantly, the well-known Dunga Gali or Pipeline Walking Track, which links Ayubia and Dunga Gali, are also found on the mountaintop.
Ayubia to Mushkpuri Top, another captivating tourist attraction in Pakistan, can be reached by one of Pakistan's most well-known chairlifts, which is located in this national park.
Harnoi Lake
The well-known picnic area has a tranquil setting and is surrounded by natural beauty. It is a popular tourist destination due to the variety of trees that grow on the lush slopes of the nearby hills and the chilly spring waters that run here.
The garrison city is 15 minutes away by car from this little village, which is also referred to as the entrance to Galiyat.
Children can enjoy entertaining activities in the Harnoi picnic area. Among the younger generation, merry-go-rounds and other amusements are undeniably the most popular attractions. Moreover, another fascinating activity one may partake here is horseback riding.
This blog is a complete guide for you to explore Galiyat and its beauty. To stay updated on the best tourist attractions to visit in Pakistan, follow Graana Blog.