Pakistan is a country blessed with scenic views, majestic deserts, and abundant natural resources. Pakistan is an agricultural country, depending heavily on water resources for irrigation.
Interestingly, Pakistan has around 150 dams spread across all the provinces. These dams in Pakistan are not only a source of electricity and water supply, but they also act as perfect vacationing spots for the locals.
In this concise yet informative article, we will walk you through the famous dams in Pakistan.
So let's get started.
Famous Dams in Pakistan
| | | | | |
| --- | --- | --- | --- | --- |
| Names of dams in Pakistan | Location | Impounds | Height | Year of completion |
| 1. Tarbela Dam | Haripur | Indus River | 143.26 metres (470.0 ft) | 1974 |
| 2. Rawal Dam | Islamabad Capital Territory | Korang River | 40.7 m (133.5 ft) | 1962 |
| 3. Diamer Bhasha Dam | Gilgit Baltistan | Indus River | 272 m (892 ft) | – |
| 4. Mangla Dam | Mirpur District | Jhelum River | 138 metres (453 ft) | 1967 |
| 5. Khanpur Dam | Haripur | Haro River | 51 metres (167 ft) | 1985 |
| 6. Hub Dam | Malir | Hub River | 48 metres (157 ft) | 1979 |
| 7. Mirani Dam | Kech district Balochistan | Dasht River | 127 ft 39 metres | 2006 |
| 8. Warsak Dam | Peshawar | Kabul River | 76.2 metres | 1960 |
| 9. Gomal Zam Dam | Kajori kach south waziristan agency KPK | Gomal River | 437 ft | 2011 |
| 10. Satpara Dam | Skardu | Satpara Stream | 128 ft | 2011 |
| 11. Neelum Jhelum Dam | Muzaffarabad | Neelum Rive | 60 m (197 ft) | 2018 |
| 12. Sabakzai Dam | Zhob | Zhob River | 34.75 m (114.0 ft) | 2007 |
| 13. Darawat Dam | Jhangri, Jamshoro | Nai Baran River | 43 metres (141 ft) | 2014 |
| 14. Namal Dam | Mianwali | Namal Lake | 344 metres (1,129 feet) | 1913 |
| 15. Gulpur Dam | Azad Jammu Kashmir | Poonch River | 35 m (115 ft) | 2020 |
Tarbela Dam
Did you know that Tarbela Dam is the largest earth-filled dam in the world? It is located near Swabi and 105 km northwest of Islamabad. This humongous dam was constructed on the River Indus, a river in Pakistan. The primary purpose of the dam was to store water for irrigation and the generation of electricity.
The construction of the dam started in 1968 and ended in 1976. The dam was built 143 meters above the river belt, with a storage capacity of 11.1 MAF. The maximum elevation level of the dam is 1550 feet.
Speaking of electricity generation, the dam has 17 water turbines solely dedicated to producing hydroelectric power. With a power generation capacity of 4888 Megawatts, the Tarbela dam produces around 70% of hydroelectric power.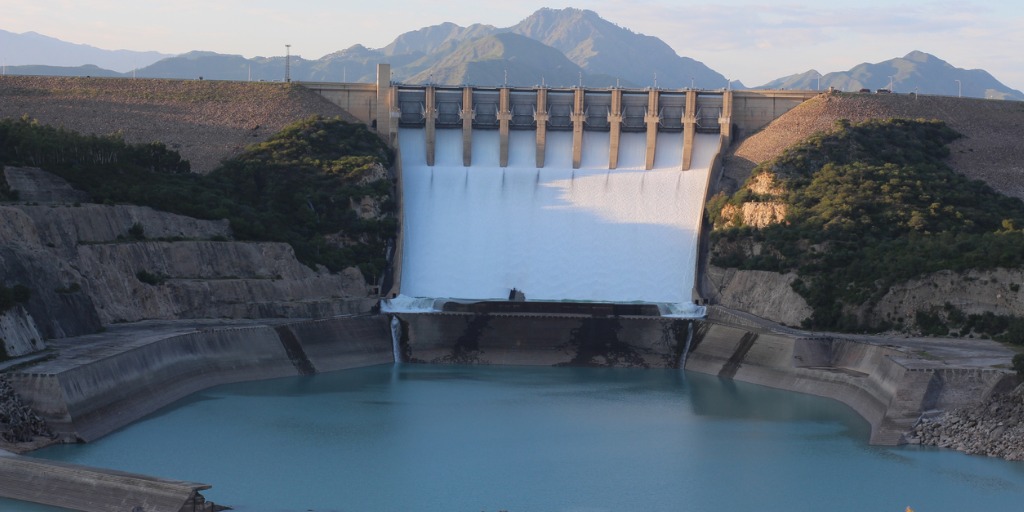 Rawal Dam
Rawal Dam, one of the most famous dams in Pakistan, is located in Islamabad. The dam was built to provide water supply to the twin cities of Pakistan. The construction of the dam started in 1962. The dam has a water capacity of around 42,000 acre-feet.
Apart from being a water storage facility, Rawal Dam is also one of the most famous places to visit in Islamabad. People come here for recreational activities such as horseback riding, boating, fishing, and vice versa. It is also a perfect family picnic spot.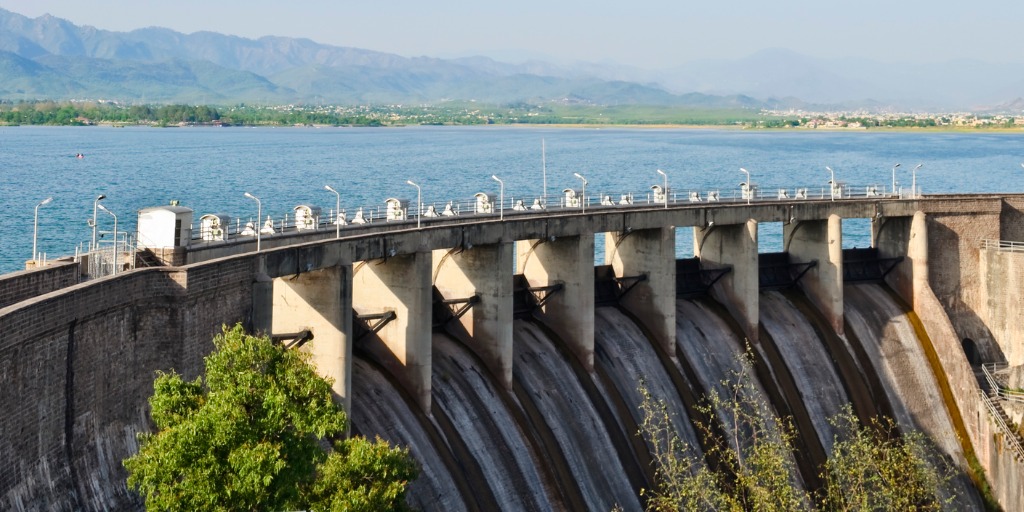 Diamer Bhasha Dam
Most of the significant part of this dam is located in the Kohistan District, KPK, and a small portion is located in Diamer, Gilgit Baltistan. Currently, the dam is under construction, and after its completion, it is anticipated to be the world's highest dam.
The dam is being constructed on the River Indus. With its 12 turbines, the dam will have the ability to produce 4800 Megawatts of electricity. Moreover, with an area of 110 square kilometers, it has a water storage capacity of around 8 MAF. For instance, we used to struggle a lot in the past just to check our electricity bills.
The plan for establishing the Diamer Bhasha Dam was presented by Gen. Pervez Musharraf, former president of Pakistan. Despite the dam's inauguration, construction has often stopped due to insufficient funds. This 4500 MW power-generating dam project was estimated at $12 billion at the start, but according to various experts, the total cost of the dam could range from $ 18 to $ 20 billion.
The construction of the Diamer Bhasha dam has started again, and it will take around nine years to complete. The maximum height of the proposed dam will be 270 meters, with a storage capacity of about 74 million acre-feet.
The dam project will cover 110 square kilometers. According to experts, this dam can bring economic development to Pakistan. It will also increase the lifespan of the Tarbela Dam by 35 years.
Mangla Dam
Mangla Dam is one of the cx. Mangla Dam is not only a water reservoir but an essential player in the international treaty between Pakistan and India, the Indus Waters Basement Treaty. The dam was constructed on the River Jhelum, a river in Punjab, and got its name from the nearby village, ' Mangla.'
It was constructed in 1965, and at the time of construction, Mangla Dam was considered the fifth-largest dam in the world. Currently, it is the 12th largest dam in the world. With a length of 3140 meters and a height of 147 meters, the Mangla reservoir can store 7.39 million acre-feet (M.A.F) of water.
The primary purpose of Mangla Dam is irrigation and power generation for the nearby areas. With its ten turbines, the dam can produce 1310 Megawatts of electricity.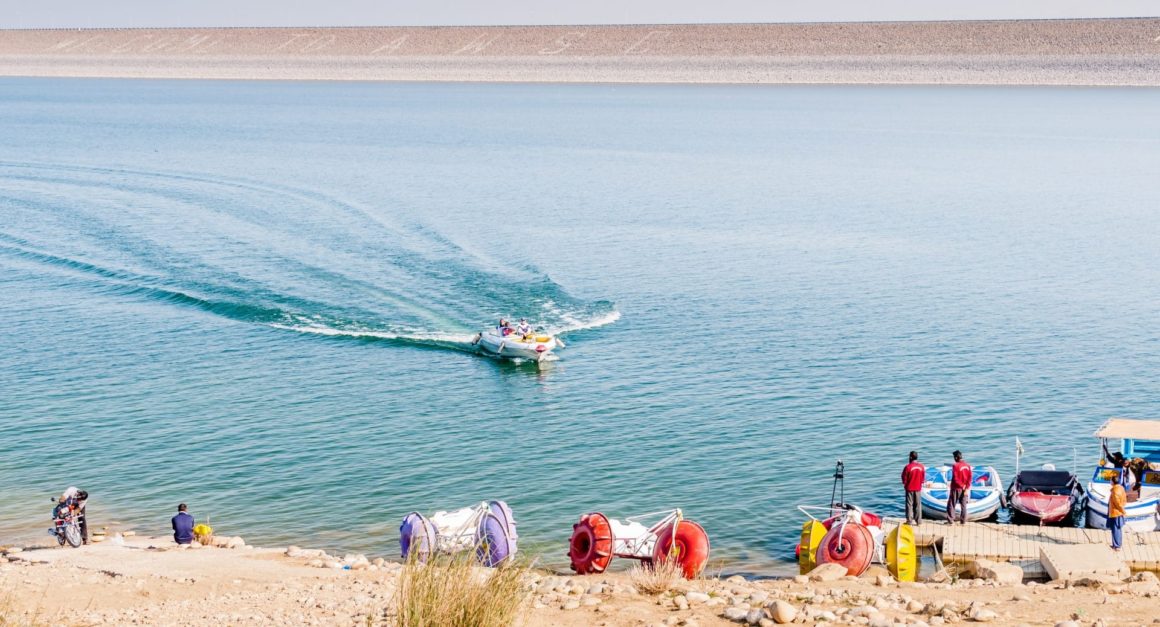 Khanpur Dam
Khanpur Dam, a multipurpose water storage facility, is located in Tehsil Khanpur, District Haripur of Khyber Pakhtunkhwa province of Pakistan. It is built on the Haro River. The dam's primary purpose was to supply drinking water to the capital of Pakistan, Islamabad. In addition to that, the Khanpur dam also provides irrigation water to Islamabad, Haripur, Attock, and Rawalpindi.
The construction of the dam started in 1967, and it took 15 years the completion of the dam. Rs. 1,385.10 million was estimated to be spent on constructing the Khanpur Dam. According to the WAPDA, Khanpur Dam is 167 feet and has a water storage capacity of 79,980 acre-feet.
Khanpur is one of the favorite picnic spots of the locals. People love visiting the dam, especially during the summer season. The place is well known for its tourist attractions, such as cliff jumping, jet skiing, kayaking, and camping. Also, there is a water resort here where people can stay.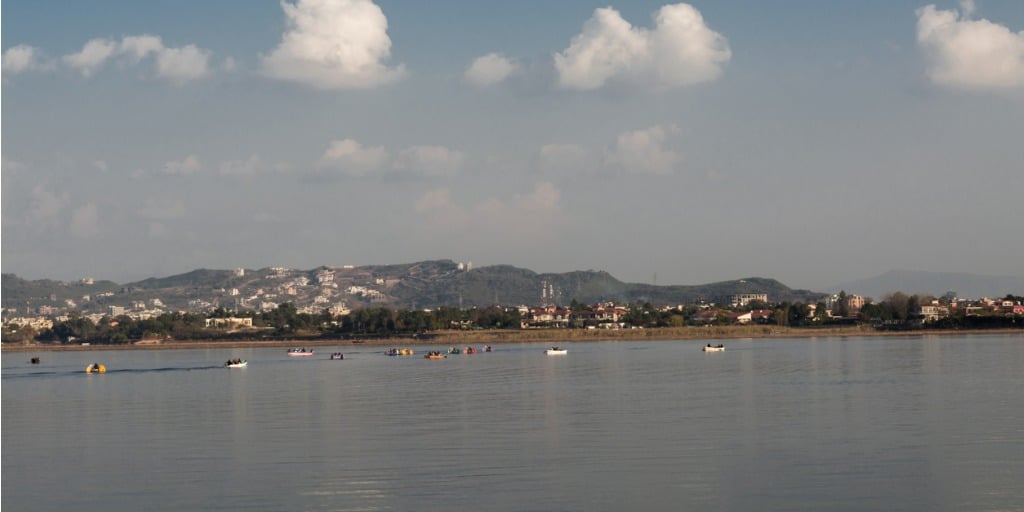 Hub Dam
This small dam is located in the Karachi district of Sindh and the Lasbela district of Balochistan. The dam is constructed on the Hub River. The construction of the dam started in 1963 and ended in 1981.
Hub dam covers an area of 24300 acres on the border of the Sindh Balochistan provinces. The water storage of the dam is 857,000 acre-feet.
Mirani Dam
Mirani Dam is located at the Dasht River south of the Central Makran Range in the Kech District in the Balochistan province of Pakistan. It was constructed in 2006. It is a 302,000-acre-foot (373,000,000 m3) body getting its water from the Kech and Nihing rivers.
Mirani Dam was commissioned by Pakistan's Water and Power Development Authority (WAPDA) in 2001 to provide water for Gwadar city. The project was done on an EPC basis by Descon Engineering Limited.
The primary purpose of the dam was the cultivation of crops and agriculture. Kech Valley consists of cultivable soil upon which agriculture activity could be carried out if a constant water supply is ensured. The dam serves as a water storage facility for the summer season and during floods.
Another purpose of Mirani Dam is to ensure a constant supply of clean drinking water to the towns of Turbat and Gwadar throughout the year.
Some of the features of the dam are:
Gross Storage: 302,000 acre-ft (373,000,000 m3).

Live Storage: 52,000 acre-ft (64,000,000 m3).

Average Annual Releases: 114,000 acre-ft (141,000,000 m3).

Type: Concrete-faced rock-filled

Height: 127 ft. (39 m)

Length at Crest: 3,350 ft. (1,020 m)

Top Width: 35 ft. (11 m)

Clear Waterway: 344 ft. (105 m)

Designed Capacity: 205,800 cu ft./s (5,830 m3/s)

Maximum Capacity: 384,300 cu ft./s (10,880 m3/s)

Tunnel Diameter: 8 ft. (2.4 m)

Capacity: 377 cu ft./s (10.7 m3/s)

Irrigation System Command Area & Capacity:

Right Bank Canal: 20,800 acres (84 km2) & 36 cu ft./s (1.0 m3/s)

Left Bank Canal: 12,400 acres (50 km2) & 141 cu ft./s (4.0 m3/s)

Total: 33,200 acres (134 km2) & 377 cu ft./s (10.7 m3/s)
Warsak Dam
Warsak Dam is another huge concrete dam located at the Kabul River in the valley of Peshawar. The dam is a joint collaboration between Pakistan and Canada. Warsak Dam was completed under the Colombo Plan in two phases and financed by the Canadian Government.
The total installed capacity of the Warsak Dam Hydropower Project is 243 MW. In June 2012, the Pakistan WAPDA (Water and Power Development Authority) decided to add a 375 MW powerhouse to Warsak, which will raise Warsak's total power generation capacity to 525 MW.
Currently, the government is rehabilitating the dam to meet the exceeding demands of the people. Germany will loan 40 million euros to Pakistan for the rehabilitation of the Warsak hydroelectric power station built over half a century ago on Kabul River in Khyber Pakhtunkhwa.
Gomal Zam Dam
Gomal dam, another dam in Pakistan with immense strategic importance is located in the South Waziristan Agency of Federally Administered Tribal Areas, Pakistan. The dam became functional in 2011. The dam gets its water from the Gomal River, a tributary of the Indus River. The major purposes of the dam include irrigation, flood control, and hydroelectric power generation.
Gomal Dam is a roller-compacted concrete (RCC) gravity dam with a height of 437 feet (133 m). It has a gross storage capacity of 1,140,000 acre-feet (1.41 km3) and the 60.5 km long main canal will irrigate about 163,000 acres (660 km2) barren land of Tank district and Tehsil Kulachi of Dera Ismail Khan. It produces 17.4 MW of electricity.
Satpara Dam
Amongst the medium-sized dams in Pakistan, Satpara Dam tops our list. It is a state of the art dam, concrete-filled dam located at the Satpara Lake on the Satpara Stream approximately 4 km from the town of Skardu in Gilgit-Baltistan, Pakistan.
The dam is a major source of electricity generation for the adjacent areas. It generates 17.36 MW of hydroelectricity, supplies power to approximately 30,000 households in the Skardu Valley, irrigates 15,536 acres (62.87 km2) of land, and supplies 3.1 million gallons per day of drinking water to Skardu city.
The construction of the dam started in 2003 and was completed in 2011. Some of the major features of the dam include:
Dam
Type: Earth-filled

Length: 560 ft.

Height: 128 ft.

Width (at top): 80 ft.
Spillway
Spillway length: 1,075 ft.

Spillway width: 50 ft.

Spillway capacity: 5000 ft. 3/s

Reservoir capacity (gross): 0.0932 MAF (93,385 AF)

Reservoir capacity (live): 0.0521 MAF (51,484 AF)

Power generation capacity: 17.366 MW

Irrigation system: LBC 51933 ft., RBC 58000 ft.
Canal Length
Left Bank Canal: 59,000 Ft.

Right Bank Canal: 30,000 Ft.
Command Area
Total: 10,131 acres (41.00 km2)

Left Bank Canal: 8,119 acres (32.86 km2)

Right Bank Canal: 2,012 acres (8.14 km2)
Construction
Contractor: hi-tech Lubricants Ltd.

Man-hours: 2.4 million

Peak manpower: 450
Neelum Jhelum Dam
The Neelum-Jhelum Dam is a hydroelectric power project that is stationed in Azad Kashmir. As the name indicates, it designates water from the Neelum River towards the Jhelum River. This dam is a source of producing up to 1040MW in the past years and is running since the year 2018.
The Neelum-Jhelum Dam has proven itself to be a historic landmark that is helping thousands of people through its hydroelectric power generation. Because the dam is fairly still new as compared to other dams in Pakistan, there are relatively few people who are aware of it and have toured the place.
Sabakzai Dam
The Sabakzai Dam is situated on the Zhob River in Balochistan. It directs the flow of the Zhob River in the southwest region of Balochistan. The construction of the dam took a total of 3 years, i.e., from 2004-2007.
The project was inaugurated by Gen. Pervez Musharaf in 2007 and has been operational ever since. It aids in the irrigation of local land, but a proper irrigation channel through the dam is still under work.
The Sabakzai Dam has played an important role in keeping the river's water flow intact, alongside being a popular spot for local tourists from the province.
Darawat Dam
Darawat dam is a lesser-known dam situated in the Jamshoro District of Sindh Province. It is situated on the Nai Bran River and was constructed in 4 years. The dam was inaugurated by Asif Ali Zardari in the year 2013. The dam holds the capacity to store 150 million cubic metres of water.
This dam mainly aids in the irrigation of local crops, alongside being a tourist spot for local citizens who come from Hyderabad and Karachi for a picnic.
Namal Dam
Namal (Gravity) Dam is situated at the edge of Namal Valley in Mianwali, Punjab. British engineers constructed it in 1913, which accounts for its old age, but is a working dam.
The region is surrounded by agricultural plains and provides irrigation to the land. It has become a hub for migratory birds, which is an attraction for birdwatchers.
Gulpur Dam
The Gulpur Hydroelectric project is situated on the Poonch River near Gulpur, which is a wide sidestream that flows from the Jhelum River. The site of the Dam itself is 235 km far from Lahore city and just 167 km distant from Islamabad. This dam is designed to generate 100 MW of electricity and is planned on a least-cost basis.
A Korean company subsidiary, KOSEP, MIRA Power Ltd, signed a contract with Wapda to construct this project. This dam has been operational since February 2020 and is relatively new.
Interestingly, Hub Dam is also a tourist resort. Tourists and the general public visit the dam on weekend holidays. The place is famous for its beautiful picnic spots, Place to eat, swimming spots, and fishing. A rest house of WAPDA is also located there for tourists to stay.
So, these were some of Pakistan's most famous and significant dams. There is a huge importance of dams in Pakistan because we are an agricultural country and need a water supply for our economy and survival. We hope this was a fun and fact full article for you. If you have any queries regarding the dams, leave us a message. We would love to answer your queries.
FAQs
How many dams are there in Pakistan?
There are over 150 dams in Pakistan, both large and small.
Which is the biggest dam in Pakistan?
The biggest dam in Pakistan is the Tarbela Dam, located on the Indus River in Khyber Pakhtunkhwa province. It is also one of the largest earth-filled dams in the world.
Which is the No one dam in Pakistan?
It is difficult to determine which dam is the "No 1" dam in Pakistan as each dam serves a unique purpose and has its own set of specifications and features.
What are the new dam names in Pakistan?
Some of the new dam projects in Pakistan include the Diamer-Bhasha Dam, which is currently under construction on the Indus River in Gilgit-Baltistan and is expected to be completed in 2028.
Another new dam project is the Mohmand Dam, which is also under construction on the Swat River in Mohmand district and is expected to be completed in 2024. Additionally, the Dasu Dam project is another major dam under construction on the Indus River in Khyber Pakhtunkhwa province, with expected completion in 2028.
Bhasha Dam is on Which River?
The Diamer Bhasha Dam, featuring a vast reservoir, is set to be situated along the Indus River in the Diamer district of Pakistan's Gilgit-Baltistan province. It will be positioned roughly 315km upstream of the Tarbela Dam and 40km downstream of Chilas town.