DHA Islamabad was established with the aim to offer fine infrastructure, design and urban planning to the residents of the twin cities of Rawalpindi and Islamabad.
Not only does it offer the provision of all basic and modern amenities but also fulfils the needs of both commercial and residential lifestyles. DHA is a smart investment choice with a fruitful return on investment (ROI).
Overview of DHA Phase II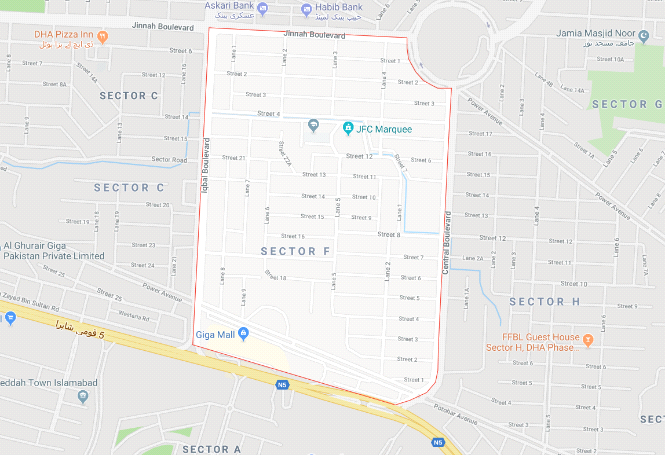 All the DHA sectors are developed and delivered. DHA Phase 2 located in Zone V of Islamabad is one of the most attractive sectors in comparison to other phases. DHA Phase 2, with development still underway has its own planned amenities.
It has a total of 17 sectors from Sector A to Sector Q. Phase 2 of DHA Islamabad is located in the famous Kahuta Triangle with one side resting along Islamabad highway while Gate 1 of it is at the Grand Trunk (GT) Road.
It lies on a very large area which starts from GT Road stretching all the way along Islamabad Highway towards Rawat. It has entrance exists at all three sides for better accessibility and smooth traffic flow.
Phase 2 comprises nearly 15075 kanals and over 90 per cent of the work has been completed. DHA Phase 2 has over 15000 residential plots.
Its neighbouring societies include Zaraj Housing Society in its South, Canyon Views in its West, Bahria Intellectual Village and Army Officers Colony in its East and Bahria Town Phase 4, Soan Gardens, PWD Housing Society, River Gardens Housing Scheme and Media Town in its North.
DHA Phase 2 of Islamabad has a total of four gates namely Gates 1, 2, 3 and 7. Gates 1, 2 and 3 lie on the Grand Trunk road with Gate 3 being the closest to Gate 3 of the Phase. This connects to Islamabad Expressway through T- Chowk and is the main artery for those who have their daily work commute towards Saddar.
Gate 7 of DHA Phase 2, however, lies on Islamabad Expressway and is a convenient route for those needing to travel to Islamabad. A commute from DHA Phase 2 to Islamabad takes approximately 30 to 45 minutes. 
DHA Phase-2 Sectors
 

Sector

 

Marla Size

 

10 Marla

 

20 Marla

A
Rs2.4crore-Rs3 Crore
Rs4.5crore-Rs5.5 Crore
B
Rs2.25crore-Rs2.7 Crore
Rs4.25crore-Rs5 Crore
C
Rs2.35crore-Rs2.75 Crore
Rs4.5crore-Rs5.5 Crore
D
Rs2.37crore-Rs2.5 Crore
Rs4.27crore-Rs5 Crore
E
Rs2.85crore-Rs3.5 Crore
Rs4.5crore-Rs6 Crore
F
Rs2.5crore-Rs3 Crore
Rs5crore-Rs6 Crore
G
Rs2.5crore-Rs3 Crore
Rs5crore-Rs6 Crore
H
Rs2.5crore-Rs3 Crore
Rs5crore-Rs6 Crore
J
Rs2.25crore-Rs2.7 Crore
Rs4crore-Rs5 Crore
 

Project

 

Marla Size

 

2 Bed

 

3 Bed

Defense Residency
Rs35lac-Rs50 Lac
Rs55lac-70 Lac
Lignum Tower
Rs65lac-Rs80 Lac
95 crore-1.15 Crore
Zameen Ace Mall
Rs85 Lac-Rs1 Crore
Rs1.30crore-Rs1.5 Crore
Defense Executive
Rs70lac-Rs90 Lac
Rs1.1crore-Rs1.3 Crore
 

Project

 

Marla Size

 

3 Bed

 

4 Bed

Askari Tower 1
Rs1.8crore-Rs1.9 Crore
Rs1.75crore-Rs2.25 Crore
Askari Tower 2
Rs1.8crore-Rs1.9 Crore
Rs1.75crore-Rs2.25 Crore
DHA Islamabad Phase 2, is fully equipped with utility areas like mosques, commercial areas, shops, schools, medical clinics, parking, play areas, and jogging tracks.
Sector A of DHA Phase 2 is a completely developed sector with all amenities including dining out places like Al-Makkah Chiniot Pakwan, the very famous Jamil Sweets and Subway. It has its own Mosque, provisions of banking facilities like Meezan bank and a post office.
Lignum Tower is also another high-rise tower in Sector A of the Phase. It is a vision with traditional terrace-style apartments, dedicated car parks for each apartment, security, elevators, intercoms, spacious dining rooms, ultra-modern kitchens, airy bedrooms, and lavish fitted bathrooms. It includes other construction projects namely Defence Residency and Defence Executive Luxury Apartments.
Defence Residency is a class residential project with Executive Apartments providing all amenities of modern life. Some key features include facility Management Services, High-Speed Lifts, Car Parking, Prayer Area, Standby Power Backup, Gymnasium, Kid's Play Area, Fire-Fighting System, Intercom Facility and CCTV Security Systems. The project is currently under construction
Similarly, Defence Executive Apartments are a project of luxury apartments with its construction work in the final stages. It offers a complete gated community lifestyle, security, covered car parking, a swimming pool and a health club equipped with modern living luxuries.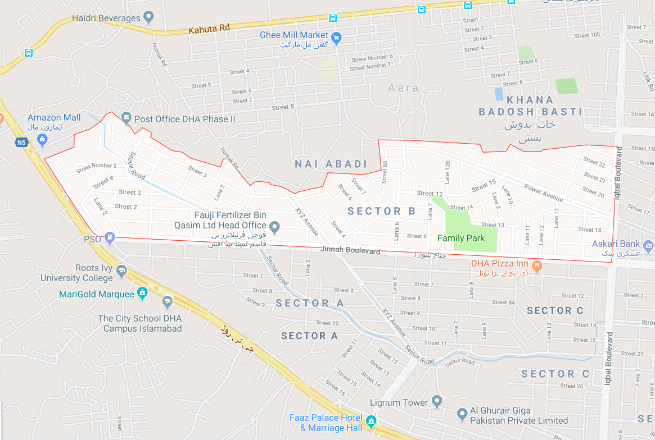 Sector B of DHA Phase 2 is a well-developed sector with a family park as its highlight. Additionally to it, Sector B also has a DHA Tennis Court for sports lovers. It is a great sector to spend some evening time out with family at the recreational park.
This sector has its own dine-in places like Zahoor Café, Abdul Karim Hotel, and Snack Shack. A shopping mall personally for this sector has been established with its own mosques as well. It also hosts a nearby school namely The Educators Humak. Sector C lies on the south of Sector B and hosts DHA's renowned DHA Pizza Inn.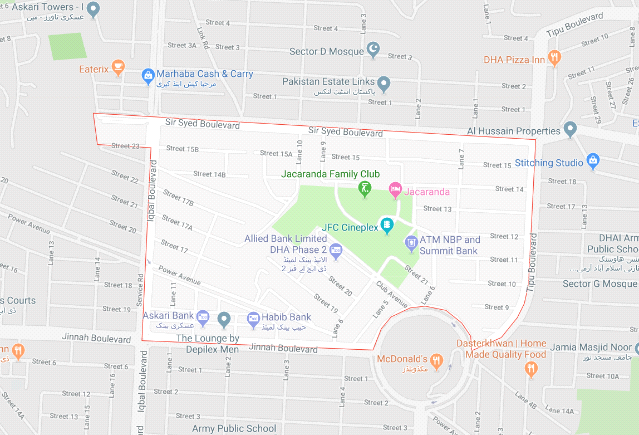 DHA Phase 2 Sector D, is a self-sufficient sector with all life amenities from Marhaba Cash & Carry and D. Grocers to eatery places like DHA Pizza Inna and Khan Café. The sector has two dedicated mosques to it.
DHA Phase 2, Sector E is one of the most active sectors of all. Jacaranda Family Club remains the busiest place in this sector which hosts restaurants, guest rooms, wedding halls, JFC Cineplex, a Bowling Alley, a swimming pool, a squash court, and a tennis court. It offers a range of activities from Chinese Cooking Classes
to the Jacaranda Grill, a Chinese Restaurant, Imperial Wedding Hall, Continental Restaurant and Guest Rooms. It has the provision banking facilities with banks like Allied Bank Limited, Askari Bank, Habib Bank, ATM National Bank, and Summit Bank.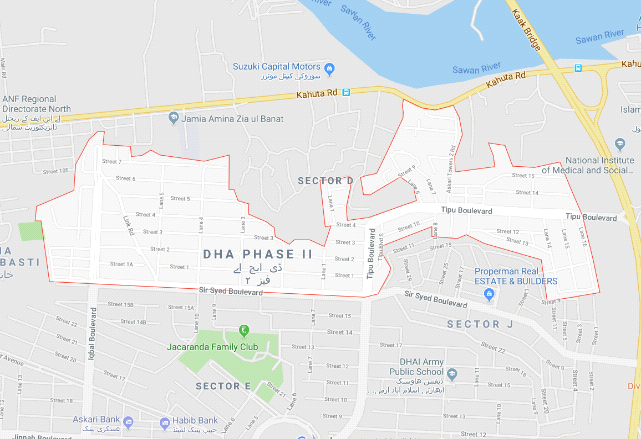 Quality education schools including the Army Public School are also a part of this sector. Not only this, but the sector also offers grooming salons for men namely The Lunge by Depilex Men.
DHA Phase 2, Sector F remains yet another busy sector of the Phase because of Giga Mall situated in the midst of it. It is situated on the G.T Road near Gate 1 of the Phase. It makes the strategic location for DHA Phase 2 more ideal.
Since its opening, Giga Mall has attracted massive visitors and residents in DHA Phase 2 of Islamabad and has become a state-of-art project in the capital city of Islamabad-Pakistan where an International standard mall, Giga Mall, is operational and got its place in the top malls of Pakistan just in very less time.
Giga Mall is a fully operational mall where people can enjoy shopping, eating, and entertainment. It is conveniently located in the limelight district of the twin cities. Other provisions include HBL, Gloria Jeans Coffees and the JFC Marquee in the sector.
DHA Phase 2, Sector G is yet another self-contained sector with its own three mosques and a schooling system DHAI Army Public School.
Sectors F and G share a Central Boulevard that stays as the busiest roundabout of DHA Phase 2 as it has several eatery places including MacDonalds, Pizza Hut, Dasterkhwan Home and marts to shop from all around Central Park. The sector has another park to it near Jamia Masjid Noor.
Sector H, of DHA Phase 2 is near Sector G and has its own marts for people to shop and mosques to pray in. This side of the sector has guest houses and ISR Boys Hostel as a safe abode for those who want to choose to live there.
DHA 2 Phase 2, Sector J as an individual sector is also equipped with its own mosques and family marts. This sector is comparatively smaller than other sectors and thus residents of this sector rely on nearby sectors for access to daily needs.
The most impressive part of Phase 2 is the up-gradation of GT road to 8 lanes and a beautifully designed flyover connecting Phase 2 with Phase 5 over signal-free Islamabad Express Way. Road infrastructure for DHA Phase 2 is finely carpeted while also allowing an easy flow of vehicles.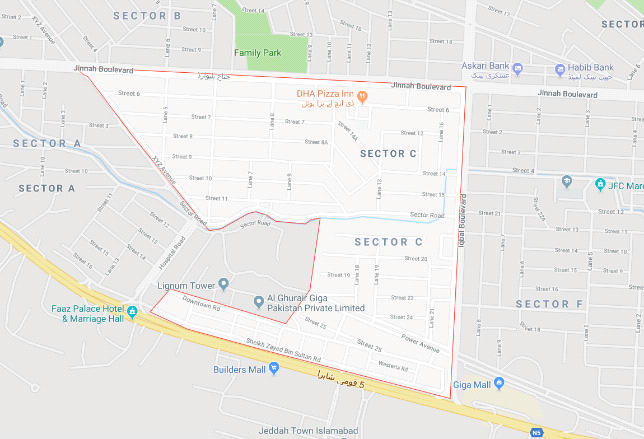 DHA Phase 2 is a complete Phase on its own with facilities like shops, shopping malls, mosques, schools, pharmacies, play areas, and green tracks. It has attractive green belts added to the serene environment; while footpaths on both sides make the cemented roads pedestrian and cyclist friendly.
Streets inside DHA Islamabad-Rawalpindi are 40 feet wide; the boulevards are 130 feet wide allowing easy flow of vehicles.
Planning-wise, DHA Phase 2 is an intricately planned self-contained society with three petrol pumps: PSO, SHELL, and TOTAL in a single phase. Each one of these has a spare parts shop, service station, mini-mart, compressed natural gas facility, workshop, and restaurant. An underground electrification system falling completely on European standards has also been ensured.
Contact Details
To contact, visit the Main Office Defence Ave, Sector A, DHA Phase 1, Islamabad.
Phone: (051) 111 555 400
To contact Jacaranda Family Club visit, JFC Sales & Marketing Office, Club Avenue, Sector E, Phase II,
P.O. 1531, DHA Islamabad-Rawalpindi
UAN: (051) 111-JFC-DHA (532-342), Fax: (051) 2311008 Extn: 2625 & 2626