People nowadays are shifting towards farmhouses for hosting events and parties, as the trend has become famous and complete in business in Lahore. Destination, food, and theme – are three of the most important things to consider when choosing a farmhouse. To simplify things, we have compiled a list of top farmhouses in Lahore!
List of Farmhouses in Lahore
Nadia Farmhouse and Catering
This venue is one of a kind and should not miss your eye. Nadia farmhouse in Lahore, located at Raiwand Road, has a vast pool, ample space for decoration, and a stage setting if you are searching for a farmhouse for a wedding.
It also provides in-house décor and catering, so getting into the hassle of outsourcing a caterer is out of the box. Parking for 50 to 80 cars is available as well! Beautifully constructed halls and outdoor venues can host up to three thousand people. They have fully air-conditioned entrances, round-the-clock security, and on-site décor partners to fill you with instant décor themes and ideas.
All things are under one roof with Nadia farmhouse and catering company. Lahore is one of the top cities to live in. There is an option of 4 Marla houses for sale in Lahore and 5 Marla house for sale in Lahore if you are looking for places to live at affordable prices.
Windmills Farmhouse & Resort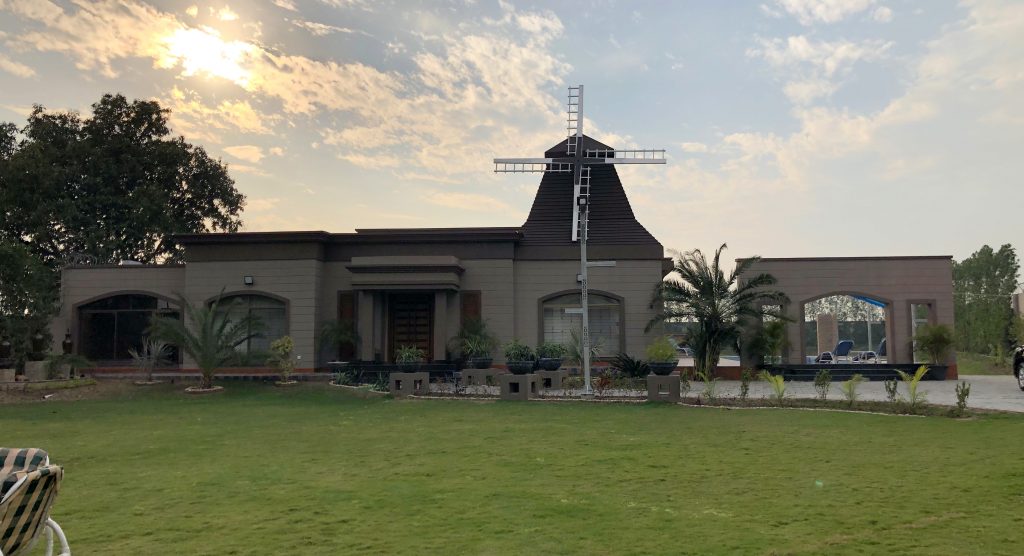 Windmills farmhouse in Lahore is the venue that can be named for having a luxury wedding with a luxury destination. You can enjoy your events and get your guests for a night stay will three-course meals and in-house quality services and facilities, including a swimming pool, mini golf, cinema, snooker, table tennis, best gym, badminton, swings, carrom board, ludo, chess & much more. It is only ten minutes away from DHA Lahore.
Imdad ul Rehman Farmhouse
Imdad ul Rehman Farmhouse at Raiwind Lahore is the best place for wedding events, corporate meetings, and concerts at reasonable rental pricing options. The farmhouse is also used for commercial shoots, Tv dramas, and film shooting. The place can host up to 1500 guests.
The royal-class building has executive bedrooms with a kitchen and washrooms. Covered with lavish green lawns, the landscape looks like a royal palace.
Some of its features include:
Lavish lawns

Classic landscaping

Swimming pool

Royal building with guest rooms

Security

Bridal rooms

Washrooms
Green Maison Farmhouse
Located near Badshahi Mosque, Lahore, Green Mansion Farmhouse is a fully furnished farmhouse for sale in Lahore with quality in-house facilities including 4 bedrooms, a hall, sitting area as well a parking space. It is located at Raiwand Road with alluring settings perfect for a bridal photoshoot. They also allow for external décor and catering, so you have wide options to choose from as per your likes.
Executive Lodge
An ideal farmhouse location in Lahore for picnics, located in the prime location of Bahria Town, is another of our top luxurious farmhouses. Executive Lodge has a beautifully furnished building with a facilitated kitchen, living and dining rooms.
It has a big green lawn that can be used for any event or photoshoot.
Features include:
Seating capacity 1000-1200 guests

Spacious valet parking

Washrooms

Bridal rooms

Backup generator
Lahore Greenz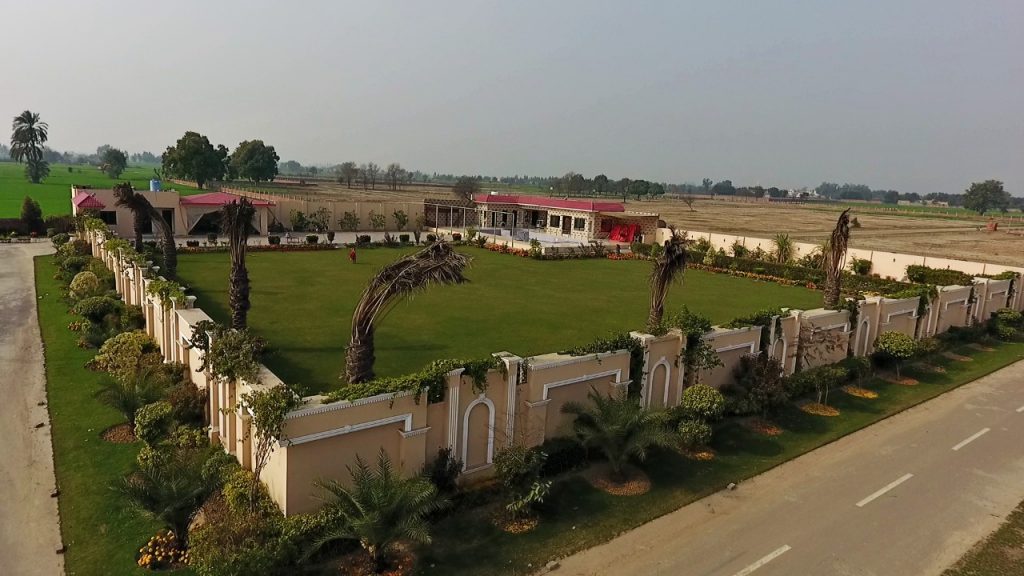 Lahore Greenz farmhouse in Lahore is a top luxurious, beautiful farmhouse society providing state of the art facilities and services. This project is developed and marketed by RA Marketing.
A gated society with a walled and secured community, quality roads, and complete other facilities. They deal in all sizes of farm houses plots, ensuring the best services and 12 months of easy installment plans for (2, 4, 6, 8) kanal plots. It is located next to DHA phase 10 and is only a 10-minute drive from DHA phase 6.
Of course, the scenic views of the farmhouse are always an additional benefit; however, owning one is like owning a second property, which can be utilized as per your need and convenience whenever you desire. Owning a farmhouse has many benefits; if you are genuinely interested in investing, we believe that Lahore Greenz will be the best investment opportunity in Pakistan.
Having your farmhouse provides an easy escape from life's daily hustle and bustle. You can host all kinds of events. Breed livestock for having your organic produce of popular fruits of Pakistan, vegetables, milk, and eggs. Having one's farmhouse also facilitates an extra additional income. A long-term investment that will also become your retirement home with peaceful and lush, beautiful surroundings while also developing farmhouse communities.
Abdullah Farmhouse
A farmhouse that has been in the business of providing services since 2005. The venue has a capacity of 1000 guests while also allowing for external décor and a sound system. The standout feature is that it is located within the city, in DHA phase 5. Perfect for those who are searching for spacious destinations within the city for time management and convenience.
Fasih Farmhouse
No doubt that location is one of the components which can turn up the mood of an event. This is the farm where you can host a lavish extravagant wedding. A beautiful natural green setting for an unforgettable and spectacular festivity to enjoy with family and friends.
Located at Nawab Town, Thokar Niaz Baig, Fasih farmhouse offers excellent in-house services along with its scenic beauty and elegance. It is one of the most ideal and celebrated places for weddings. A once in a lifetime event should be enjoyed at the fullest, making it special with the peaceful backdrop for your party.
Hamza Farm
If you are looking to host a grand birthday party, wedding ceremony or a bridal shower at a place that will make you feel no less than a home at an affordable price, then Hamza farm is for you! A 5.5-acre farmhouse that has multiple opportunities to make your event standout in the best possible way you want.
The venue is located at Barki Road and has the following:
BBQ area.

Swimming pool.

In-house facilities.

Parking space.
Talia FarmHouse
Talia, a beautiful farmhouse, is perfect for intimate family events and picnics. It is one of the most beautiful spots for beautiful moments. Be it an outdoor or indoor function, Talia Farmhouse will be your best pick if you are looking for a serene, lush green environment.
An open-air event or a wedding can host up to six hundred people. So, worrying about the number of guests is undoubtedly an option. An easy and accessible location on Raiwind Lasani road, Talia farmhouse offers reasonable and convenient budget options for weddings, including a bridal room, powder washroom & instant family car parking.
Thick green trees enhancing the beauty of the farmhouse will enchant the beauty of your event too. Due to its beautiful landscape, it is also famous for wedding and outdoor shoots. The farmhouse, however, does not have rooms or kitchen facilities.
Some of its features are:
Spacious valet parking.

BBQ area.

Indoor games.

Washroom.

Bridal room.

Power backup generator.

Swimming pool.

Cricket/football ground.

Kids play area.
Beautiful landscapes, breathtaking architecture, in-house décor, and catering facilities all things that you can enjoy in a single place with unlimited time. So next time you head out, consider one of these farmhouses for your day to spend a fun-filled time with your family. These farmhouses are dream wedding venues, so stay ahead with trends, insights, and news with Graana blog.