"A walk in nature, walks the soul back home."
This quote by Nicole Reichert is enough to describe the beauty of hiking. Whether you're young or an adult, an expert or an amateur, there is always a hiking trail out there that will be perfect for you.
Living in Islamabad should remind you of what a privilege living with a view of the Margallas is. We have compiled a list of the hiking tracks you must visit in Islamabad, just to explore this incredible city we live in.
Just looking at the magnificence of these hills should be enough to have you thinking about the stunning places in Islamabad that you have yet to explore. If you have a knack for history you should not miss visiting historical places in Pakistan.
A grey drizzle, with low scudding clouds obscuring the mountains attracts people to the Margallas for a drive or hike.
In your neck of the woods, you may run into thunderstorms, high winds, lightning, punishing humidity or sudden temperature swings because the rainfall (being witnessed due to the dicey weather of Islamabad) may thwart your plans, impacting your safety during the hike
That's exactly why before you set out to hike, you must know the weather conditions and pattern beforehand. What exactly is the ideal weather if you want to hike?  Blue skies decorated with puffy white clouds, a gentle southerly breeze, and plenty of daylight to spend on the trail… Aaah, perfection!
But with September nearing its end, don't forget to keep a check on the weather patterns.
Before you set out to hike, think about how far you plan to go. This is based on how remote the location is and what the weather forecast has in store for the day.
The duration and length of the height and the weather determine what you need to take along for the hike. From keeping in check your clothing and, gear, to the food and water you're going to want, especially if it is your first hike.
Things Needed For Hiking
The key fundamentals of hiking are to carry as little as possible but choose that little with care. So start with getting to know the area and after you've decided, here is a checklist for your hike:
Hiking backpack
Weather-appropriate clothing
Hiking boots or shoes suited to the terrain
Plenty of snacks that include protein bars
Plenty of water
Navigation tools such as a map and compass
First-aid kit
Battery pack and cable
Knife or multi-tool
Ample time, and,
Determination.
Hiking is one of those things that you can only do when you have determination in you.
After taking the necessary precautions, all that there is left to do is take the walk to lose yourself in nature and find the answers you've been looking for. Even when the climb gets tough, your drive is what will keep you going. There are no shortcuts to any of the places that are worth going to.
Here is a list of the hiking tracks you must visit in Islamabad, and while you are at it you will know that somewhere between the bottom of the climb and the top of the summit is the answer to the mystery of why we climb. So, put on your shoes, and take a hike.
Trail 3
For those of you who don't know, Trail 3 starts on the right side of Margalla Road, opposite Sector F 6/3 (GPS coordinates: approximately 33.741955 and 73.081806). Technology has made it easier to find the trail and it can be searched on Google Maps using the search words 'Trail 3 Parking, Islamabad.'
Welcomed by a huge map right at the start of the outset, the distance from the parking lot to Monal is 6.1 km via the regular track, which would take about 1 hour and 45 minutes for an average hiker to cover.
The steeper tracker, however, is 5 km, so have a good look at this map beforehand to avoid detours later.
On the journey to find yourself, one might find it fun to get lost on this trail. Offering numerous undiscovered natural walkways on Margalla hills, these tracks would eventually end up joining the main track anyway. If you want to use the fire lane, turn right before the wooden entrance of the main track to join the steep path going left.
Remember, no matter which path you choose, the final point is the Monal restaurant which is one of the top restaurants in the city.
Divided into 4 legs, the first leg welcomes the hikers with a large wooden canopy to rest up, and a prayer place so that beginners can pray for the journey to end and for the process to be peaceful. Local kids of the area roam around selling water and juices for those who wish to continue their journey ahead. The distance up to this mark is about 1.8 km.
From here onwards the place usually called 'The Pines' by regular hikers takes up an additional 550m, which can be covered in about 10-15 minutes. Turning steeper and steeper, so make sure to tie up your laces tightly and be ready to take the magnificent Margallas in.
In about another 1.4 km (as per Google) you further reach the third leg of the journey, which brings you closer and closer to conquering the summit and finding yourself.
The summit is about 1.2 km from here onwards. If you stay on the regular track, the hike is as easy as a walk in the park, so let's hope you're right on the track to reach your destination, Monal restaurant.
If you want a hassle-free and perfect trip with your loved ones, avail the services of any trusted travel agency in Pakistan, travel agencies provide exceptional services at an affordable rate.
Trail 5
Because of the diversity of this path, hiking on Trail 5 Islamabad is on the top list of many in the city.
Running parallel to Trail 3 at many points, it is said to be less tough than the former trail and the hikers usually find it to be more adventurous. Starting from Margalla Road in Sector F-5, Trail 5 leads up to the top of Pir Sohawa road. The trek from this path can take up an estimated time to cover a distance of 5.08 km in around 2.5 – 3.5 hours.
As mentioned above, Trail 5 is parallel to trail 3, so you can start from there as well.
Beginning quite smoothly, after covering a few metres this path welcomes its hikers with a stream of fresh water along with a beautiful sitting area. You may wash away all your worries right here and proceed further.
Trail 5 is divided into three different tracks. The first track is a quiet regular one and adorns the very famous Ficus Spring. Trail-5 Dangerous is the name of the track that is steeper than the others, and it is also quite unique if compared to other trails of Margalla Hills. Serving some adventurous routes, this track offers breathtaking views for its hikers and casts them under its spell.
Most parts of trail 5 pass through the serene, calm, and beautiful areas of the Haripur district and offer plentiful camping spots as well.
Another surprise this trail has to offer is the renowned 'Gurr ki Chai', which unlike the regular chai is more palatable. As karak (strongly brewed) as a cup of tea could get, one can taste gur in every sip of this chai. This cup of tea is sure to warm you up before you start, or relax you after your hike.
Trail 6
Being opened to the public just recently in 2013, the adventure of Trail 6 starts right from the back of the famous Shah Faisal Mosque, where one can also park their car.
Covering an elevation starting from 601 metres and ending at 995 meters, the trail is spread over a distance of 8.21km. It is safe to say that this path is fairly steep as it takes about 3-3.5 hours to reach the top. Welcoming the hikers with a huge map of the trail is present so that they can decide their course and further avoid unnecessary detours.
A piece of good news for many, in case you've brought your pet along but isn't in the mood to accompany you on the hike, you can leave it here with CDA staff. This track also sports a mountain biking track right at the start of this trail.
Starting as a flat track, the initial 1.8 km has almost no elevation. Just after 1.1km of walking on this section, you discover a water stream. In summer this stream can be pretty challenging, as you may have to crisscross the stream many times to remain on the marked track.
*Pro-tip* You may not be able to keep your shoes dry, so don't forget to carry an extra pair or cover up the ones you're already wearing.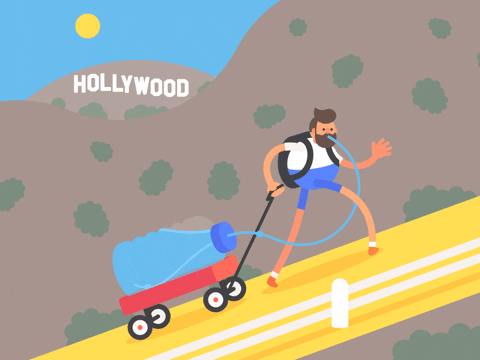 The next 2 km are very steep.
Like every other trail in Islamabad, this track also offers a fire lane and a regular trail, as at 2.1 km this path turns steeper. To stay on the regular track, you must turn left, and turn right for the fire lane if you think you can handle it.
Being the toughest of all, it can help you save about 20 minutes from the entire hike, however, due to the absence of any stream here, one can easily exhaust themselves by opting for this cardiac hiking track.
The end of this trail surely provides panoramic views at the end of the trails, and what a great opportunity is to enjoy nature while living in an urban setup. Conquer the track, the summit, and feel like the king of this world.
Pir Sohawa to Ghora Gali
Placed on the scale of the tough hiking trails in Islamabad, the trail from Pir Sohawa to Ghora Gali comes in at second, as this is the perfect place to train for hiking in the North.
Providing a pathway from Pir Sohawa Road, this track can take its hikers all the way up to Ghora Gali. To cover the distance of 28 km, the trek time from this trail takes about 7-9 hours.
Staring from Pir Sohawa, about 8 km from Monal, the tracks pass through Pharilla and a few other villages in the valleys. It ends at Lora Road near Ghora Gali.
If you want to continue your trek for a day or so, or want to lose yourself in the serenity of nature, this trail is perfect as many hikers camp out here before continuing their journey.
Remember, there is no return trail, so one needs to make apt arrangements to go back accordingly. You may use this to the trail to reach the northern areas and spend days there.
Running along the top of a ridge, this trail offers astounding views of all of its surroundings and on all sides. On a clear day, beautiful mountains of the Kashmir and Hazara region are visible from the track.
One must only use this trail if, they are a professional hiker or under the supervision of those who have used this trail before. The hike is tough, so be prepared. Make a list of all the necessities required for this trip.
Makhniyal Second Ridge Trail
The next hiking trail in the list is Makhniyal Second Ridge Trail. A journey that can be covered in 2-2.5 hours, offers not only rich and breath-taking views of the hills but is also covered by pines trees.
Moving forward on the track, one comes across a spot from where you can view two dams of Pakistan, the Rawal Dam and the Khanpur Dam.
You can start from Makhniyal Village, where you can also park your cars.
Nooran di Galli & Talhaar Ridge Trail
A track which can be approached from multiple spots like, Faisal Mosque Trail 4, and Monal Road, you can start you your hiking journey here by parking your car in the parking space at the back of Faisal Mosque.
This track is a combination of two separate trials in the Margalla Hills and promises a cardiac hike for its hikers. So, if you're a beginner, you might want to rethink your plan and choice.
On the Talhaar Ridge Trail, you will get to see gorgeous views of Islamabad as well as Talhaar Valley, giving you a sight to behold and lose yourself in. On the way back, one can take the track called Nooran di Galli. This path goes down to Islamabad through Kalinjer, a village in the Margallas. . Check out farmhouses in Karachi.
Regardless of the track, you take, or the time you take to complete your journey in, remember, it is not only the mountain we conquer but ourselves.
For some returning home may be the most difficult part of their long-distance hiking. Spending all that time walking with your thoughts, finding the answers or making peace with your demons, one may feel to have outgrown the puzzle. One may feel like that piece no longer fits.
So the next time you and your hiking buddy head out on your next adventure, remember to lose yourself on these tracks and path. Our capital has a lot of tracks to offer. If you have a secret track that leads you to happiness, don't forget to share it in the comments