---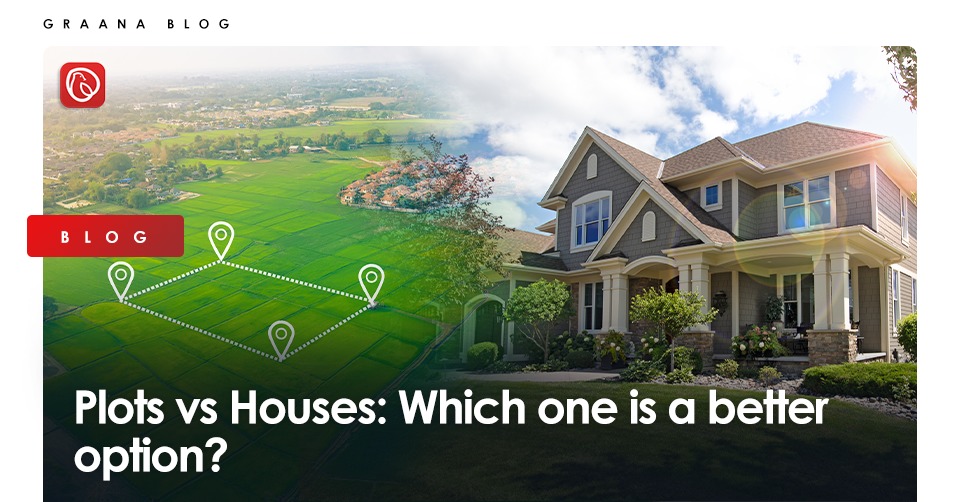 Real estate is considered to be one of the most common and most practiced investment opportunities in Pakistan. A massive chunk of Pakistanis invest in real estate every year and for all the right reasons. 
Real estate comes with tons of tangible and intangible advantages. For example, real estate safeguards your hard-earned money, gives you good returns, provides appreciation on the asset, and an opportunity to grow your money in the long run.
There are many types of real estate projects readily available in Pakistan. However, people usually prefer investing in houses or plots. If you are about to invest in real estate but are unsure about where to invest, this blog might help you out.
In this blog, we bring you a detailed comparative analysis between houses and plots so that you can make a better and well-informed decision about your real estate investment.
So, let us get started.
Pros and cons of buying a house:
Following are some of the pros of buying a house in Pakistan. Give this list a read and make a well-informed decision. 
A plot is a piece of land that has lesser uses as compared to houses. On the other hand, a house is a tangible asset that you can use for multiple things. 
For example, you can rent out your home, use it as your residence, and use it to earn a passive income by listing your house for online platforms such as Airbnb and couch surfing. If you want to develop a passive source of income, you should invest in a house.
A house is an excellent long-term investment. It not only yields good monthly returns, but it can also pay off well in the future when its price appreciates. So, if you are looking for a source that will safeguard your hard-earned money in the long run, you should buy a house in Pakistan.
Cons of owning a house:
Like everything else in this world, buying a house can also lead to some disadvantages. For instance:
Owning a house comes with many advantages, but you cannot ignore the fact that owning a home can be heavy on the pocket. First of all, when you buy a house, you have to incur any maintenance costs.
 For instance, a house needs regular paints, new fixtures, and minor changes here and there. All these things come with a price which the owner has to incur himself. 
Houses appreciate gradually:
As compared to plots, the value of houses appreciates slowly and gradually. Usually, the exterior of the homes deteriorates over time and may result in a decrease in the house's value. Also, it is seen that houses depreciate 
When you buy a house, it comes with different utilities such as electricity, gas, and water. The government owns all these utilities, and one has to pay money to avail of these services. 
Even if your monthly house utility bills seem to be less every month, the costs will accumulate and look more prominent every year. If you are low on budget, utility bills can be another high cost of owning a house.
Unlike plots, houses are difficult to manage. If you live in the same place, the management can be relatively more accessible for you, but if you reside somewhere else and own another house, things might get difficult for you.
If you want to keep your house relevant to the real estate market, you need to manage it strategically. Clean it, renovate it, add minor improvements in the place, which may increase its value. 
Pros and cons of owning a plot:
Just like buying a house comes with its own set of pros and cons, having a plot has its advantages and disadvantages. To know more about these pointers, keep reading.
A plot comes with many advantages. Some of the major advantages include:
Plots are perfect examples of short-term investment. If you are a new investor who wants to invest in assets that yield good money in a short duration of time, plots are perfect for you. The plot buying and selling are very, very rigorous in Pakistan, and people usually buy and sell plots fastly in Pakistan.
Unlike houses, plots come with low maintenance. You don't have to pay for utility and maintenance costs for a plot. Hence, it is quite effortless to manage a plot in Pakistan. You just have to buy a plot and leave it as a source of investment. 
As we have discussed above, plots come with no or minimal maintenance costs. Therefore, the absence of utility bills and other indirect expenses saves much money in the long run. 
Plots come with a lot of flexibility and freedom of construction. But, unfortunately, you do not find such flexibility while buying a house in Pakistan. However, a plot comes with much space to design and construct any building according to his needs and preferences. 
Plots are relatively easier to sell because plots are always high in demand. There are a lot of residential, commercial, and industrial projects in Pakistan. These projects and real estate developments increase the demand for plots in Pakistan. Unlike houses, the appreciation of plots is significant, and you can get good money out of your investment.
Also, plots come with greater appreciation owing to their continuous demand.
You can get ownership of a plot with less capital. For example, when you buy a house or build a home, you have to invest a relatively higher amount of money. On the other hand, a plot comes with lesser capital requirements. 
Plots have more excellent resale value. Owners of houses have to wait longer as compared to people who are selling plots. The main reason behind this noticeable delay is that people have different tastes and expectations with an already made house. When they do not like the house, they move on to the next option. This is not the case with plots due to their high flexibility and ease of construction.
According to Investopedia, Encroachment occurs when a property owner trespasses onto their neighbor's property by building or extending structures beyond their property line. Boundaries and property lines can be cleared up by getting a land survey.
Encroachment of land is widespread in Pakistan. People go beyond their limits and illegally occupy the land of other people. 
Usually, banks do not provide easy loans on plots. On the other hand, people get more financing opportunities to buy a house or build a house. There are many banks and financial institutions that provide easy to return loans to Pakistani citizens.
These are some of the pros and cons associated with land and houses. However, we would like to mention that both real estate products are effective and yield good returns. The final decision depends on your personal preferences and budget. 
If you have any questions or queries related to this comparison, leave us a comment in the comment section below, and we will get back to you as soon as possible.
---
Trending Now
You may also like