IoT, or the Internet of Things, is a trending topic today and can be heard on the lips of every techie. It is a common thing that many individuals are using it and their entire day-to-day life is dependent on it. Graana.com brings you the pros and cons of IoT.
We are living in the internet era, where everything is becoming digitized. Connected devices are the thing of today and the future, and we are exploring the Internet of Things and how they are impacting our lives. Around 20 billion connected devices are being used, and it is expected to rise to 50 billion by the end of this year.
Zillions of devices are interconnected in the IoT ecosystem, and surprisingly we as human beings never realized that these devices virtually surround us in inter-human or machine-to-machine interaction.
Statista reports that the installed base of active IoT-connected devices is forecast to reach 21.5 billion units by the year 2025. Apart from all the path-breaking discoveries, IoT with its own set of pros and cons.
As consumers, many of us use IoT devices. Do you have a body-worn fitness monitor like a Fitbit or a voice-activated personal assistant like an Amazon Echo or Google Home? These are examples of IoT devices. Others are connected cars, kitchen appliances, thermostats, door locks, and security cameras.
Examples for business include asset tracking devices, electronic logging devices, traffic sensors, and light switches.
Pros and Cons of IoT
Here is a list of the pros and cons of IoT.
Easy Access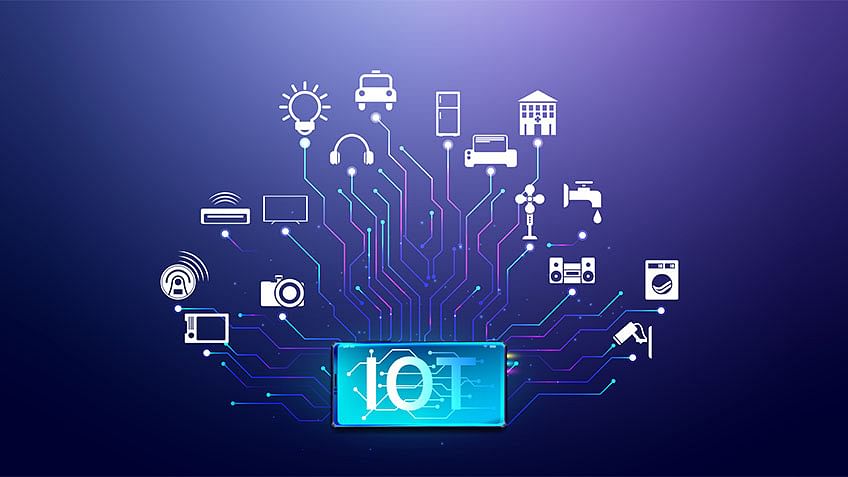 IoT can be put to many uses, but most of its use cases occur in real-time. All you need is a smartphone with internet connectivity. These two, when paired up together, make you and your life smarter.'
When your refrigerator can identify that you have run out of milk and contact the nearest supermarket to order the same quantity that you usually used to have, IOT enabled devices will inform you by sending a text on your phone that you are running out of milk.
Let's suppose, your alarm rings at six o'clock in the morning and you being lazy switched it off. The moment, you will switch off your alarm, it will connect with the geyser and heat the water at the temperature you prefer. At the same time, it will instruct the coffee maker to start brewing the coffee; all without waking you up.
Wireless technology turns cities into Smart Cities
To ensure that the electricity is not wasted, IoT-enabled devices manage street lights and automates everything. It automatically switches off street lights in daylight and switches them on during the onset of darkness.
With the help of IoT devices, you can monitor the vibrations of buildings, bridges, monuments in case they are overloaded. These are the perfect examples of IoT in smart cities. Hospitals and schools can control noise pollution around them and maintain peace all around.
Eases Communication
IoT encourages Machine-to-Machine (M2M) communication (communication between devices) and allows you to control and automate taxes of homes daily.
Cisco calculates that machine-to-machine connections supporting IoT applications account for more than half of the total 27.1 billion devices and connections.
Saves Money Pros and Cons of Internet of Things
A report by DHL states that IOT will help a business save $1.2 trillion in productivity costs alone. Let's see how it works. With IoT, electronic appliances effectively communicate with each other, thereby conserving and saving cost and energy.
By allowing the data to be shared and communicated between electronic devices and then translating it into our required way, IoT is making our systems efficient.
Business Benefits
IoT will help you explore new business opportunities with samples of data from your top customers. It collects data from the network and uses advanced analytics to uncover business insights and opportunities.
As an entrepreneur, you can analyze the data collected by the IoT devices to predict what your customers need. This will help you identify the areas of new work and hence new revenue streams.
Increased Productivity
Productivity plays a key role in the profitability of any business. IoT offers just-in-time training for the employees, improves labor efficiency, and also reduces the mismatch of skills while increasing organizational productivity. Eventually, we end up with much more time on our hands.
While these were benefits of IoT, you must put your eye on the cons of IoT as well and see how they are beneficial in the real world.
Automation
Every business can increase its profitability with the help of automation along with reducing production cost. Since automation is precise and repeatable, it ensures that there is uniformity is product manufacturing. Overall, automation helps to improve the quality of service and control day-to-day tasks without human intervention.
Complexity
With IoT, there are chances of failure. Suppose, you and your friend got a message that the milk packet kept in your fridge has expired. So, in this case, both of you will purchase a milk packet. There will be two packets which will result in a wastage of money.
This makes the entire process a bit complicated. To make this process a bit easy, it would be a wise option that you register or connect only one of your numbers with the IoT-enabled device.
Compatibility
There are millions and billions of device that are connected with each other in the IoT ecosystem; however, all the devices are built by different manufacturers which raise the issue of compatibility in tagging and monitoring.
It is hard to convince every manufacturer that they built devices that agree to a common standard. Though Bluetooth can connect different devices, they may come up with compatibility issues even if the IoT devices are ruling the world.
This compatibility issue may force the buyers or users to buy devices from a specific manufacturer which may create a monopoly in the market.
Privacy or Security
There is a risk of losing privacy in data that is being transmitted through IoT devices. You need to see how well the data is being encrypted. Due to the rapid growth of IoT, it is facing security and privacy issues.
IoT devices connected to your desktop or laptops increase the risk of leaking the customers' personal information while the data is being collected and transmitted from the IoT device.
Lesser Employment or Menial Staffs
IoT is expanding across the globe, and this may result in the replacement of monotonous and unsafe jobs firing off unskilled professionals. All of this may create unemployment issues in society.
With IoT, daily activities are getting automated, and naturally, there will be fewer requirements for human resources and less educated staff. Hence, mastering new ways of working will increase or stable the chances of a person's employability.
Technology Takes Control of Life
IoT has impacted the lives of almost every individual in every way possible. Be it the older or even, the younger generation, everyone is addicted to technology for their day to day minute activities.
With the help of IoT, this dependency will become even more in daily routines. No application is free from fault, and there are some hitches in each technical application. Relying on IoT devices may create trouble in case of a non-working or crash of an IoT infrastructure.
Visit Graana blog to explore more IoT topics.