Karachi, the largest city in Pakistan, is a hub of attractions, and one of these fascinating places to visit is Sea View. It is an open beach located on the Arabian Sea in the southern part of the city.
Sea View is an ideal place for families, couples, and tourists looking for a peaceful and calm environment to spend their time away from the hustle and bustle of the city.
Graana.com brings you a concise yet informative blog about Seaview Karachi.
Overview of Seaview Karachi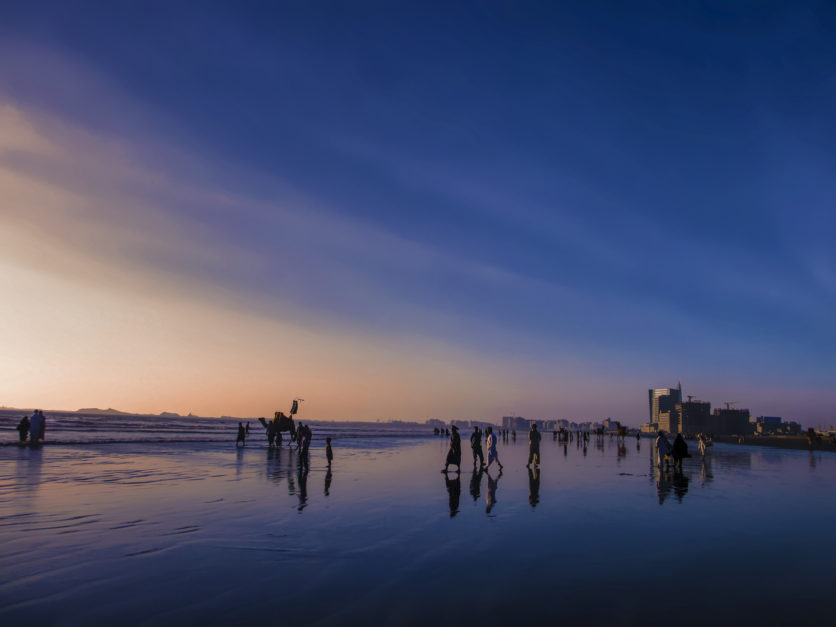 The view of the Arabian Sea from Sea View is mesmerizing and breathtaking, making it a perfect destination for those who love nature. Visitors can spend hours sitting on the sand and watching the waves crashing onto the shore.
The sea is surrounded by lush green trees and gardens, adding to the beauty of the place. The sunsets at Sea View are particularly stunning and should not be missed.
Location of Seaview Karachi
Sea View is located along the Arabian Sea coast in the southern part of Karachi, Pakistan. It is situated in the Clifton area of the city and is accessible via several roads, including Abdullah Haroon Road and M.T. Khan Road.
How to reach Seaview Karachi?
One of the best things about Sea View is that it is easily accessible. It is located just a few kilometers away from the city center and is well-connected by roads, making it convenient for visitors to reach the place. Sea View is easily accessible from different parts of Karachi, Pakistan.
Here are a few ways to reach the beach:
By car
Visitors can drive to Sea View and park their vehicles in the designated parking areas. Several roads lead to the beach, including Abdullah Haroon Road and M.T. Khan Road.
By public transportation
Visitors can take a bus or a taxi to reach Sea View. There are several bus stops and taxi stands located near the beach.
By rickshaw
Visitors can also take a rickshaw to reach Sea View. Rickshaws are readily available in the city and are a convenient and affordable mode of transportation.
Regardless of the mode of transportation chosen, visitors should exercise caution when traveling to Sea View and follow local traffic regulations and safety guidelines.
Recreational activities at Seaview Karachi
In addition to its natural beauty, Sea View is also home to several recreational facilities and attractions.
Relax on the beach
It is one of the most popular beaches in Pakistan. Visitors can enjoy the stunning views of the Arabian Sea and relax on the sandy beach. The sound of the waves crashing on the shore is a great way to unwind and escape from the hustle and bustle of the city.
Enjoy water sports
Sea View offers several water sports activities, such as surfing, jet-skiing, and paragliding. Visitors can also swim in the sea and enjoy the refreshing waters. There is a large grassy area at Sea View where visitors can play sports like cricket and football.
Park and picnic spot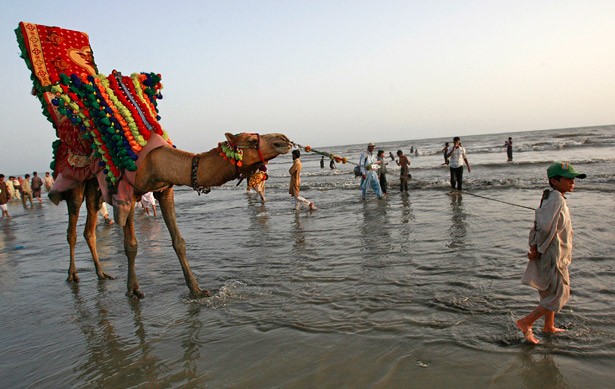 Parks in Karachi is known among the masses for their beauty. The park surrounding Sea View is a popular picnic spot for families and groups. Several shaded areas, benches, and picnic tables are available for visitors.
Several food stalls and restaurants in the area also serve traditional Pakistani cuisine and seafood. Visitors can also enjoy various water sports and activities, such as surfing, jet-skiing, and paragliding.
The park has several playgrounds, a mini-zoo, and an amusement park with several rides and games for children. Visitors can also visit the aquarium, a popular attraction for families with kids. The aquarium showcases a wide variety of marine life, including exotic fish species, dolphins, and sea turtles.
Horse and camel riding
Horse riding along the beach is popular among locals and tourists. Visitors can rent horses and enjoy a leisurely ride along the sand. Glass, fabric, and lace are just some of the beautiful embellishments that have been added to the camels at Clifton beach, another name for Seaview Karachi.
Watch the sunset
The sunsets at Sea View are particularly stunning and should not be missed out on. Visitors can sit on the sand and watch the sun go down over the Arabian Sea.
Open-air theatre
Another attraction at Sea View is the open-air theater used for cultural events, concerts, and performances. Visitors can also enjoy horse riding along the beach, a popular activity among locals and tourists.
Festivals and Parties
The Sea View beach has also become a popular destination for beach parties and events. During the summer months, visitors can enjoy music, dance, and other festivities on the sand. The beach is also a location for movie shoots, adding to its popularity.
Despite its popularity, Sea View is well-maintained and clean. The Karachi Municipal Corporation and the Pakistan Maritime Security Agency regularly clean the beach and park, ensuring visitors have a safe and pleasant experience. There are also several lifeguards on duty, providing added safety for visitors engaging in water activities.
Restaurants at SeaView Karachi
Let's explore some of the top restaurants in Karachi that are worth trying.
Cafe Aylanto
If you're in the mood for fine dining, Cafe Aylanto is the place to be. This chic and elegant restaurant offers a menu inspired by Mediterranean and continental cuisine and is known for its impeccable service and presentation.
From grilled lamb chops to pan-seared salmon, Cafe Aylanto has something for everyone. Don't miss the chance to try their famous tiramisu, which is the perfect way to end a meal.
Gloria Jeans
Gloria Jeans is a cozy cafe in Karachi serving breakfast and lunch items, including fresh juices, smoothies, and sandwiches. The cafe is particularly famous for its toasted sandwiches, which come in various flavors and are the perfect way to start the day.
Xander's
Xander's is another popular steakhouse in Seaview, known for its juicy and tender steaks, pastas, and salads. The restaurant has a chic and sophisticated atmosphere and is an excellent place for a special occasion.
The menu also features a range of other dishes, including pasta and seafood, making it a great option for groups with diverse tastes.
Cocochan
Cocochan is a chic and modern cafe that serves a range of coffee, tea, and light bites. The cafe is known for its excellent coffee and is a popular spot for those who need a pick-me-up in the middle of the day.
Cocochan also has a great outdoor seating area, which is the perfect place to relax and enjoy the view of the sea.
Biryani Centre
Visit to Karachi is complete with trying the famous biryani. Biryani Centre is a popular restaurant in Seaview that serves a variety of biryanis, including chicken, mutton, and prawn. The biryani is cooked to perfection and will leave you satisfied.
Whether you're in the mood for fine dining, a casual bite, or a quick coffee, you're sure to find something to suit your tastes in Seaview. So, the next time you're in Karachi, check out some of these top restaurants.
Conclusion
In conclusion, Sea View is an excellent destination for those looking for a peaceful and relaxing place to spend their time. Its stunning views, recreational facilities, and range of activities make it a must-visit for anyone traveling to Karachi.
Whether looking for a quiet place to relax, a fun-filled day with family and friends, or an exciting adventure, Sea View has something for everyone. So, next time you are in Karachi, remember to visit this fascinating place and enjoy its natural beauty and hospitality.