Pakistan's popular adjoining cities, Islamabad and Rawalpindi are paved with delicious food options that are not only light on the pocket but rich in their taste. This is especially convenient for not only students from across the twin cities but also families and friends who want to try different street foods that fit their budget. Graana.com brings you an exciting list of the best Street Food in Islamabad and Rawalpindi food options that you can enjoy.
15 Best Street Food Options in Twin Cities
Amongst the daily hustle that goes around the cities, the need for good food options remains constant. Dining in at restaurants is an experience in itself, but for daily munching, street food is the best way to go specifically for office employees and students who need to eat out every day.

We've covered Street Food in Islamabad and Rawalpindi separately, so you don't have to confuse the address while being hungry and searching for food!
Best Street Food Options in Islamabad
List
Name of Stall/Shop
Famous Food Item
Location

1

Siddique Sweets & Bakers

Samosa, Jalebi

Rana Market F-7, Behind Hardees, Shop 1, Block 6, Rana Market, Street 20, Islamabad

2

Pan Corner

Roll Paratha, Shawarma

Corner Shop, Jinnah Super Market, Sector F-7,

Islamabad

3

Abey Khao

French Fries (With a topping of Choice)

Bhittai Rd, F-7 Markaz, Islamabad

4

WOFL

Waffles

Roundabout, Time Square Plaza, next to Ranchers, I-8 Markaz Islamabad

5

Quetta Teas

Teas, Specialty Parathas

Shop No 3, Ittihad Plaza, Main Double Road, G-10 Markaz, Islamabad

6

Naan Stop

Specialty Naan, Teas

Shop 1, Irfan Mansion, Main Sumbal Rd, F-10 Markaz, Islamabad

7

Bismillah Fast Food

Chowmein

Madina Market, Sector F-8/2, Islamabad

8

MBA Vada Pav

Aloo and Chicken Vada Pav

Front of House of Shawarma, F-10 Markaz, Islamabad,
1. Siddique Sweets & Bakers, Rana Market
If you're craving some delicious hot jalebis and aloo samosas, there is no better place to give your tastebuds just what they need. Siddique Bakers, located behind Hardees in F-7 Islamabad, serve the best Samosas at a very affordable price.
They also offer other refreshment options such as Dahi Barey, Pakoras, Gol Gappay, but their samosas are the best in Islamabad.
2. Pan Corner, Jinnah Super Market
Pan Corner, along with offering pan for food lovers, is also famous all over Islamabad for its Roll Parathas and Shawarmas. They add special sauces and spices to their chicken dishes which leaves you craving for more.
You can also find a fresh french fries stall just beside the shop too.
3. Abey Khao, Bhittai Road
Abey Khao, located at Bhittai Road in Sector F-7, is a food van that is operated by a team of deaf and differently-abled people. These collectively deliver the best fries and sauces that are famous all around Islamabad.
They have a relatively extensive menu with sign language incorporated so you can communicate with them while ordering!
4. WOFL, I-8
This is one of the best street food in Islamabad, with handy and affordable waffles that taste elite. You can find the stall operated by a group of students, near Ranchers I-8.
They serve popular toppings like Lotus, Nutella and KitKat on their Waffles which will tantalize your tastebuds with their sweet taste.
5. Quetta Teas, G-10
Quetta Teas, although found at every nook and cranny in Islamabad, is a very popular stop for all employees, students and families who want to enjoy the classic combination of Paratha and Chai.
Quetta Teas in G-10 Markaz have a vast menu of different teas and speciality parathas, and their shop is always busy with a crowd of customers waiting for their orders.
6. Naan Stop, F-10
Naan stop is an open-air Dhaba style shop in F-10 Markaz Islamabad which serves very reasonable stuffed naans. From Pizza Naans to Nutella Naans, you can order as per your liking and pair it with their chai, and enjoy their open-air seating.
7. Bismillah Fast Food, Madina Market
Bismillah Fast Food in Islamabad is a very famous spot for students for decades and serves one of the best foods in the city.
It is located in Madina Market, and its special chow mein is famous for its smokey and rich taste. The chow mein consists of vegetables, chickens, spices and is topped with french fries.
8. MBA Vada Pav, F-10
The MBA Vada Pav is a relatively new food stall that took the city by storm just a few months back. This is one of the best street food in Islamabad served by an MBA graduate, who could not find a suitable job during COVID-19.
To meet ends, he started serving delicious Vada Pav with aloo and chicken stuffings and gained a lot of customers.
Best Street Food Options in Rawalpindi
| | | | |
| --- | --- | --- | --- |
| List | Name of Stall/Shop | Famous Food Item | Location |
| 9 | China Xinjiang Restaurant | Dumplings, Luqman, Kabuli Pulao | College Road, Gorden College Rd, Naya Mohalla, Rawalpindi |
| 10 | Savour Foods | Chicken Pulao | Pindi Food Street, Pindi Cricket Stadium, Rawalpindi |
| 11 | Mamoo Burger | Andaa Shaami Burger | Chandni Chowk, Rawalpindi, Punjab |
| 12 | Grato Jalebi | Jalebi | Murree Rd, Waris Khan Rawalpindi, Punjab |
| 13 | Saffron | All Cuisines, and Street Food | Pindi Stadium، Food St, Dhoke Babu Irfan Shamsabad, Rawalpindi |
| 14 | Refreshment Center | Chana Chaat, Samosa, Dahi Barey, Ice-cream | 31-B Commercial Market Rd, B-Block Block B Satellite Town, Rawalpindi, Punjab |
| 15 | Dewan Broast | Fish | Jinnah Business Centre, Chandni Chowk, Rawalpindi. |
9. China Xinjiang Restaurant
The Xinjiang Restaurant is an authentic food stall operated by Khashkhari and serves its authentic taste in Dumplings, Luqman and Kabuli Pulao that has captured the hearts of thousands of food enthusiasts in Rawalpindi and Islamabad.
You can find this street food stall in China Market, Rawalpindi.
10. Savour Foods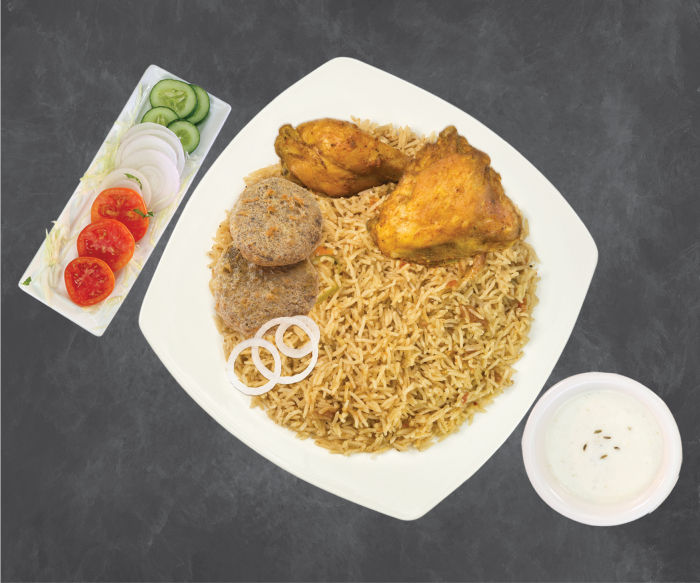 Savour foods has a popular repute for serving the best pulao across the twin cities. It is a famous food option that is affordable as well as delicious. They also offer fast food options but their pulao sells the most in the city.
Savour foods is also readily available around Rawalpindi and in all food streets in Islamabad.
11. Mamoo Burger
Mamoo Burger is a famous spot in Chandni Chowk Rawalpindi to enjoy delicious bun kebabs, zinger burgers at very affordable prices. They offer Chicken Patty Burgers, Zingers, Rolls all with fries and drinks to give you the full meal. They are very famous for their taste and prices in the city.
12. Grato Jalebi
Grato Jalebi, although is not specified to only one shop in Pindi, is one of the best street food options in twin cities. This sweet jalebi is thicker than regular jalebi and can be found easily across the city.
13. Saffron
Saffron is one of the famous food spots in Rwp, and they serve all the different types of cuisines that you crave. From Chinese to Italian and all the best desi food options, you can enjoy all sorts of different dishes here at very affordable rates.
14. Refreshment Center
Commercial Market's Refreshment Center is famous for serving delicious street food in the city. You can find dumplings, ice cream, samosas, chaat, and all types of snacks that you are craving to munch on.
15. Fried Fish from Dewan Broast
Even though the name says breast, Dewan Broast is famous for its fried fish. It is located just opposite Mamoo Burger in Chandni Chowk. The fried fish is served with naan and chutney. You can also opt for their broast options, but their fried fish is their best selling item.
This list of the best street food options in twin cities is excellent to meet your hunger pangs while staying on a budget. These food options are available throughout the year, and you can enjoy them anytime with your friends and family and fulfil your food cravings.
If you're looking for more food options in the city, follow Graana blog to learn about the best food spots in the country.
Read More:
20 Fun Places in Karachi that You and Your Family Can Enjoy
25 Best Desi Restaurants in Islamabad