Pakistan has some of the most beautiful and lively cities in the world. One of the best cities to live in Pakistan is Lahore. The rich culture, enthusiastic people, excellent infrastructure, and yummy cuisine make Lahore one of a kind.
Lahore is also known for its modern localities. In this blog, we bring you a list of the Top Localities to Buy a House in Lahore. To learn more about the top localities in Lahore, keep on reading. 
Best Places to Live in Lahore
DHA Lahore
The first locality on our list that is perfect for the residents of Lahore is DHA, Lahore. It is ideal for people who are looking to buy a house in lahore. Society is known among the masses for its state-of-the-art infrastructure, including stylish homes, wide roads, and extensive shopping centers. 
Society is further divided into different sectors and phases. Phase 1 is the oldest phase of DHA, Lahore, and currently, new phases ( 6 and 7) are under construction. DHA is not only a great place to live in, but it is also highly beneficial for people who are looking for long-term investments, especially in the real estate sector. The place is best known for its land value and rental yields. If you are looking to secure your hard-earned cash, you can consider DHA, Lahore.
Check out houses for sale in DHA Lahore.
Bahria Town Lahore
The next place on our list is none other than Bahria Town, Lahore. It is considered to be one of the best places to live in Lahore. It is also considered to be one of the most famous housing societies in Pakistan. 
Society is known for its high standard of living, beautiful buildings, and many facilities and amenities. The community is located at the prime location of Canal Road. If you are looking for a place that can offer you convenience without compromising on luxury, Bahria Town is the perfect place for you. The society has traditional houses, but it also provides a wide variety of other real estate projects, including farmhouses, apartments, villas, bungalows, and commercial properties. The place comes with all the basic and advanced amenities and facilities, including hospitals, schools, mosques, utilities, and security. 
Find houses for sale in Bahria town Lahore.
Gulberg Lahore
Luxury, grace, and peaceful living perfectly defines Gulberg Lahore. It is yet another fantastic place to live in Lahore. The site is known for its famous shopping hub, the liberty market, where you can find everything, including clothes, shoes, decoration, furniture, at very affordable prices. Apart from residential areas, the place is also known for its commercial properties, including shopping malls, corporate offices, and malls.
Check out houses for sale in Gulberg Lahore.
Model Town Lahore
Model Town, Lahore is one of the oldest residential areas in Lahore that was founded in the early '90s. The place is packed with beautiful and artistic houses, lush green parks, and wide roads. 
There are shopping malls in the area as well, especially along Link Road. The rents in this area of the city are comparatively low because the society is old and the cost of living is low. The total area of the place is spread across an area of 1463 acres (5.9 km²) and is divided into ten blocks (A, B, C, D, E, F, G, H, J, K). Blocks L, M, N, P, Q, R, and S are in the outskirts of Model Town and are administered by Lahore Development Authority (LDA). In this total area, the residential area consists of 819 acres (3.31 km2), and the commercial area consists of 29 acres (0.12 km2). Each block has its market, playground, mosque, parks, etc
Find houses for sale in Model town Lahore.
State Life Housing Society Lahore
Located at the prime location of Ring Road, State Life Housing Society is one of the most affordable residential area where people love to buy a house in Lahore. The area is also linked with Lahore ring road and Atta Bakhsh road. The prime location, an abundance of amenities and facilities, good infrastructure, and planning has made State Life Housing Society one of its kind.
Johar Town Lahore
Johar Town Lahore was named after Muhammad Ali Johar, a famous leader from the Pakistan movement. The area is among the oldest residential places in Lahore. It is located at the prime location of canal road and has a decent number of amenities and facilities for the people, including schools, colleges, shopping centers, and hospitals. 
If you are looking for an excellent real estate investment, do consider Johar Town, Lahore. A Kanal residential property in Johar Town starts from Rs20.5 million (US$177,000) and goes up to Rs90 million (US$778,500). The starting price of a twelve-marla commercial property in Johar Town is Rs12 million (US$103,000).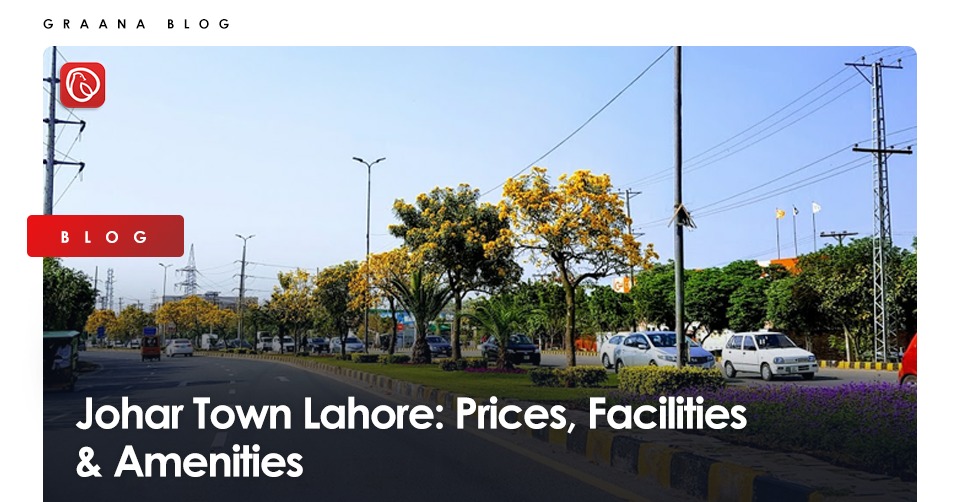 Some of the main attractions near the place include Lahore Expo Centr and Emporium Mall, which are perfect for spending some quality time with your friends and family. Some of the educational institutes in the area include the University of Central Punjab Main Campus, University of Management & Technology, Bahria University, Lahore Grammar School, Bloomfield Hall School, and Musab School System. Many hospitals are located in the area, including Latif Hospital, Horizon Hospital, and Doctors Hospital.
Garden Town Lahore
Garden Town is one of the most trusted places to live in Lahore. It is located near Ferozepur Road, one of the busiest and famous areas in Lahore. Garden town is also linked with Canal Bank road, Ferozepur road, and Usmania road. The city is divided into 12 blocks: 
Garden Town is divided into 12 blocks: Garden Block, Ahmed Block, Abu Bakr Block, Ali Block, Usman Block, Tipu Block, Babar Block, Aibak Block, Aurangzeb Block, Tariq Block, Ata Turk Block, and Sher Shah Block. These areas are divided based on plot sizes. 
Garden Town has a population of 250,000 people and is among the most popular areas in Lahore due to its prime location. The majority of its residents belong to the upper-middle class and consist of business, salaried people, and students. 
Some of the famous schools in the area include Dar-e-Arqam Girls High School, Gosha-e-Atfal Girls High School, Government F.D Model High School, and Government Girls Himayat-e-Islam Girls College, and Unique High School. On the other hand, some of the hospitals located in the area include Hameed Latif Hospital, Rasheed Hospital, Zainab Memorial, Masood Hospital, and Lahore Medical City hospital.
Faisal Town Lahore
Faisal town is a union council and neighborhood of Gulberg Tehsil in Lahore. The town is divided into four residential blocks – A, B, C, and D depending on the plot sizes. The town is also linked to Canal Bank road, Maulana Shaukat Ali Road, and Usmania road. Apart from residential areas, the town is also known among the masses for its commercial activities. The biggest market in the region is located in C Block and is commonly called Civic Centre. There is a smaller market in B Block called Kotha Pind market.
Also, there are several hospitals and medical centers in the region, including Khair-un-Nisa Hospital. There are tons of educational institutes in the vicinity, such as St Anthony's High School, National University of Computer and Emerging Sciences, Government Girls School, Cathedral School, and Lahore Grammar School.
So, these are some of the top localities to buy a house in Lahore. These areas are great for residence, and they are also perfect for people looking for investment ideas in Pakistan. 
Please go through the list and let us know what you think about these places. If you have any queries or suggestions regarding these areas in Lahore, please let us know in the comment section below.