When it comes to renovating your home, one of the most important questions you'll have to ask yourself is when to DIY and when to call in a professional. You can probably compromise on time and results, so it's usually a question of the budget — and, of course, personal confidence.
Books with step-by-step directions and online how-to guides and videos are among the seemingly infinite resources available to assist those who plan to do it themselves. The general idea is to take on assignments that you are comfortable with and have the skills to carry it out successfully. Most people are handy with a paintbrush and can save money by doing their own cosmetic work. On the other hand, others may be eager to broaden their skills to include tile installation, countertop replacement, even deck construction, and/or making a smart home.
Graana.com, Pakistan's smartest real estate portal, takes a look at when one should undertake a task at home and when to hire a professional.
DIY or Buying a Pre-Made Item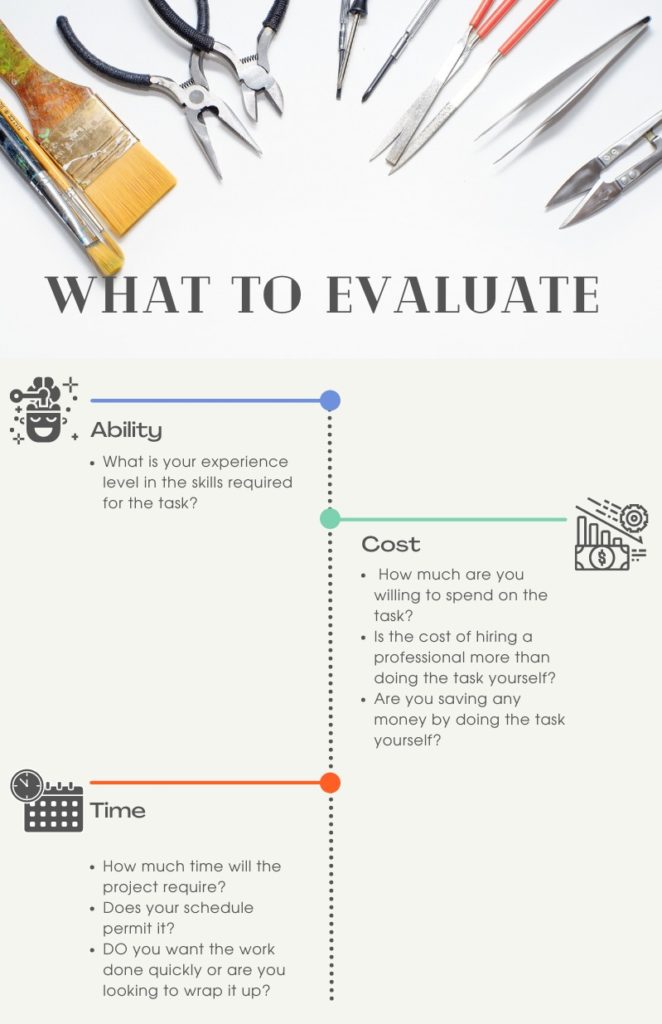 The rapid growth in the real estate sector has led to a number of ancillary establishments, including small businesses that sell pre-made items like staircase frames etc. You can purchase these premade items and not have the need to call in a professional.
This approach is now being termed "Buy It Yourself (BIY)", where you can buy these ready-made items and assemble them yourself, as it requires little technical knowledge. However, if you tend to make mistakes, you can hire a professional who can assemble the pre-made items and charge only the labour cost.
Estimate the Level of Work
If you have renovated a house in the past, you must be well aware that the process of electrical, plumbing and tiling require a considerable amount of technical knowledge. If done incorrectly, they result in genuinely devastating outcomes, such as a plumbing leak inside a wall or poor electrical work that can cause short circuits.
Experts also advise against undertaking plumbing work, insulating, and electrical work. Aside from that, you can pretty much teach yourself how to do anything around the house like how to clean popcorn ceilings. All you need is time, patience, and the will to learn. Just be sure to take note that a lot of time can be spent on learning (most likely more than you anticipated). 
The homeowners' expectations for the finished project have a role in the DIY decision. Professionals are well-versed in the methods and techniques required to achieve high-quality results. For example, even inexperienced DIYers can lay down tiles but the floors and walls are seldom completely flat. A professional will know how to correct it, whereas a DIYer may struggle, affecting the installation and the final appearance of the tiles.
Pros and Cons of DIY
The pros and cons of DIY are given below:
| | |
| --- | --- |
| Pros | Cons |
| It's less expensive (if done correctly) because you don't have to pay for labour. | If you don't get it properly, you'll end up paying more money, and the outcome will appear amateurish. |
| You don't have to rely on a contractor because you're in charge of the timeline. | If you don't already have the necessary tools, it could be a costly expenditure. |
| You have the ability to learn something new. | There's a chance you'll make a mistake, causing damage to your home that you'll have to pay to repair. |
| You have more influence over whether or not the end result matches your vision. | There's a risk of injury, and adding a home project to your already hectic schedule might be taxing. |
Pros and Cons of Hiring a Professional
The pros and cons of hiring a professional for work around the house are given below:
Pros
Cons

There's a chance to raise the worth of your property.

Because you're paying for their work and knowledge in addition to material prices, it's usually more expensive.

Professionals are licensed and insured, any errors in their work are entirely covered.

You're unlikely to be their only client, small details may be ignored.

Permits are issued more quickly, and you can rest assured that the project will be up to code.

Timelines frequently run longer than expected, and you have no influence over this.

Hiring someone to do the task for you frees up time.

Even if you aren't undertaking the work, you must communicate frequently and be present to ensure that the task is being done according to your specifications.

General contractors may be able to get discounts from other trade experts because of their contacts.

They are frequently able to obtain better rates on materials.
Being Your Own Contractor
You can be the contractor yourself as it will allow you to handle matters that you are most familiar with and appoint professionals to complete the rest. Simple tasks around the house like polishing a marble floor or polishing raw wood can be done yourself and it will only cost you a few thousand rupees.
However, if you take such a recourse, professionals will almost certainly charge you a bit more and give your position as a contractor little consideration as they complete this task themselves each day.
Contractors usually have a set of partners with whom they operate on a regular basis. They are familiar with skilled people in each task and have previously collaborated with them. When a contractor calls a plumber or an electrician, they arrive on time as specified by the contractor. 
Homeowners, on the other hand, don't have as many connections and market knowledge. This can be a drawback as choosing a professional also requires a keen eye, otherwise the work around the house will suffer. A person who is not competent in his field of work will also be a load on your wallet. 
Time Required for DIY
DIYs are a popular option as they save time and money, but this is only possible if you have the required level of skill – otherwise you will end up wasting time, money, and resources. 
Before you start a project, take the following questions into consideration:
Is your schedule flexible enough for you to take on a long-term commitment?

How time-sensitive are the mechanics of a project? For example, will you need to wait two days for something to dry?

Do you need to act quickly while the materials are still warm? For example the application of glue, plaster of paris, or silicon requires the person to be quick and join two pieces before the adheasive hardens.

Is it possible to work on it on a part-time basis, or does it necessitate several hours of continuous work?

Do you have the time to obtain work permits if your municipality requires them – assuming that non-professionals are even granted those?
Conclusion
If you have the required skill, patience, flexible schedule, permits, and are willing to give it an ample amount of time, you can DIY.
Labour expenditures always account for a significant portion of the cost of any home remodelling project. Doing your own home renovation projects can help you save a lot of money while also giving you a sense of satisfaction. On the other hand, there are occasions when DIY can be hazardous to you and your house, or it could simply be an unaffordable time or financial investment.
It may be worthwhile to tackle a renovation project yourself if you already have the tools, skills, and time, as well as the ability to purchase materials at a fair price. Otherwise, it's advisable to engage a contractor with all the necessary connections.
To read more on DIY projects for your house or even office space, visit Graana.com.