---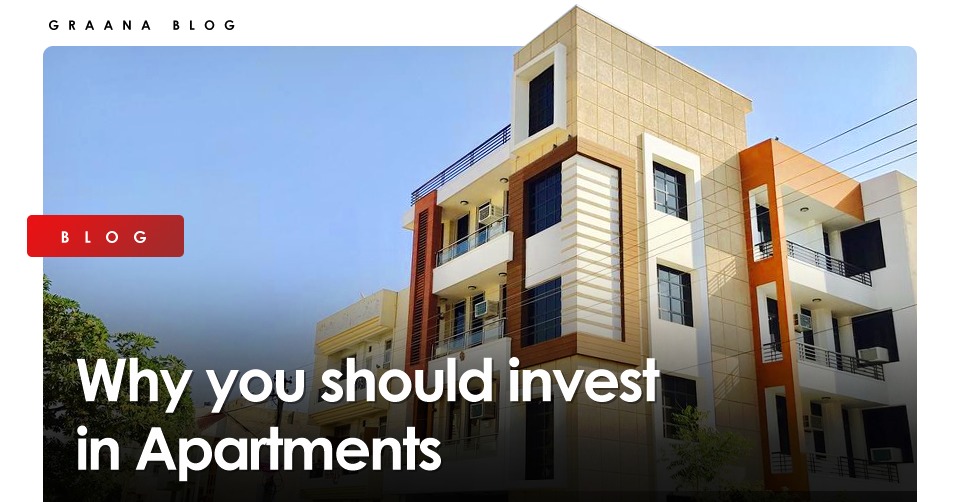 Real estate is a fantastic portal for investment and people who are looking for ways to increase their capital growth. It is a vast industry with a lot to offer due to its higher flexibility rate and unlimited scope of employment opportunities and strategies.
One can generate income just by flipping houses, multiple property investments, rental spaces, or any other industrial property. Create a portfolio of assets to secure your now and future.
The apartment's investment is by far one of the best options for investors who want an additional source of income that also offers a slow yet steady appreciation in the value of their portfolio.
Making money from investing in apartments will give you unparalleled value over any other real estate options.
Experts believe that an increase in the need for apartments will only rise with the coming years and rapid urbanization. High-rise developments in Pakistan have become the new trend among millennials, making it a lucrative avenue for those who are seeking massive capital gains.
Precisely 15% of the residential projects that have been recently launched in the major cities are offering plots for sale. In contrast, 85% are high-end apartments.
Instead of putting all your eggs into one basket, let's first discover the importance of why one must invest in apartments.
A stream of income to depend on
Property investments will undoubtedly offer you a regular stream of flowing income to depend on for the long term. An income that can comparatively have a higher percentage than stock yield. Property investment is bound to give you a much higher ROI over the years. Before investing, you need to take into account that it's about the long-term investment.
Generational wealth return depends on the following factors:
stable revenue such as from rents
capital gains from increased property value

principal paydown from renters paying down loans
Luxurious features such as 24/7 gated security, valet parking service, fitness centers, pool, elevators, rooftop restaurants, fire safety, and emergency systems, walking trails, etc. everything in one place has made apartment projects all the more attractive for renters and buyers.
Physical Asset
Unlike the stock market, real estate is one of the very few industries that will provide you with a meaningful physical asset. Every land you will buy or invest in along its structure will have a value that attains all your wealth. The income that your property can produce will also have value for future realtors. There is no red or green signal in this domain.
Fact: "According to the Forbes 400 index, 90% of the world's wealthiest people have made or retained their wealth through high-quality, income-producing real estate, like apartment communities. The ultra-wealthy hold real estate long term because they know that is how to preserve their wealth."
Value appreciation of an asset
The value of an apartment increases if the net operating income of the property keeps on improving as well with the means of rent increase and effective management of the land.
Keeping your property up to the market trends and standards is equally important in the real estate business. This is one of the top tips to increase the value of any asset, be it an apartment or a house.
A fact that is well known and established that apartments are much easier to maintain and upkeep. Unlike a house, all the amenities and complexities such as repairing leaking pipes, burnt wiring, water damage, or seepage are handled by the apartment management so that you do not have to put yourself under the stress of fixing these inevitable issues.
Confused if you should invest in apartments or houses?
Consider this, would you rather acquire and manage apartment units or invest in multiple-family homes?
The latter option must be more appealing to you; as said before, having not to deal with so many investors, conducting inspections, and going over so many locations would definitely be better to find the right marketing tools and networking strategies that are absolutely necessary for successful apartment investment.
To further your cause and decision, the demand for plots has also been decreased over the past two years.
The sale factor of apartments is one of the biggest reasons why buying an apartment unit is a good investment in not only Pakistan but anywhere in the world.
The increased demand for high-rise buildings has made it much easier to sell apartments, especially if the location is popular or hyped.
Most of the luxury apartments that are marketed are built outside the busy environment of the city. However, there are still many well-maintained and well-connected residential and commercial apartments spread throughout the city for you to find and invest in. It entirely depends on your needs and preferences. Remember that the value and appreciation of the apartment rely highly on the location and maintenance. An increase in the rent will ultimately have an impact on your favor.
Conclusion
The government of Imran Khan has been taking working to ease the entire procedure and requirements for home loan procurement to incentivize and develop its vision of vertical cities. 5% of the total lending for housing finance has been advised for the commercial banks. On the contrary, the State Bank of Pakistan has brought a special course of action to boost construction financing for developers.
The government has also been working towards emerging a mortgage finance market in the real estate industry of Pakistan. Tax on bank income generated from low-cost housing finance has been decreased from 39% to 20%. This rule is endorsed to be able to provide mortgage and home loans to the middle and lower-income groups of the country.
If you are in search of drawing a powerful connection of wealth, then an opportunity is already waiting for you with a proven record and long-term formula to help you succeed the most. And most importantly, just with the right real-estate knowledge, anyone can excel at this and create phenomenal wealth for future and family goals in the long run.
With guts, information, and courage, we surely believe that anyone can achieve the solo struggle of getting the deals done. Although, if you intend to invest alone without any outside help, then be sure to have in foresight the right execution plan.
However, having a trustworthy, experienced realtor can add up to a drastic help in your investment journey, which often gets gruesome for many people.
One good deal is all it takes. Reach out to Graana.com app to get more information and insight. To be able to produce generational wealth, get the right team, and make your financial life more manageable.
---
Trending Now
You may also like