---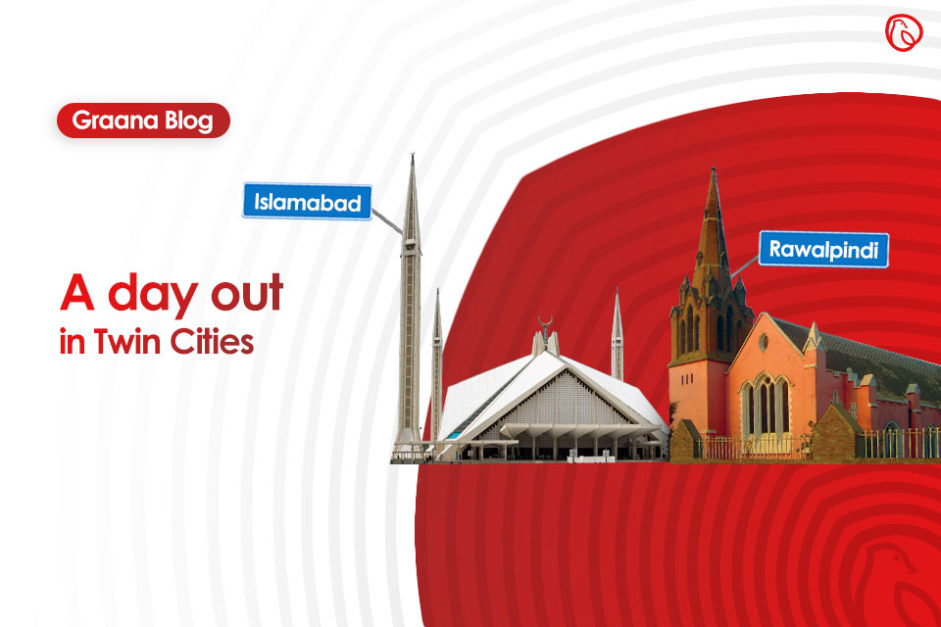 With a view of the Margallas spread right across my workplace windows, I sit on my desk to contemplate about these areas, blurring out every sound as a refreshing feeling spreads over me. Enough to say, that even though I've been a frequent traveller, Islamabad and the neighboring city will forever hold my heart.
Talking about the capital city of Islamabad first, it indeed takes up the top honors for being one of the most serene cities. Hence, it stands on the list of being the second most beautiful capital in the world. As a resident of this area for the past 20 years and watching it transform, this probably gives me great pleasure that not only us as a nation, but the world has recognized this little piece of heaven. But what makes Islamabad so different, stunning and unique? For me, the answer lies in the fact that the capital city is blessed with breathtaking natural wonders and attractions, and is home to some amazing man-made architectures and monuments alongside great infrastructure, desi restaurants which is an added advantage. But the feature that takes my heart away every time? Beautiful Amaltas trees, spreading all over the Islamabad expressway and parts of Islamabad, but most importantly, right outside my workplace, in the foothills of the Margallas. If you want to get in shape Islamabad has some of the best gyms and fitness centers. Staying in the city is never a worry now as it has the best hotels providing top-class services.
Situated hardly 15 minutes away, and connected in numerous ways, is the jewel of Potohar – Rawalpindi. Serving as the ex-interim capital of Pakistan, Rawalpindi stands equally in beauty. Even though it has transformed greatly, no one can be able to take away the historical touch of this vicinity, as it holds various historical landmarks and heritage sites. The vibrant cultural hub has been inhabited by Hindus, Sikhs, and Jains in the past, who migrated to this land in 1947, and the city has been transforming ever since.
Crazy about traveling, but a working woman in the twin cities? I feel your pain… Does it happen that sometimes your reality becomes too overrated? Every once in a while, one must lose themselves to find themselves. The twin cities offer many such spots if you want to get out of your routine or take a day off.
But what will you do with your day off? What places will you visit in the twin cities? This blog is the answer.
Places to Visit in Islamabad/Rawalpindi
If you think Islamabad is pretty just because of the Margallas, you are mistaken. It is one of the reasons, but the city turns majestic when it rains. Be it in the mist-filled winters or the thunderous monsoons, the pouring rain over the glorious hills makes the city mesmerizingly beautiful. And what's than experiencing this firsthand when your work desk is right across the Margallas?
Here is a list of all the activities one can do with their time off:
Cinemas in Islamabad and Rawalpindi – Lights. Screen. Movies.
To escape one's reality, there are many different ways, but the cinema and movie-making is the fastest-growing art form. So, girls, lets hit the cinema to catch up on all the latest trending movies. Taking into account the locations of the cinemas, they're well distributed in both the twin cities, so finding a good one shouldn't be a problem.
Centaurus Cineplex
Situated in F/8-4, the Centaurus complex is on its way to becoming Pakistan's first and only multiplex. The five-screen multiplex cinema with the latest technology and digital sound system and different luxurious seating capacity for around 700 people, this is a place you need to go to with your friends. It's easily accessible via the Kashmir Highway and Expressway for the residents of both the cities, while the residents of the sectors F/6, F/8, G/8, G/9, H/8, and I/8 have the benefit of being situated close to this amenity.
Cinepax:
This cinema is the first dedicated Cineplex Company, and it has gained popularity over time among the people of Rawalpindi and Islamabad. Located in Jinnah Park, Rawalpindi, Cinepax was the first posh cinema that was built and was visited by the masses. Because of its prime location, today, residents from all over Rawalpindi prefer going here, because being situated in Jinnah Park, it has access to many good restaurants too.
Arena:
Located in Bahria Town, phase 4, Arena promises to give the best entertainment experience to the residents of Bahria Town and of Rawalpindi, as its closer to the city. With a lavish waiting area and excellent service, renowned restaurants, café, and shopping areas surrounding this cinema, Arena will guarantee you time well-spent.
Cinegold Plex:
Located in phase 7, Bahria Town, Cinegold Plex is an amazing service offered. Being closer to the residents of Rawalpindi, the ambiance attracts customers from all over the twin cities.
So girls, if you're looking to catch up on your favorite movie shows, these are the cinema houses people can swear by. As the weekend approaches, make sure you and your friends book a show in any one of these to make the most of it.
Malls in Islamabad & Rawalpindi – Ready. Set. Shop.
Moving on, if you're not into movies but still want to zone out and feel good, the best therapy is retail therapy! And the only good thing about shopping right now is Eid sales. Almost every clothing brand right now has announced its sales. As a personal choice, I prefer malls over roaming in markets because very frankly, malls have every major brand lined up in one place and more options always help one make the right choice.
Centaurus Mall:
Located in sector F-8, it's viable for the residents of the neighboring sectors, as it provides not just a great shopping experience but also a vast food court spread on the fourth floor, swung fully in action. Because who doesn't want to regain the energy after you shop your hearts out, or are a foodie regardless of shopping.
Safa Gold Mall:
Safa Gold is another mall located in Islamabad, probably 10 minutes away from the Centaurus Mall, providing almost the same options with a little difference. Unlike the other, its situated right in the heart of F-7 Markaz.
Giga Mall:
Located on the GT Road, Defence Housing Authority, Phase II stands the World Trade Centre, more commonly known as the Giga Mall. As the location suggests, this is a breakthrough experience for the residents of not just DHA 1 and 2, but Bahria Town 1-8 and practically all of the Rawalpindi district. So, girls, that retail therapy is possibly everything you need with a group of your closest friends.
Bhabrah Bazar:
The Bazaar is an almost  2 km long stretch of the commercial area that extends from Muree road to Sarafa Bazaar, which was the hub of gold and jewelry trading, but most importantly, this place serves the foodies very heartily. Some very famous food corners exist that serve the very famous nihari, chats, and my favorite, kheer!
There is also china market Rawalpindi visited by many tourists.
Saddar Bazar:
Sometimes, luxury brands are not what you always need. If the wedding season is coming up and you want to roam around different shops or shop clothes for casual wear but the help of your tailor is much needed, Saddar Bazar is your answer. It's the hub of bargain shopping, where girls and ladies can be girls and ladies, fix their wallets and get the bargain they want, or else walk away (nahi bhaiya yeh about mehanga hai. Aap rehain dain, hum agay say lay lain gay). It is what it is.
Being an independent, working woman and everything related to it, for some people, this may be the hardest climb to make. But as David McCullough Jr quoted:
Climb the mountain not to plant your flag, but to embrace the challenge, enjoy the air and behold the view. Climb it so you can see the world, not so the world can see you…
These are the words to live by. Why should one be dependent on anyone, and especially for the sake of your happiness? A group of friends, your favorite book, serenity, some time off, even standing and letting go is sometimes enough to gain yourself back. So girls, ladies, women… get out of your house and find something productive to do. It's worth all the hustle. Looking for places to live in Rawalpindi? Find affordable 5 marla houses for sale in Rawalpindi.
What makes you happy? This is a question one must ask themselves daily or weekly, but when you find out the answer, make sure to do it again and again because staying is the key. So if you're happy and you know it, clap your hands. But if you're not, well then, it's time to take a day off.
If there is one place I could live in, it would be way up north. The fresh air, the scenic beauty all around, so much to discover is everything that intrigues me, but apparently, that can't happen, so what does one do? Make the most of whatever they have. If one can't explore the mountains up north, well we got some pretty amazing Margallas right in our reach. With this push comes the next activity, which may not be safe enough for any woman to do alone. So, where are your friends? Call and assemble your group for a hike up the Margallas. Who knows where you'd end up, Damn-e-Koh or better yet Monal. The different existing trails have different things to offer.
Historic Places to Visit in Islamabad & Rawalpindi
Talking about exploring the twin cities, if you're a fan of history and old sights, this one is for you as I'm about to shed some light on all the existing historical places in the twin cities, where one can always hang out with a bunch of their friends. Away from the busy cities, away from all the bustling crowds, just you and some of your favorite people, a book in your hand, or some music… enough to completely lose yourself and let go.
Saidpur Village:
Located about 7 km away from the county's parliament in Islamabad, right in the heart of the capital and just in the foothills of the Margallas, lies Saidpur Village. Remodeled as an 'Arts and Craft Village' by the Capital Development Authority (CDA), it aims to preserve its centuries-old cultural heritage and promote tourism in the area while allowing visitors to have a glimpse of rural life of Pakistan amid the hustle and bustle of the capital city. The village also has a two-storied building next to the Sikh shrine and Hindu temple. Buildings dating back more than 200 years add to the scenic beauty of the Saidpur Village Islamabad. The village's architecture represents the fading footprints of four civilizations which include Gandhara, Ashoka, Mughal, and Greek. This makes it an ideal destination for visitors interested in finding traces of fading history in ancient buildings. So, if your heart beats for history, a tour of this place is the first thing one needs to check off their list from. Anyone who goes here can swear by the hospitality offered the villagers there. So girls, are you ready for this adventure? You can visit deserts in Pakistan if you are adventurous.
Even though it is the capital city of our country, Islamabad offers an important chunk of historical places, one can always visit. The next stop…
Shah Allah Dita:
Shah Allah Ditta village and caves may have been an ancient refuge, but for the modern times, it can be called Islamabad's peaceful sanctuary. If you are looking for a moment to clear your mind, reflect on your thoughts and cherish, or simply enjoy the natural beauty of Islamabad, this should be your go-to place as it is at the end of the far-reaching Margallas. The tall Banyan trees create a canopy over the head, as their shade provides cool relief in the summer heat. Attached to these trees are long roped swings and one can simply hop on them to enjoy gusts of wind in their hair. This 2400-year-old retreat is located just 15 kilometers away from the main Golra Intersection, near sector D-12.
While writing about these places, numerous memories of my university unfolded. How my friends and I would, just for the sake of an escape, run off to these places even if we got a minute free. How friendships grew strong here over cups of teas and gulping down pakoras. Golden memories… If you think that's the only beauty the twin cities have to offer, you're wrong because Rawalpindi won't be coming slow when it comes to offering historical landmarks.
Once identified for enticing structures and captivating designs, Rawalpindi was enclosed in gates but they perished with time. However, the Saidpuri gate remains a prominent memento. A bustling, small bazaar welcomes the traveler with the historic 'Sheshon-Wali Masjid' which borders with the striking Lal haveli, where the colonial-style balconies give a riveting glimpse of its monumental past.
Haveli Sujan Singh:
Rai Sardar Sujan Singh Haveli was built around the 1890s and is located in Bhabra Bazar, whereas today, the present dilapidated condition of the Haveli may pain one. Once a grand structure and awesome building, it gives a gloomy picture of the vibrant history. But efforts are being done to protect and preserve this historic building, which is the real asset to the heritage of this city.
Bagh Sardaran Haveli:
An outstanding architectural wonder is the Bagh Sardaran Haveli. It is a well-preserved structure today, with the servant quarters and the Gurdwara still intact, covered with a few of the date palm trees, a treat for the visitors there. The lawns may have been long gone, but the main building with its majestic spires is still awe-inspiring.
Places to Eat in Islamabad
With almost everything covered, I was saving the best one for the last! A whole day out and no food? Impossible. Food is like the most important component of one's life (being a crazy foodie) what I personally believe is that Pakistan's fast-food sector needs to step up their game, but that doesn't mean that there is no food worthy out there to eat. If you crave desi food, Islamabad has the best desi restaurants.
Some of my most favorite eateries include:
Beverly Centre:
A treat for the foodies out there, Beverly center is a hub for some savoring eateries. To name a few, Burning Brownie that serves the healthiest of salads and an amazing chocolate shake, Banana Leaf is new pan-Asian eatery that ticks all the boxes right, while Cream, Khoka Khola, and Remanence in the basement, while Karamel puts the perfect lid on the sweet tooth craving, Beverly Centre is one of the go-to places in the Blue Area.
Kohsar Market:
Situated in the heart of F-6 lies the very posh Kohsar Market that is the home to Tuscany Courtyard, Street One Café, and Mocca… some personal favorites. With the elite society being the local customers, everyone there minds their own business and are lost in their own world. So grab your friends and head out to have the time of your lives.
Gol Market F/7 and F-10:
Hang out where no one judges you, there is no dress code, or want to have the chilliest time… The gol market is the answer. It serves some amazing treats which are not so expensive and tasty as well, like their chow mein and roll paratha. But there is some serious competition for the chicken burger, as Burger Fest could be everything for the burger lovers out there.
Heading towards the Fatima Jinnah Park in F-10, lies the Markaz. Again a very chilled out place that serves amazing roll parathas.
Gol Market F-7/3:
Another hub for all the foodies out there, F-7/3 is a go-to place for the sake of CGC… their burgers are something that I would personally swear by. Neighboring with it is the renowned Howdy restaurant, which again has chicken burgers and steaks to die for. After all that food, one does need to satisfy their sweet tooth cravings. So rush to Hot Spot for their molten brownie and lose yourself in the chocolaty goodness.
Monal:
The name which is renowned all over Pakistan is enough for one to imagine the great ambiance. Sitting in all those mountains and greenery, even if one isn't up for that serious dining, the road serves up some serious goals, to sit in your car, with the windows rolled down as the summer breeze plays with your hair (very dramatic) and you munch on the food while you lose track of time by getting lost in that scenic beauty.
For places to eat in Rawalpindi check out restaurants in Rawalpindi.
If you are planning to visit Lahore get to know things to do in Lahore.
So, in this piece I've tried to cover the maximum outing places for the women in the twin cities, to get out of their boring corporate routine and enjoy their days off, with either their group of friends or alone. As I've been living here for the past 20 years, I've almost seen everything the twin cities have to offer. But still, if you guys have any surprises, leave a comment below.
Also Read :
---
Trending Now