More people and cargo are transported faster and farther than ever before by air. As a result, a new form of the metropolis is emerging. One around the airports, forming a cluster of passenger and cargo-related businesses. The phrases "airport city" or "aerotropolis" might be used depending on how this cluster of airport-centric activities (many of which are related to logistics) is integrated.
Graana.com, Pakistan's smartest property portal, takes a look at this emerging urban settlement in Pakistan.
What Is An Aerotropolis?
An aerotropolis is an expansion of an airport's traditional role into a variety of added-value industries, especially since global air traffic has expanded dramatically. This expansion results from the convergence of various commercial factors, including the necessity for airport authorities to discover new revenue streams as they compete with each other for scheduled passenger and cargo services. This is exacerbated by the growing integration of various economic sectors, particularly high technology, with air transportation, which encourages people to seek out affordable places near airport terminals.
Structure of an Aerotropolis
An aerotropolis, to put it simply, combines all of the characteristics of an airport city into a more organised framework. This consists of a series of concentric rings of specific activities centred on the airport, beginning with an inner zone of distribution centres, logistics complexes, and just-in-time manufacturers, followed by a ring of office parks, hotels, restaurants, convention centres, and finally a largely residential periphery housing for those who make their living in the aerotropolis. Aeroplanes, high-capacity motorways, and rail lines connect all of these rings, enabling access from one to the next and the rest of the metropolitan region.
Airport cities and aerotropolis compete on a worldwide scale, which means their economies are more closely tied to global processes than regional ones. Dubai may be the best example of an aerotropolis built from the ground up. Still, numerous Asian airports are also hubs for this type of development. A few examples are in the United States and Europe, notably Dallas-Fort Worth International and Schiphol in Amsterdam. Several developing countries are promoting the creation of aerotropolis around new airport projects or as a plan to extend current airport facilities in order to earn more revenue and attract higher-value enterprises. Undoubtedly, air transportation has become an increasingly important component in defining the urban landscape, as is evident in and around the world's major airports.
Design of an Aerotropolis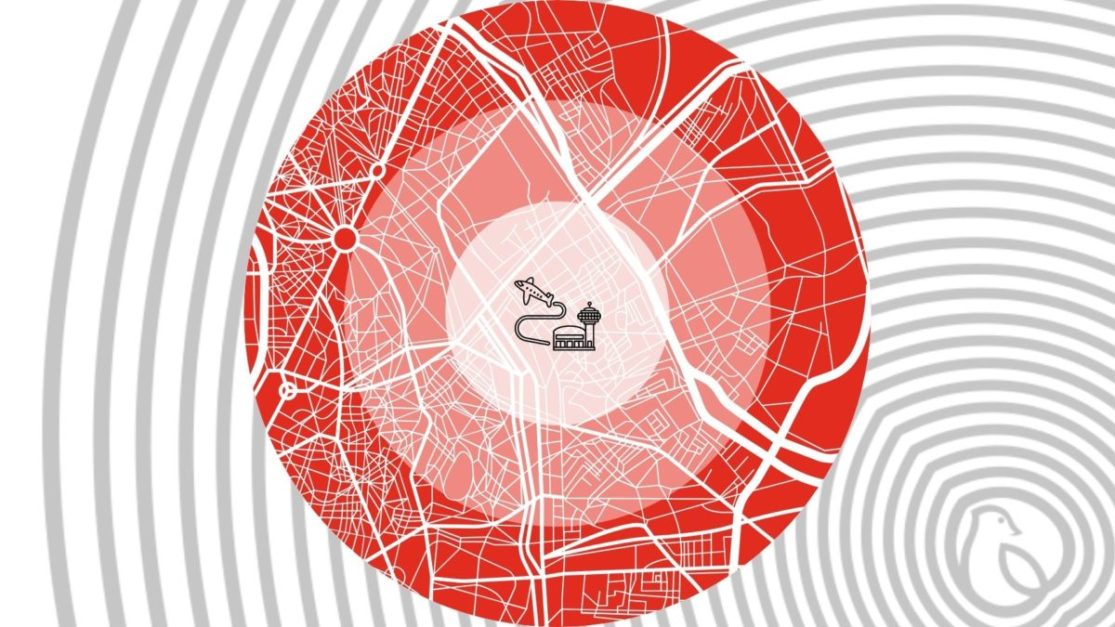 The following are some of the key design principles of an aerotropolis:
For enterprises, cities, and metropolitan regions to compete, speed economies are just as vital as scale and scope savings.

The time and cost of connecting to suppliers, consumers, and corporate partners — locally, nationally, and worldwide — are the fundamental metrics for aerotropolis planning.

A well-designed aerotropolis acts as an "urban pipe," reducing the time-cost frictions of space and distance, thus improving firm and regional operational efficiency.

Businesses should be set up near the airport based on how frequently they use it in order to reduce traffic and improve time-cost access.

Airport expressways (aeroplanes) and airport express trains (aerotrains) should connect airports to important regional business and residential concentrations.

Special truck-only lanes and upgraded interchanges should be installed on airport expressways to relieve traffic congestion.

Manufacturing, warehousing, and trucking activities in the airport region should be separated from white-collar service facilities and airport passenger flows.

Commercial and residential developments should be located away from high-intensity flight paths so they are not subject to noise and emissions.

Cluster development should be encouraged along airport traffic corridors rather than strip development. (with enough green space between clusters).

Buildings, walkways, vehicle lanes, landscaping, and public space in the airport area should all follow form-based codes.

Thematic architectural features, public art, and iconic structures should help make aerotropolis developments more interpretable, navigable, and welcome.

Mixed-use residential/commercial communities for aerotropolis workers and frequent flyers should be built with commute options, local services, urban amenities, more walkable areas etc.

For the aerotropolis to rise up the commercial/industrial value chain, it must develop and recruit skilled labour and expertise and infrastructure and logistics upgrades.
Pakistan's Aerotropolis
In 2021, Tariq Murtaza, Chairman of Rawalpindi Development Authority (RDA), discussed the plan of converting Rawalpindi into an aerotropolis with a group from the Sheher Saaz Company, a town planning firm. The aerotropolis, according to Murtaza, will play a critical part in the city's development. Thus it will feature mining, oil refineries, petroleum, engineering, a technological park, and residential complexes.
Additionaly, He told the delegation that no ponds or plantings should be allowed in the zone. Since they would attract birds, which can be dangerous for aircraft landing and taking off. Therefore, he went on to say that barbed wire should be installed to keep domestic animals out of the area.
In addition, the RDA chairman stated that the business community is the country's economic backbone. They are taking steps to facilitate it in accordance with former Prime Minister Imran Khan's directives.
Furthermore, he went on to say that the concept of converting meandering passageways of old bazaars in the old city district into a pedestrian-only heritage route received formal approval. PC 1 has been accepted by the city's beautification committee. The renovation of roadways flowing through various historic marketplaces into good pedestrian streets. From Bhabhra Bazaar to Raja Bazaar, a 2.5-kilometre length of alleys and streets will be turned into a pedestrian route. Which will pass via Sarafa Bazaar, Dangi Khoi, and Kalan Bazaar.
Aerotropolis Cities Around the World
Following are some of the major aerotropolis around the world:
Delhi Aerotropolis
With the Indira Gandhi International Airport at its heart, Delhi's Aerocity is a commercially busy and sustainable urban city within a city. It provides direct flights to Gurgaon, the NCR area's trade hub. This metropolitan city core has numerous luxury hotels, restaurants, bars, and shopping malls.
Dallas-Fort Worth
Likewise, the Dallas-Fort Worth International Airport (DFW) is an aerotropolis success story that has fueled North Texas' economic expansion. The Worth Metropolitan Dallas-Fort (DFW Metro Area) covers a 12-county region in North Central Texas. It has cooperation with all of these counties are critical for the development of the DFW Airport. The DFW airport is currently a major economic engine in the subway sector. This, despite the fact that it was not an easy undertaking (Dallas Fort Worth International Airport 2015). DFW Metro's activities are supported by air freight passing through DFW Airport, generating $16.7 billion in annual economic activity.
Incheon International Airport
Another example is the Incheon International Airport in South Korea. Which is one of the busiest airports in the world. It was built primarily for trade and travel in China. The airport city has commerce with China would allow trillions of people to access new markets. The position suits well to its task. Furthermore, it is only 2 hours from Shanghai and Beijing and 4 hours from several other important Chinese cities. The Aerotropolis' projected development includes Songdo International Business District and Incheon.
To read more on the town and urban planning, visit Graana Blog.
Read More