All You Need to Know About Virtual Real Estate Metaverse NFT
---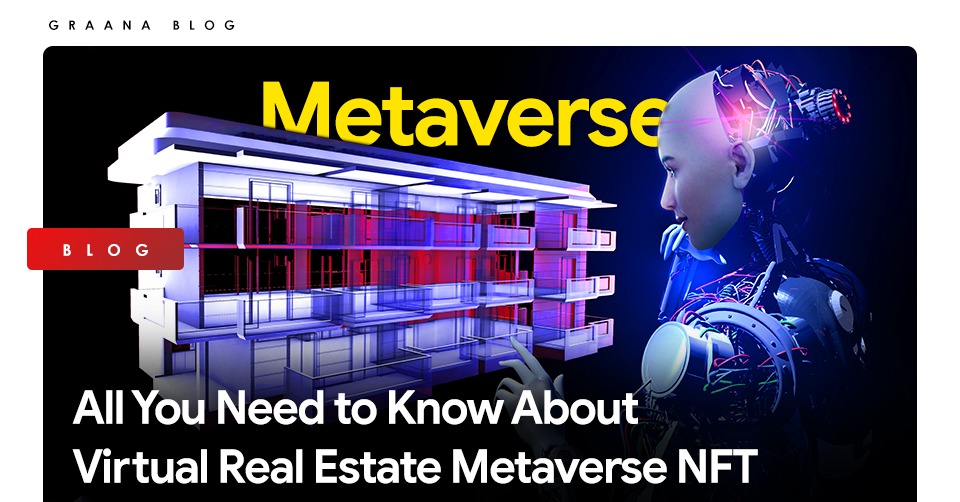 With the rapid digitalisation of the world, almost every aspect of life is becoming virtual, like work, college, transport facilities, money transactions, selling and buying etc. The advancement in technology has made it possible to carry out and complete each task from mobile phones, tablets, and computers.
A recent trend in the online world was the introduction of NFTs (non-fungible tokens). In the past year, when almost every sector saw an economic downfall because of COVID-19, NFTs saw a booming growth and revolutionised the art industry in terms of digitalisation. 
Graana.com, which specialises in the real estate sector, has compiled some useful information regarding the metaverse and virtual real estate. 
How the Metaverse Started
The concept of cryptocurrency and blockchain, which was introduced back in 2008, became the foundation of the present virtual real estate phenomenon in the metaverse – a 3D universe that exists online combining various virtual spaces. It facilitates users to meet, play games and work in online 3D spaces. 
There are many different types of metaverses, and each one has been designed to target a specific audience. Some metaverses allow people to socialise while others provide content like malls, museums, etc. The latter is more popular among users and brings in the largest chunk of traffic. 
Cryptocurrency is basically virtual digital money that is secured by cryptography, whereas blockchain is a digitally immutable ledger that eases the process of recording transactions and assets in any business network. 
The virtual real estate industry allows the general public to buy property in exchange for cryptocurrency. You would need to exchange the fiat currency with digital currency. The rate at which you exchange is different for each type of cryptocurrency, and the process of money exchange is similar to the traditional currency exchange. 
DeFi or decentralised finance is a program to operate virtual real estate finances and is based on the blockchain system. This feature is helpful for users in order to secure their accounts and make calculated choices.
The Popularity of Virtual Real Estate NFT
A landmark moment in the real estate industry was when a digitally created house named "The Mars House" was sold during an online auction back in 2020 for 500,000 USD – this marked the beginning of the NFT metaverse mania. 
Similarly, Nonfungible.com – the main website for tracking NFTs – once revealed that a plot was sold for about 300,000 USD on a highly popular metaverse platform called Decentraland. 
These virtual real estates or digital plots allow people to socialise, meet their friends, participate in different events etc. – just like they do in the physical world.
Physical Real Estate Vs. Virtual Real Estate
If you already know the basics of the real estate business, you can easily learn about investment approaches in the metaverse or virtual real estate. This is the reason why investors of virtual real estate NFT keenly observe the trends of the real world metaverse and try to accommodate them accordingly. 
Just like real estate in the physical world, investors in the virtual real estate sector also have diversified portfolios. The prices of the suburbs and the metropolitan areas vary in the digital world too. The metaverse with metropolitan plots attracts more users, hence raising its worth and value.
Scarcity is another common feature between both physical and virtual real estate. There are a limited number of plots in each metaverse, which are built on the metaverse NFTs. 
Just like the real world, popular metaverse real estate plots have high value and are sold at high prices. The concepts of mortgage and interest rates are also present in the virtual real estate metaverse. 
How Beneficial Is the Virtual Real Estate NFT
With everything shifting to the digital space, virtual real estate has also emerged as a stable platform for making investments. In fact, consumer reach has become a major differentiator between virtual real estate and real-world real estate; the metaverse NFT has a much greater scope in comparison. Real estate agencies that need to market their services and listings more effectively can establish themselves in the NFT real estate metaverse to increase their reach and stand out among competitors. 
Tokens.com, a Canadian investment company, recently bought a piece of land in Decentraland worth 2.5 million USD. It was claimed to be the largest investment in the history of metaverse real estate. 
Even though there are many advantages of virtual real estate NFT, it would not be wrong to assume that the masses are still apprehensive about it because it's still a relatively novel concept. Just like any new trend, it will also have to gain control and overcome its shortcomings over time. The potential that the industry holds, however, is undoubtedly immense.
For more details on the latest real estate trends, visit Graana.com. 
---
Trending Now