Raise your hand if you are quarantined at home, and have no clue what to do with all those spare hours.
Quarantine can be boring, no doubt about it.
But, at the same time, everyone needs to stay at home to avoid health issues. And it is possible to stay indoors and do fun & interesting stuff at home too.
One of the best ways to kill some time is to watch TV – and we know you are doing that because TV and video viewership on YouTube and other digital channels have skyrocketed.
Here's an idea though… instead of binge-watching shows that will turn your mind to mush, why not watch something that could prove to be really profitable in the long term.
Like what, you say?
Well, why not learn about investing in general, and real estate investing in particular? Bet you didn't know that there are some amazing shows on real estate investment. Well now you do, so maybe try to watch one of these shows today?
List of Real Estate TV Shows
Here is a list to pick from… Enjoy!
1. Property Brothers
The first show on our list is Property Brothers. The show revolves around twin brothers who have different skill sets. Drew is a real estate expert who can find an undervalued investment opportunity in real estate trends in a jiffy.
On the other hand, Johnathan is a real estate contractor with a specialization in house renovation and rebuilding. Together, this powerful duo covers two crucial factors of real estate: property analysis and renovation on a budget.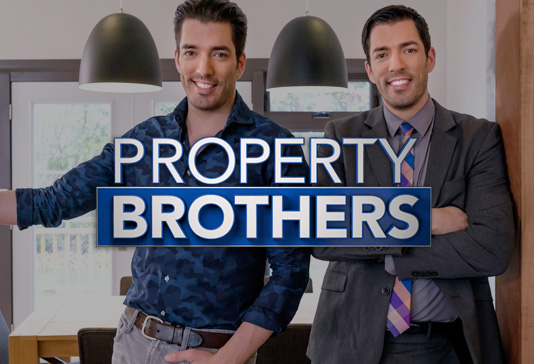 Who should watch it?
If you are a real estate agent or if you have an interest in renovation/building/interior design, Property Brothers' TV show is definitely for you.
2. House Hunters International
The next show on our list is House Hunters International.
We all know that real estate is not a cup of tea. It is stressful, and requires energy, resources, and relevant skills.
Having said that, imagine buying a real estate property in another country. Imagine the diversity, skill level, negotiation power and stress it will have.
This is the main theme of this show.
In House Hunters International, the realtors and their clients go international and try to find perfect properties. It is exciting, stressful and full of surprises. If you have interest-in innovative real estate TV shows, you should definitely watch this show. You will not be disappointed.
The show is very authentic, without bluffs, and loaded with useful real estate insights. Every episode features a different country, a different region with a different culture. The hosts take into account all the pros, cons and challenges associated with the real estate market of that specific country. Check out top real estate marketing ideas.
House Hunters international episodes are short, interesting and will make sure that you are glued to the TV.
Who should watch it?
If you are interested in building an international portfolio, or just learning about different countries, this show is for you.
3. Income Property
Next up on our list is Income Property. This show is considered to be one of the top real estate TV shows of all time.
It is a Canadian show that gained international recognition due to its excellent content. All those realtors and investors who want to build up their portfolio should not miss the Income Property TV show. The basic theme of the show is to prepare properties to generate income.
The show is hosted by Scott McGillivary, a renowned real estate expert. In the show, the host thoroughly guides people who are about to make their first real estate investment. The host helps them in finding a suitable property and prepares the house for rentals.
Who should watch it?
The show is perfect for people who want to learn about house financing, tips on enhancing the home value and paying off debt.
If you don't have access to these TV channels, do not worry. Visit youtube and stream the shows online. Check out top real estate YouTube channels that are real estate gurus for sure.
4. Fixer Upper
This is one of the best real estate TV shows. If you are someone who owns an old house and wants to revamp it without selling a kidney, then this show is for you.
One of the most common ways to earn money in real estate is by finding an old house, renovating it, adding the wow element in it and then selling it for a higher price. And, this is what Fixer Upper TV show will teach you.
Interestingly, Fixer Upper TV show not only pivots around the renovation of the houses but it also teaches you how to showcase and manage houses for sale, which is crucial in real estate.
If you are planning on installing a home automation system in your house check out how to make your home smart?
The show revolves around two real estate experts who help people to renovate old houses so that they can resell them for a higher profit margin. This Netflix real estate show is a must-watch.
Who should watch it?
Everyone interested in revamping their old house should definitely check out this show. Not only the TV show will bombard you with innovative ideas but it will also help you in learning the nitty-gritty details of trading and negotiation in real estate.
If you are interested in reading about real estate, check out these real estate books.
5. Rehab Addict
No, it's not what you think it is.
It is not a psychological thriller but a very interesting real estate TV show.
If you have a knack for history and ancient architecture, this TV show is heaven for you.
Unlike the other lot of real estate shows, the Rehab Addict TV show primarily focuses on historic houses.
Shows like these are of special interest for people who own an old house or people who dream of purchasing a historical house. The show is hosted by a woman who is an expert in ancient architecture.
The objective of the show is to educate people about historical buildings and how to save them. So, if you love history, you will love this show for sure.
Who should watch it?
People who have an interest in history, culture, and architecture should not miss this show at any cost. So, these were some of the real estate shows we think you should watch during the quarantine.
These real estate TV shows will help you to gain valuable insights, plot or plot files where you should invest, including the tax on property, tips and tricks about real estate. If you are tired of watching TV, tune into these real estate podcasts. Just sit back, relax and enjoy your podcasts.
Didn't find your favourite real estate TV show on the list?
Worry not. Send us your suggestions and we will review the TV show for you.
Also Read: