It is very unfortunate for a country with a forest area of 4.2 million hectares to have burned more wood than utilising it. Despite such vast economic potential, Pakistan exported only $200 million last year.
According to Global Forest Watch, Pakistan lost 9.75 hectares of forest cover between 2001 and 2021, which is only one percent less than in 2000.
Unfortunately, Pakistan has less forest area than the global average, with only 0.05 hectares of forest per person. The high population growth rate of 2.61% is lowering the number even more, and there is currently no way to increase public forest land at a rate fast enough to meet the demand for forest products.
To improve the situation, farmers are working to create plantations on farmlands and wastelands.
Graana.com, Pakistan's smartest property portal, has discussed the overview of Pakistan's furniture industry, along with the success story of China.
Overview of the Global Furniture Industry
Before discussing Pakistan's furniture industry, it is important to understand the global furniture industry.
Size of the Industry
The global furniture market reached a value of USD 610 billion in CY19, an increase of 7% from USD 572 billion in CY18. Generally speaking, the building industry and rising disposable incomes globally are driving the market's expansion.
The market slowed down during the COVID-19 pandemic due to supply chain interruptions and a drop in consumption brought on by lockdowns around the world. As a result, there was a 7% contraction.
The total market size of the global furniture industry is expected to be $420 billion by the end of 2022 and $505.13 billion by 2027.
Types of Materials Used
With a market share of almost 60% in CY19, wood furniture is the most popular category in terms of material usage. Metal furniture, on the other hand, accounts for 12% of the market.
The remaining market share (or 28%) is made up of different materials like bamboo, plastic, and glass.
Product Usage
In terms of use, 60% of the market is made up of household furniture, and office furniture accounts for the remaining 40%.
Production
Around 200 large furniture manufacturers, of which 14 have a sizable market share, are responsible for nearly 20% of the world's total furniture production.
These large players are present all over the world, which demonstrates the industry's globalisation.
Consumption
The greatest geographical market for furniture is in Asia and the Pacific, which generates 48% of worldwide furniture sales.
The significant demand of furniture in this region is a result of high rate of urbanisation, rising consumer incomes, and increased knowledge of fashion and lifestyle trends.
Developments
Ready-to-assemble furniture has been increasingly popular recently since it offers clients contemporary designs at a lower cost. The Swedish company IKEA, one of the biggest furniture shops in the world, is largely responsible for popularising this.
Leading Exporting Countries of Furniture
The bar chart below displays the leading exporting countries of furniture.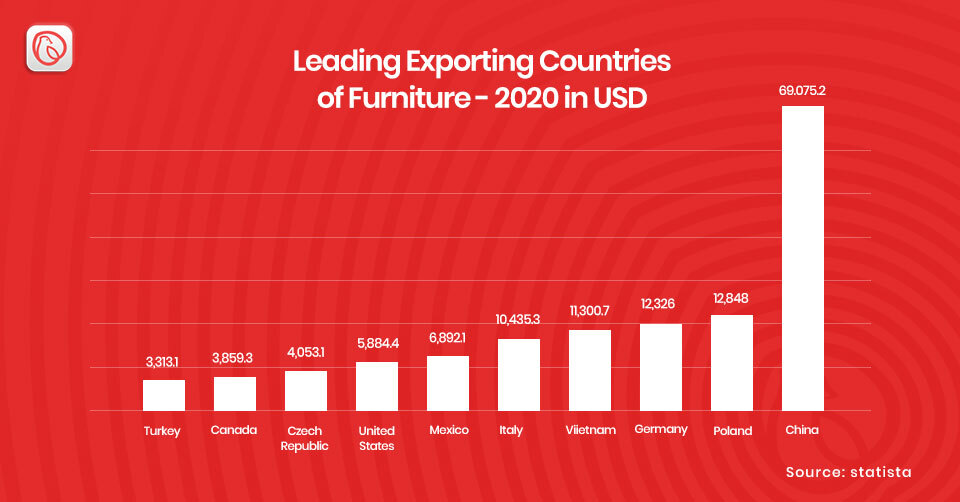 Following are the leading countries for furniture exports:
China

Poland

Germany

Vietnam

Italy

Mexico

United States

Czech Republic

Canada

Turkey
China's Success Story of Furniture Exports
China is the world's largest furniture industry. It is the world's top manufacturer, consumer, and exporter of furniture. The mainland market grew from RMB 1.98 billion in 2012 to RMB 2.86 billion in 2020.
Real estate sales are the primary driver of the Chinese furniture business; a similar growth rate is seen in the Chinese real estate sector, one of the engine rooms of the country's economy.
Therefore, it is not unexpected that the furniture sector in China has seen such a significant increase in revenues and profits.
Also, it is observed that the competition from imports is currently growing, although imported furniture remains a small proportion of the Chinese market compared to domestically made products.
Furniture Industry of Pakistan: Overview
Stated below are the facts and statistics of the furniture industry of Pakistan.
The furniture industry in Pakistan is largely unstructured and made up of numerous small and medium-sized businesses (SMEs and cottage industry). Because of this, there is fierce competition in the market. Pakistan's revenue from the furniture industry is projected to reach $800 million by the end of 2022.
With only a small fraction being exported, the industry mostly serves the local market. Exports in FY20 totaled PKR 556 million (USD 3.53 million), up from PKR 503 million (USD 3.71 million) in FY19, with the PKR increase being attributed to the period's currency devaluation while exports in dollar terms fell by 5%.
Both domestic and imported products are used to satisfy local demand. Due to the delays and disruptions caused by COVID-19, imports decreased from PKR 17,687 mln (USD 129 mln) in FY19 to PKR 13,834 mln (USD 87 mln) in FY20.
The businesses that target high-end customers make up the majority of the organised sector of the market. They work with big retail outlet chains and have strong brand identities. Interwood Mobel, Habitt Furniture, National Furniture, and ChenOne are a few well-known brands in the market.
Additionally, there is a growing number of small online businesses that want to profit from the nation's expanding e-commerce and online buying trends. The bigger players are developing a strong digital presence as well.
While some of the larger businesses utilise imported wood of various varieties to make furniture, local wood is used in the market as a whole. Sheesham wood is the most popular kind (rosewood).
The majority of the industry relies heavily on manpower, and only a few significant firms are moving toward automation.

Furniture Industry of Pakistan: Imports & Exports
Discussed below are the facts and statistics about the imports and exports of Pakistan's furniture industry:
Furniture exports from Pakistan have been on the decline in recent years, dropping from USD 5.46 million in FY16 to USD 3.53 million in FY20. A minor percentage of the total local furniture industry is made up of exports.
The exports for 7MFY21 accounted for USD 1.81 million (PKR 295 million), down 14% from 7MFY20 (USD 2.10 million or PKR 327 million).
In contrast, furniture imports are far higher than exports. Imports decreased from USD 129 million (PKR 17,687 mln) in FY19 to USD 87 mln (PKR 13,834 mln) in FY20. This was brought on by the COVID-19 pandemic's impact on the demand drop and supply chain disruption in 2HFY20. The imports increased and reached USD 36 million in 6MFY21.
Furniture Industry of Pakistan: Export Destinations
Even though a large portion of Pakistan's furniture market is locally consumed, the country is still exporting a small portion to different countries, with the United States of America being the top destination.
The majority of Pakistan's furniture is exported to the United States, which accounted for 39% of all exports in FY20 (down from 35% in FY19). The percentage of exports to the USA has increased over time.
Middle Eastern nations like Qatar and the UAE, which made up 12% and 10% of export destinations in FY20, are also included.
Out of the total exports in FY20, shipments to the United Kingdom and Canada made up 10% and 4%, respectively.
Export Destinations
FY18
FY19
FY20
Amount (USD 000)
%
Amount (USD 000)
%
Amount (USD 000)
%

USA

1030

27%

1030

27%

1030

27%

Qatar

26

1%

26

1%

26

1%

UAE

300

8%

300

8%

300

8%

UK

468

12%

468

12%

468

12%

Canada

332

9%

332

9%

332

9%

Other

1706

44%

1706

44%

1706

44%

Total
3862
100%
3862
100%
3862
100%
Conclusion
Following the downfall brought on by the COVID-19 epidemic, which forced a number of companies to halt operations and decreased demand, Pakistan's economy is now on the road to recovery.
In order to increase activity, the government has given several incentives to the building sector. These include a lower sales tax, a withholding tax exemption, and a temporary amnesty for declaring sources of income.
As the two markets are linked to each other, an increase in construction projects has a fair potential to make a favourable effect on the demand for furniture.
Lastly, the government's recent push to plant trees will pay off in the long run since it will address the issue of the depletion of local raw materials brought on by unauthorised tree cutting.
For more related information, visit the Graana Blog.