Bahawalpur is one of the largest cities in Pakistan with rich culture, heritage, and history. The city is famous for its stunning historical monuments. It is one of Pakistan's most underappreciated jewels. It was a princely state until independence, and it has some of the world's most magnificent architectural marvels. The city carries great historical and archeological value as it homes top historical landmarks along with ruins from the Indus valley civilization. 
Graana.com, the smartest property portal, brings you a list of top historical landmarks in Bahawalpur that you must visit:
Noor Mehal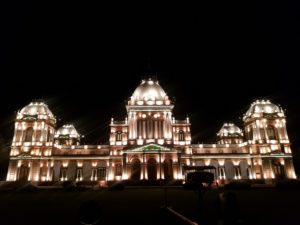 Noor Mahal is a magnificent and fascinating architectural palace. The mansion was built in 1872 for Nawab Sadiq Muhammad Khan's wife in a relatively contemporary design. The palace is available to the public at all times and serves as a state guest home. It is one of the top historical landmarks in Bahawalpur.  Noor Mehal is a Pakistan army-owned facility that is open to the general public at all times. There are several historical items to see inside like old cash and coins, an antique piano, old swords, and vintage furniture. The palace is designed to seem more like Italian royal palaces in a neoclassical style.
Derawar Fort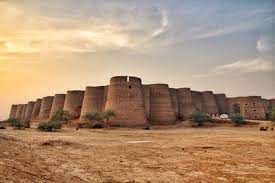 Derawar Fort is another well-known attraction and one of the top historical landmarks in Bahawalpur. It is a huge squarish fortress with its walls 1500 meters long and 30 meters high. Rai Jajja Bhatti, a Hindu ruler built this fort in the 9th century AD. It was taken over by Muslim Nawab in the 18th century. A Cholistan Desert Jeep Rally was recently constructed near the Derawar Fort. It boasts a massive and wonderful edifice in the center of Cholistan.
Darbar Mehal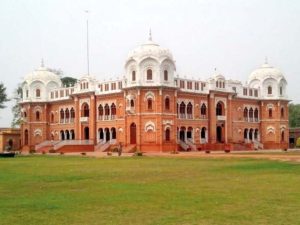 Darbar Mahal is one of Bahawalpur's most exquisite royal palaces. It was commissioned by Bahawal Khan for his wife and completed in 1905. It was constructed in both Arabic and European styles. Large entrance-ways may be found on each side of the Mahal. The Mahal's third level features a Mughal-style umbrella roof. It is not accessible to the general population. The palace has not been open to the public since 1971 but you can still see its beautiful external architecture.
Gulzar Mehal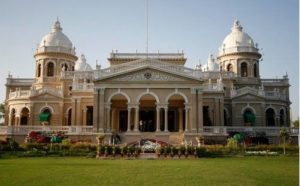 Gulzar Mahal was constructed between 1906 and 1909 for the royal family's female members. It has a huge garden that is the source of the sound. It is constructed in a unique style that sets it apart from other palaces. Nawab Sadiq Mohammad Khan gave Gulzar Mahal the opportunity to be the first building in Bahawalpur to have the wiring of electricity concealed and commissioned. The army leased it in 1966, and the historical landmark in Bahawalpur  is now closed to the general public.
Abbasi Mosque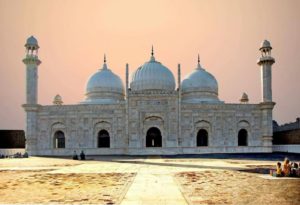 Abbasi Mosque is one of the most beautiful mosques in Pakistan. It is located in the Cholistan desert near the Derawar Fort. It is primarily found in the Yazman Tehsil. Nawab Bahawal Khan constructed it in 1849 with extreme care to attention and detail. He was famous for his passion for magnificent architecture. The mosque has exquisite cupolas, arches, and domes. The mosque has a fantastic interior, which adds to its appeal. It is open to the general public and can be visited by anyone.
Bahawalpur Central Library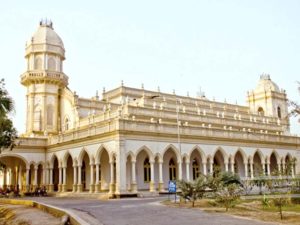 Bahawalpur Central Library is Punjab's second-largest library. It's stunning without even introspecting architecture. This library has a great magnanimity of over 100,000 books. Sadiq Reading Library is another name for it. It is the province's second-largest library. It was established on March 8, 1924. Nawabs designed and constructed the entire structure in the Victorian style. The library has about a million volumes, as well as many antique newspapers, historic documents, and other materials. It is one of the top historical landmarks in Bahawalpur which is open to the public.
Farid Gate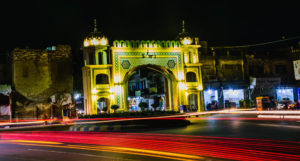 Bahawalpur was once a walled city with seven gates, with Farid Gate being one of the few that is still standing tall. Conservation efforts are underway to restore the area and its surroundings to their former magnificence and beauty.
Bahawalpur is one of Pakistan's underappreciated treasures with top historical landmarks. We must value our own architectural and historical heritage. Bahawalpur is one of the underestimated jewels of Pakistan. We must value our own cultural and historical gems. We need to take action to conserve our monuments and historical emblems to show the course of history to our future generations. Get to know about 13 Gates of Lahore
Moreover, for more information about ancient places in the world, visit Graana blog.