Following the rise in arson cases during the last decade in Pakistan, Pakistan Engineering Council along with the National Disaster Management Authority introduced the Fire Safety Provisions in 2016. These codes defined the types of building in Pakistan and set the guidelines to prevent fire hazards in residential and commercial buildings.
Graana.com, Pakistan's first online real estate agent, has compiled a comprehensive yet easy guide on the types of buildings. Since buildings can be classified in a number of ways the following classification looks at the fire-resistant characteristics of the structural elements.
Types of building as per the guidelines of the Pakistan Engineering Council are given below: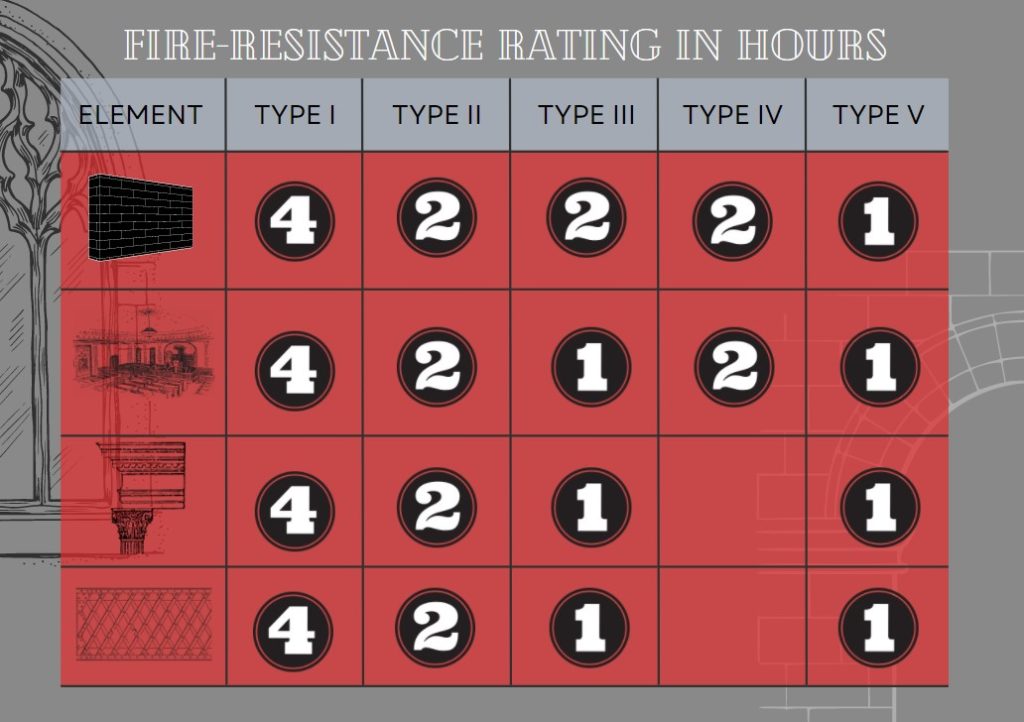 Type I
The fire safety provisions of the building codes of Pakistan relay that a Type I structure is a building in which the structural elements (like roofs, walls, floors, and arches) are made of non-combustible materials like concrete and steel. These elements boost the durability of these structures, they also increase construction costs.
To prevent fires from spreading, some Type 1 buildings incorporate Heating, Ventilation, and Air Conditioning (HVAC) systems and self-pressurizing stairwells. These features make it easier for firefighters to reach at and put out flames. When entering a Type 1 building, firefighters' primary goal is to secure stairwells in order to enable a safe evacuation.
Type II
Similar to Type I, Type II buildings are also made of non-combustible materials but have a lower level of fire resistance. Additionally, these are also subsequently prone to collapsing. The type of construction in these buildings is such that walls are usually made of bricks with metal floors and roofs. The most common type of metal used in Type II construction is steel.
The majority of buildings in Pakistan have masonry walls and concrete roofs. However, across the developed schools in the world, malls, and other commercial buildings, the Type II building code is adapted for construction. Using this saves a significant percentage of the cost in case of any unfortunate incident of fire in the building.
Other than this, it also helps in making it convenient for the firefighters to reach the affected area in case the building catches fire.
Type III
Type III buildings are also referred to as brick-and-joist structures or mixed structures. The exterior of this type of building is made of non-combustible materials. Whereas for the interior structural elements (i.e. walls, arches, floors, and roofs), combustible materials like wood are used. The material required in this type of building is smaller than that required for Type IV construction.
This construction type might include schools, buildings, and homes. One of the advantages of this form of the building is that ventilation is available. However, many Type III structures have connected attics or horizontal vacant spaces, increasing the risk of fire extension.
Type IV
The exterior and interior bearing walls of the building structure are made of non-combustible or limited-combustible materials. Laminated wood or cross-laminated timber is used for other interior structural elements such as arches, floors, and roofs.
All timber members must meet particular dimensional standards in this construction type. Columns, beams, and girders that support the structure must be at least 8 inches thick. Roof and floor heavy planks must be at least 6 inches thick. The external walls and inner elements of Type IV structures are noncombustible.
Despite the fact that these structures include combustible elements, they often perform well in the event of a fire. They are also more resistant to collapse because of their structural bulk. However, because of their sturdiness and complexity of structure, firefighters often find it difficult to put out a fire. Resultantly, metal joint connections can potentially quickly escalate the intensity of a fire.
Type V
Type V structures are the least fire-resistant structures. It is the only construction type that allows combustible external walls as well as combustible inner structural members i.e. wooden frames, walls, floors, and roofs to be used either as a whole or partially. These materials are less expensive to produce and are becoming more widespread in the construction of single-family houses and garages.
Firefighters may be concerned about these structural parts since exposed wood has no fire resistance. In case of a fire break-out, the entire structure will be engulfed in flames. Unless it is a lightweight structure, these structures may be resistant to collapse. Otherwise, it will collapse within minutes of a fire breaking out in that situation.
To read more about construction materials and building designs visit Graana.com.
Read More