In Pakistan, many people prefer a 5-marla house because it is convenient, affordable, and manageable for nuclear families consisting of 4 to 5 people. If you are about to construct your home, this article is for you as it will give you valuable information and insights needed to build your house. Our 5 Marla House Design will help you in planning your dream house.
Before starting with the house designs and floor plans, it is crucial to understand certain factors. So, let's get started!
Things to Consider Before Starting 5 Marla House Design
The following are some of the things that you should keep in mind before designing your floor plans.
Your lifestyle
This factor matters the most. Before jumping straight onto the design process, make sure you take into account your lifestyle. If you have a nuclear family, your floor plan would be different.
Similarly, if you are a minimalist, the plans would be different. Make sure the floor plans and overall house design complement your lifestyle.
Work on the details
Sit down with your family and ponder on the details of the house. Consider your needs, future demands, and requirements. Also, consider the plot size, lot requirements, square footage, number of bedrooms, and bathrooms. You must mold the house design accordingly if you have pets like dogs or birds.
Location
Location matters the most, and everything revolves around this prime factor. For example, if your plot is near the sea, the floor plans and house designs will differ. If you live somewhere with heavy snowfall, the floor plans and house designs may differ significantly.
Exterior/style of your home
Before designing the floor plans, consider the house's exterior so that everything compliments each other very well. Similarly, make sure to pay attention to the room layout as well. For example, you can choose different room sizes and shapes, depending on your preferences.
Views
If you are investing in a plot and have a property near somewhere scenic, like mountains or greenery, you would want to utilize this natural beauty to the maximum threshold. You need to work on your house designs and floor plans for that. For instance, if you live in a hilly area, you would want to incorporate big windows and taller ceilings for better ventilation.
Levels
The floor plans will naturally differ if you are constructing a single-story building. If you have built one floor and planning to make the first floor in the future, the house design will be different.
Take into account your belongings
Before finalizing your floor plans and their dimensions, ensure you have all your belongings e.g., furniture and decorations in mind. For example, if you have substantial chunky pieces of lounge furniture, you would want a spacious lounge, and if you are a minimalist, a mid-sized lounge will work perfectly.
Additional rooms
You probably want a spacious garage if you have more than one car. Similarly, if you have servants with you, you might also want to build servant quarters in your house.
Finances
Before finalizing anything, do a cost estimation. Either do it alone or hire a professional to do the job for you. You must have a set budget at the place before starting to construct your house.
If you are tight on the budget, you might want to design the ground floor only. Similarly, you might want to invest in luxuries like a lawn or patio if you have a high budget.
Overview of 5 Marla House Design
Before analyzing the floor plans, understanding the area unit, i.e., Marla, is essential.
Understanding Marla
A marla is a traditional area unit used in India, Pakistan, and Bangladesh. The marla was standardized under British raj to equal the square rod, or 272.25 square feet, 30.25 square yards, or 25.2929 square meters. As such, it was exactly one 160th of an acre.
The said size house covers an area of 2000 square feet in total. You can make the most of a 25*25 feet plot size with careful planning. Construction of a real estate asset needs to be top-notch and without any defects. For that, it is crucial to hire a construction company in Pakistan that provides high-quality construction services at an affordable price.
Following are some of the 5 marla corner house designs in Pakistan that are very popular among the masses.
Design for a 5 Marla House – Option 1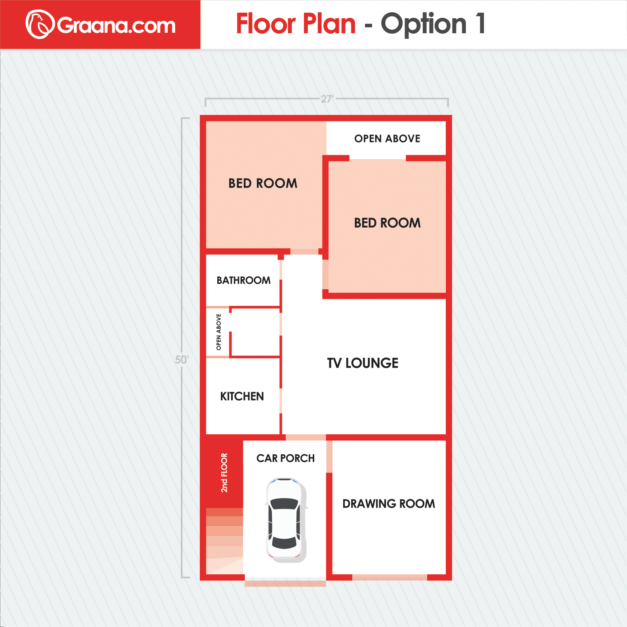 This design has 2 bedrooms, one car porch, a drawing room, a tv lounge, and a kitchen. The car porch has an entrance to the drawing room and the tv lounge.
You can also access the drawing room from the street. The TV lounge has a kitchen next to it. Pass the TV lounge, two bedrooms are side by side, joined by a bathroom. There is also open space behind a bedroom and kitchen that can be used for washing and storing purposes.
Design for a 5 Marla House – Option 2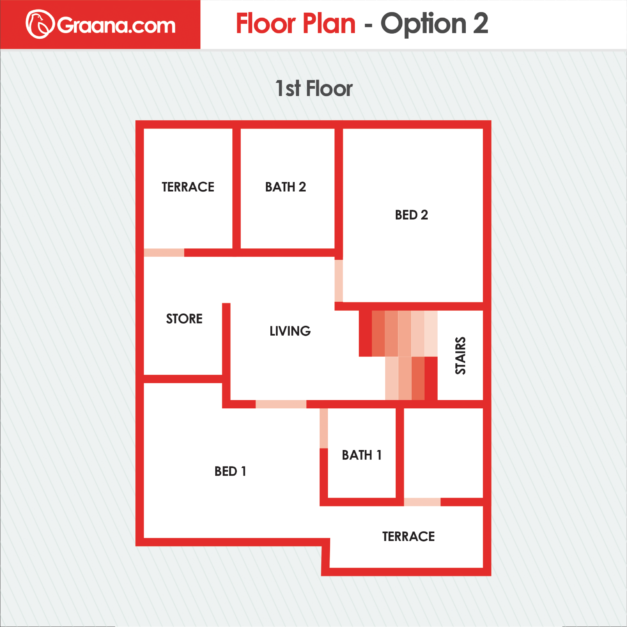 This specific design gives you a fair idea of the first-floor plan. There are two bedrooms, two baths, a store, a lounge, and two open spaces.
You will enter the living room by climbing the stairs, which opens into both bedrooms. Both bedrooms have attached baths with them. The living hall also extends into the store, which can be used to store all your belongings.
Design for a 5 Marla House – Option 3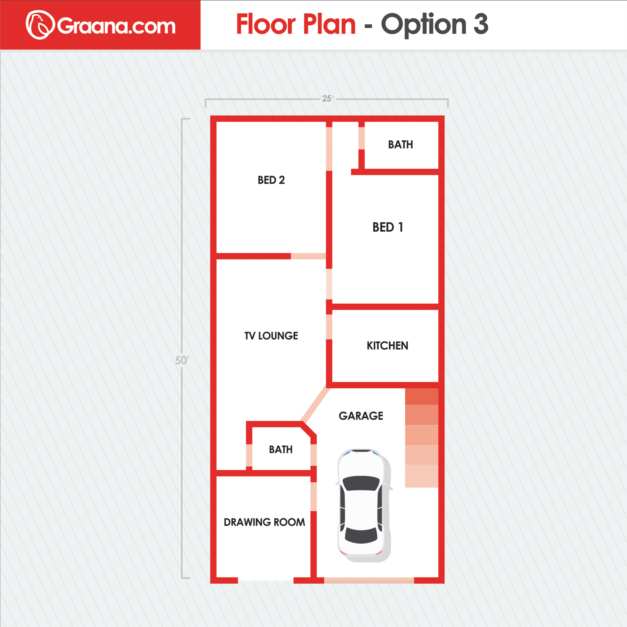 This specific design has two bedrooms, two bathrooms, one Tv lounge, one dining room, a car porch, and a kitchen. The house is accessible from the garage and the drawing room as well. The garage opens into the drawing room and TV lounge as well. There is also an attached bathroom with a Tv lounge. If you are interested in investment, read the best investment opportunities in Pakistan.
The lounge opens into two bedrooms and a kitchen. Bedroom one also has an attached bathroom with it. So, these are some things you need to know about 5 Marla house designs in Pakistan. In a 5-marla space, you can easily build a spacious and comfortable house.
If you are constructing a basement in your house, read the pros and cons of basement construction in Pakistan. However, if you have any more questions or queries regarding the floor plans and house designs in Pakistan, let us know in the comment section below, and we will get back to you as soon as possible.
FAQs
What is the size of a 5-Marla room?
In Pakistan, a 5 Marla room does not have a specific size since "Marla" is a unit of area, not a unit of measurement for rooms. A Marla is a traditional unit of land measurement commonly used in Pakistan, equivalent to approximately 225 square feet or 20.9 square meters. Therefore, the size of a room in a 5 Marla house can vary based on the overall layout and design.
What is the size of 5 Marla houses in Pakistan?
The size of a 5 Marla house in Pakistan is typically around 1,125 square feet or 104.5 square meters. This size is a common choice for middle-income households and provides enough space for basic amenities and comfortable living.
How much will it cost to build 5 Marla in Pakistan in 2023?
The cost of building a 5-Marla house in Pakistan can vary based on several factors, such as the location, materials used, design, and finishes. Construction costs also tend to fluctuate over time due to changes in material prices and labor costs.
As of 2023, it isn't easy to provide an exact cost estimate without specific details. It is recommended to consult with local contractors or architects who can provide a more accurate cost estimation based on your specific requirements and location.
How many bricks do I need for a 5-Marla house?
The number of bricks required for a 5-Marla house can vary depending on the design, number of floors, and wall thickness. On average, it is estimated that approximately 60,000 to 80,000 bricks may be needed for the construction of a 5-Marla house in Pakistan.
However, it is advisable to consult with a structural engineer or contractor who can provide a more accurate estimate based on your house's specific design and structural requirements.