Pakistan is a country that is truly blessed with majestic mountains, beautiful hill stations, lush green plains, a variety of exotic flora & fauna, and much much more. Luckily, Pakistan is also blessed with some of the largest national parks in the world.
To know more about these parks, keep on reading.
What is a National Park?
A national park is not a traditional park having fences, few swings, and gardens. The national park is a land reserve that is usually owned by the government.
The primary purpose of a national park is the preservation and protection of endangered species of flora and fauna. 
National Parks of Pakistan
Globally, there are around 6,555 national parks. Out of these 6,555 parks, 21 parks are situated in Pakistan. These national parks cover about 29,589 km² of the area which is roughly about 3 % of the total area (10,060,96 km²) of the country.
Lal Sohanra is the first national park to be established in Pakistan. It was established in 1972 to save endangered species from hunting and environmental hazards.
List of National Parks in Pakistan
Fairy Meadows National Park
Fairy Meadows is a beautiful region located near the base campsite of the Nanga Parbat, located in Diamer District, Gilgit-Baltistan, Pakistan.
It is also known as the Jaugth among the local people. Fairy meadows were named after the german climbers. The region has an altitude of about 3,300 meters (10,800 ft) above sea level and it acts as a starting point for trekkers summiting on the Rakhiot face of the Nanga Parbat.
Fairy Meadows was given the status of a national park in 1995. The place can be reached through a 15-kilometer-long jeepable trek starting from Raikhot bridge on Karakoram Highway to the village of Tato.
Fairy Meadows is one of the most famous tourist destinations as well. Its tourist season lasts six months, starting from April to September.
The international and local tourists stay at the campsite which is spread across 800 hectares (2,000 acres), known as "Raikot Serai". The grassland also has thick alpine meadows. The area also has different types of trees including Pinus wallichiana, Picea smithiana, and Abies pindrow trees.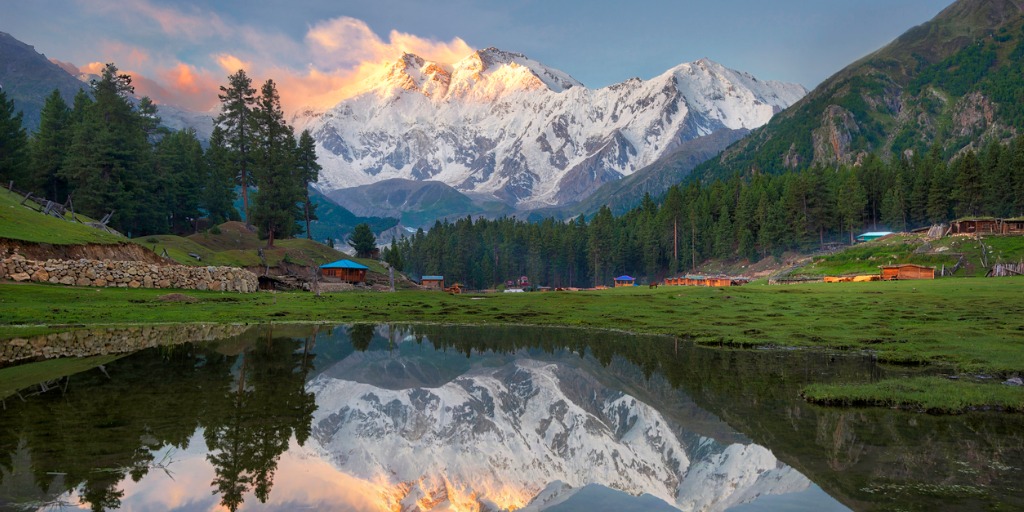 Year of Inception: 2020
Location: Diamer District, Gilgit-Baltistan
Toli Peer
The next national park on our list is Toli Peer. It is a hill station located in Tehsil Rawalakot in the Poonch District of Azad Kashmir.
The place has an elevation of around 8800 feet above sea level. It is around 30 kilometers away from Rawalakot and the Poonch river in Pakistan can be viewed from Toli Pir as well.
Toli Peer is the highest mountain in the northeastern region of Rawalakot. The best time to visit Toli Peer is during the summer months because the weather gets colder from October to March.
Year of Inception: 2005
Location: Poonch, Azad Kashmir
Saiful Maluk National Park
Saiful Maluk National Park is one of the most visited tourist attractions in Pakistan. It is located in the Kaghan Valley in Mansehra District of Khyber-Pakhtunkhwa, in northern Pakistan. The park was inaugurated in 2003 and is situated near the famous Saif ul Maluk Lake. 
Apart from the gorgeous lake, the park also has a wide variety of flora to offer including trees, shrubs, perennials, and herbs.
The national park also houses several animal species including snow leopard, Asiatic black bear, marmot, weasel, Eurasian lynx, Indian leopard, Himalayan snowcock, and the snow partridge.
Year of Inception: 2003
Location: Mansehra, Khyber Pakhtunkhwa
Margalla Hills National Park
Margalla Hills national park is located at the heart of the capital of Pakistan. The park is situated at the foot of Margalla hills along Shakarparian Park and Rawal Lake. The national park was established in 1980 and is considered to be one of the largest national parks in the world, having an area of 17,386 hectares (42,960 acres). 
Margalla National Park is one of the most visited places in Islamabad, owing to its proximity to famous places including Daman-e-Koh, Pir Sohawa, Shakarparian Cultural Complex, and Lake View Park.
This park in Islamabad is known among the masses for its vast selection of fauna including grey goral, barking deer, and the Leopard. In short, Margalla Hills National Park is home to around 600 plant species, 402 bird varieties, 38 mammals, and 27 species of reptiles.
Year of Inception: 1980
Location: Islamabad, Rawalpindi, Punjab
Manglot National Park
Manglot National Park is a beautiful National Park situated in the heart of Kyber Pakhtunkhwa. It was established in 1990 and acts as a natural sanctuary for wildlife.
The park is spread across 1,756 acres including hilltops and the plain area near the Indus River in Nizampur, Nowshera. If you have a knack for history, explore historical places in Pakistan.
The flora of the park primarily consists of scrubs such as olive trees, Acacia Modesta, zizyphus nummelaria, olea cuspidata, deodonia viscose, and monothica boxifolia.
These are some of the floras that are abundantly found in the area. Some of the animals that are found in abundance include Chinkara, hog deer, common leopard, wolf, wild boar, jackal, porcupine, and hare.
Year of Inception: 1990
Location: Nowshera, Khyber Pakhtunkhwa
Lulusar-Dudipatsar
Lulusar-Dodipat National Park is situated in the Kaghan Valley in the Mansehra District of Khyber-Pakhtunkhwa, Pakistan. The park was established in 2003 the safeguard endangered flora and fauna. 
Some of the famous flora found in the park include trees, shrubs, perennials, and herbs of the Himalayan range. The park also houses many animals including snow leopard, black bear, marmot, weasel, lynx, leopard, Himalayan snowcock, and the snow partridge.  If you are adventurous, explore the deserts in Pakistan.
The park is easily accessible by road by cars and motorbikes. 
Saiful Muluk National Park, with Lake Saiful Muluk, is adjacent to Lulusar-Dodipat National Park in the Kaghan Valley region. So when you are out to see Lulusar national park, do not forget to pay a visit to Lake Saiful Muluk.
Year of Inception: 2003
Location: Mansehra, Khyber Pakhtunkhwa
Kirthar
The Kirthar National Park is one of the major national parks in Pakistan that is located in the Kirthar Mountains in Jamshoro District in Sindh, Pakistan. The park was formed in 1974 and covers an area of around 3,087 square kilometers (1,192 sq mi).
Kirthar National Park is also the third-largest park in Pakistan. The park is easily accessible by cars and jeeps. For accommodation, there are two guest houses for tourists. 
The park's fauna includes Persian leopards, striped hyenas, Indian wolves, ratels, urials, chinkara gazelles, and rare Sind wild goats.
Birds found in the park include Bonelli's eagle, Imperial eagle, Tawny eagle, Golden eagle, Griffon vulture, Egyptian vulture, Cinereous vulture, Laggar falcon, Red-necked falcon, Common kestrel, Crowned sandgrouse, Houbara bustard, Grey partridge, See-see partridge, Stone-curlew, Chestnut-bellied sandgrouse, Lichtenstein's sandgrouse, Painted sandgrouse, Indian eagle-owl, Sind woodpecker, Hume's wheatear, Long-billed Pipit, Crested bunting, Desert lark, Hoopoe, and Grey-backed shrike.
Year of Inception: 1974
Location: Dadu, Sindh
Lal Suhanra National Park
One of the biggest national parks in Pakistan and South Asia is Lal Suhanra, located in the Bahawalpur district of the Punjab province.
Lal Sohanra, which spans 162568 acres, is renowned for the variety of terrain it offers, which includes wetlands, desert, and woodland regions. About 35 kilometres east of Bahawalpur, the park offers a combination of desert and woodland life.
The conservation of native Cholistan fauna and flora species, especially those that are endangered (such as the chinkara, blackbuck, and blue bull), is one of the national park's management goals.
In addition to this, another goal is to preserve the management of the nation's threatened animal species. Moreover, encouraging scientific research on Cholistan's native plants and animals to improve the native gene pool, particularly for Blackbuck, Chinkara, and Blue bull is also a goal for the maintenance of this park.
Year of Inception: 1972
Location: Bahawalpur, Punjab
Hingol National Park
Hingol National Park is the largest national park of Pakistan and is located on the Makran coast, about 190 kilometres from Karachi, and has an area of roughly 610,043 acres.
The park area spans portions of the three districts of Lasbela, Gawader, and Owaran in the Baluchistan province. Hingol river, which is a part of the national park, is home to a wide variety of fish and bird species.
Currently, two deputy rangers and 20 staff members, including 18 game observers, are in charge under the direction of the park manager, who answers to the secretary of wildlife, forest, livestock, environment, and tourism, for the operation of the park.
Although no thorough inventories of the wildlife have been made, it is known that Hingol supports a number of bird species as well as endangered invertebrates.
The park serves as a great habitat for a variety of wild species, including more than 3000 Ibex, 1500 Urials, more than 1200 chinkara, and other resident and migratory birds. Regular visitors to the region include the Dalmatian, Houbara Bustard, and Spot-billed Pelican.
Year of Inception: 1988
Location: Lasbela, Balochistan
Chitral Gol National Park
The mesmerising Chitral Valley is home to Chitral Gol National Park. Chitral Gol is a mountainous valley with a canyon that extends for about 18 kilometres before opening up into a basin.
It empties into the Kunar River in the south and receives a large number of tributaries. Visitors & Visitor Amenities are two hunting lodges that were initially constructed by the Mehtars. The overall population there rarely equals to thousand, meaning there are very few people in the area.
The Markhor goats in this park were estimated to number 100–125 in 1970 and 225 in 1975. Markhors are famous across the world and are also titled the national animal of Pakistan.
Black bears and other ungulates like the Siberian ibex and Ladakh urial (Shapu) also exist in extremely small numbers. In 1970, the snow leopard's situation was precarious; by 1974, it was gravely threatened.
Chitral Gol Park is one of the prominent wildlife national parks of Pakistan, and is home to many rare species. Because of this, it is highly yearned by hunters around the world for hunting purposes. However, special permissions are needed and any hunting otherwise is strictly prohibited.
Year of Inception: 1984
Location: Chitral, Khyber Pakhtunkhwa
Khunjerab National Park
Pakistan's Khunjerab National Park is the third-largest National Park in the country. A 1,400,000-hectare natural reserve in China called Taxkorgan is located next to the park.
The late Zulfikar Ali Bhutto established this park on April 29, 1975. The park's majority is situated over 4,000 metres. The Karakoram Highway's Khunjerab Pass, which opens up to China is located at 4,934 metres.
The endangered Marco Polo Sheep, which can only be found in this region of Pakistan, was the main reason for creating this park.
The population was around 400, according to the Mir of Hunza, but by the time construction of the Karakoram Highway was complete, it had decreased to under 180.
The park is renowned for its Snow Leopards as well. According to some reports, it may have the highest concentration of these snow leopards in the entire Himalayan ecosystem, which is where they naturally occur.
Year of Inception: 1975
Location: Hunza, Gilgit-Baltistan
Deosai National Park
The Deosai National Park is situated in Gilgit Baltistan (GB), Pakistan, in the western Himalayas. The Deosai Plains, after the Changtang Tibetan Plateau, are the second-highest plateau in the world, rising an average of 4,114 metres (13,497 feet) above sea level.
The Deosai National Park was created in 1993 to safeguard the habitat and continued existence of the Himalayan brown bear.
In addition, the Siberian ibex, Snow Leopard, Kashmir Musk Deer, Himalayan wolf, Himalayan marmot, and more than 124 different varieties of resident and migratory birds call the Deosai Plains their home.
The Himalayan snowcock, Lammergeier, Laggar falcon, Peregrine falcon, and Golden Eagle are just a few of the birds that are commonly found in the park.
Year of Inception: 1975
Location: Hunza, Gilgit-Baltistan
So, these are some of the most famous national parks in Pakistan. These parks are known among the masses for their exotic flora and fauna. If you are a fan of adventures and love exploring the wildlife, you need to visit these parks.
If you have any queries regarding the parks, leave us a comment in the comment section below.
Read More: