Saddar is one of Karachi's oldest neighbourhoods that comprises bustling markets, century-old buildings, and narrow, crowded streets. From electronic goods to antiques to groceries, shoppers can find everything at reasonable rates.
The area's significance can be traced back to the British colonial era when Saddar was considered the central business district of Karachi. After Pakistan's independence, the area continued to serve as the hotspot for all local and foreign visitors.
Graana.com brings you a detailed account of Saddar's history, location, and unique features below.
Saddar Then – A Thriving Community
Sadar The historical district of Karachi, usually referred to as Saddar or Saddar Town, is situated in the centre of Karachi, Pakistan. The region has a long history going back to colonial times.
Saddar functioned as Karachi's commercial and cultural hub during the British Raj. In Saddar, where the British established their military and administrative headquarters, numerous significant structures and landmarks were built. The well-known Empress Market, now a well-liked attraction, was constructed in the late 19th century.
Saddar remained an important business center and a busy Karachi area after Pakistan gained independence from British rule in 1947. Although the region has been through many changes over the years, including creating new structures and developments, it has managed to keep much of its historic charm.
Renewing efforts have been made in recent years to preserve Saddar's ancient structures and landmarks. Since many of the colonial-era structures have been preserved and transformed into stores, eateries, and cultural hubs, the neighbourhood is well-liked by both locals and visitors.
Saddar is still a thriving area with a diverse population and cultural makeup. In addition to its historical sites and cultural attractions, it is renowned for its food, shopping, and nightlife.
Saddar Now – A Historical Landmark
Over time, the worn-out red-brick structures have started to decay and crumble, while contemporary-style apartments and shopping centers have replaced the outdated wooden homes.
However, Saddar has still managed to retain its old charm and distinctiveness. It honors the history and has made space for modern architecture, creating a unique blend of the old and the new. It was recently estimated that Saddar and its nearby areas have a population of approximately 1 million, possibly even more.
Location of Saddar, Karachi
The town's two most significant neighborhoods, Kharadar and Mithadar, date back to pre-colonial times. The names of these areas translate to "Salty Gate" and "Sweet Gate," referring to the two main gates of Karachi's Walled City. As indicated by their titles, one of the gates led to the Arabian Sea and the other to the Lyari River.
The affluent neighborhoods of Clifton Cantonment and Jamshed Town are located east of Saddar, Karachi. Lyari Town is to its west, and Kimari, a beach town, is to its south. The nearby Karachi City and Karachi Cantonment railway stations are both easily accessible.
Distinguishable Features of Saddar, Karachi
Since Saddar held prime importance for decades, many significant areas were developed nearby, which are there to this day. Following are some of the important areas near Saddar.
National Museum Pakistan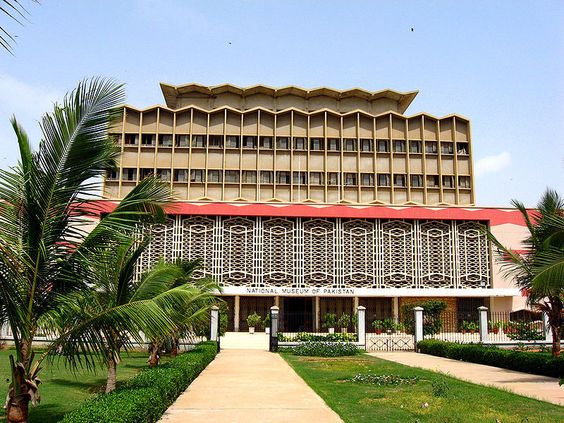 The National Museum of Pakistan in the iconic Frere Hall opened its doors to the public in 1951. But, in 1969, the Pakistani government moved the museum to a different building at Burns Garden in Saddar.
Visitors can view many historical artefacts on display in the museum that dates from prehistoric times up to the independence of Pakistan.
The entry ticket just costs PKR 20. Student groups can visit the National Museum of Pakistan free, while children under ten only have to pay PKR 10 to enter. This museum is one of the top museums in Karachi.
Habib Bank Plaza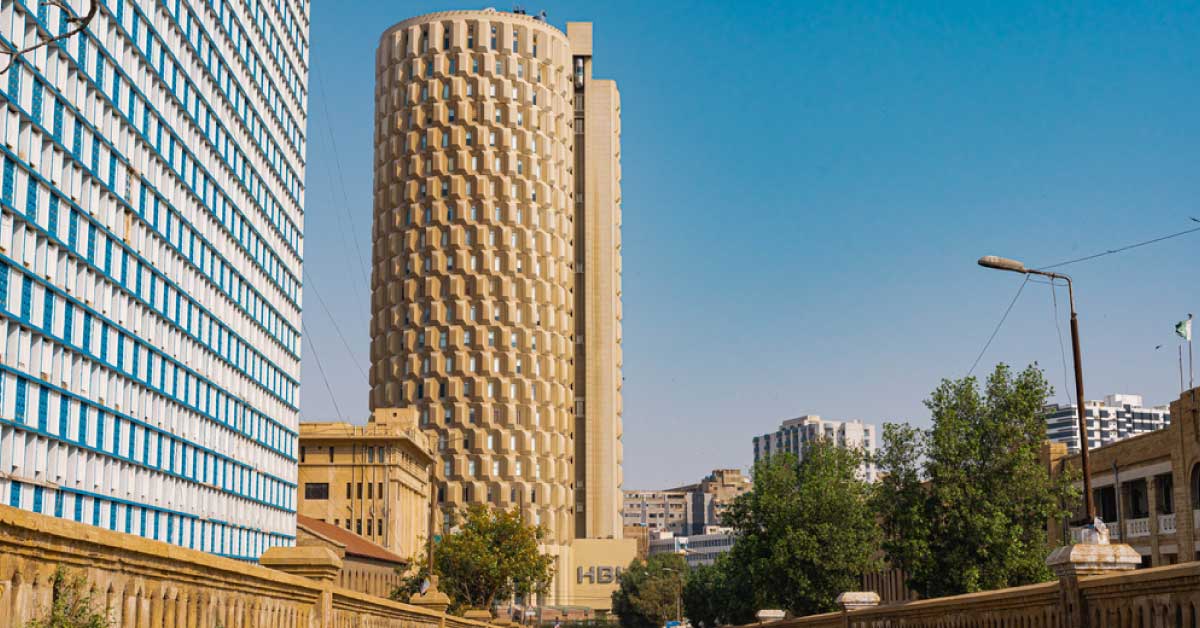 For a long period, Habib Bank Plaza on I.I. Chundrigar Road was not just the tallest building in Pakistan but, in fact, in the whole of South Asia.
This 22-story architectural masterpiece houses the Habib Bank Limited headquarters and is still one of Karachi's tallest skyscrapers.
Around 101 meters high, Habib Bank Plaza is one of the most well-known buildings in the ever-expanding City of Lights. This plaza's construction began in 1963 and was completed nine years later, in 1972. It sits in the middle of Pakistan's major financial district, also known as 'Pakistan's Wall Street.'
Saint Patrick's Cathedral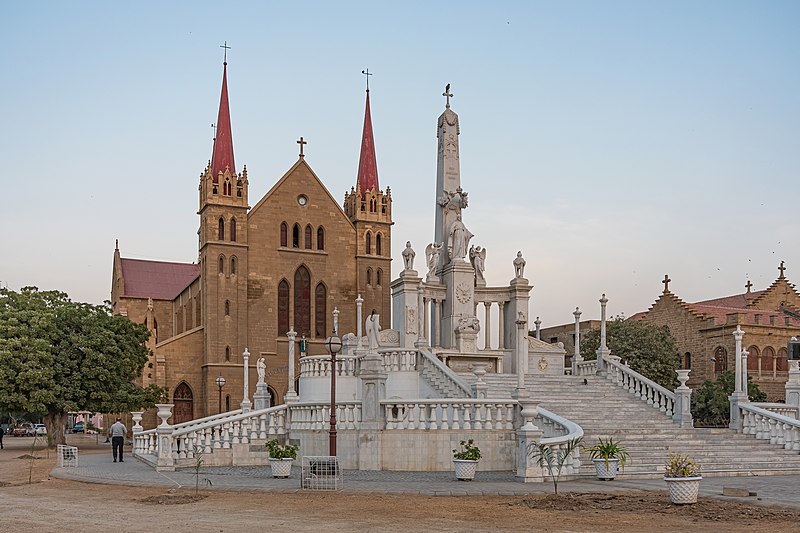 One of the most beautiful cathedrals in Pakistan is St. Patrick's Cathedral. With its red-brick structure, enormous stained glass windows, and magnificent Monument to Christ the King, the building serves as a beautiful attraction to the city. Additionally, it can accommodate approximately 2,000 worshippers at once.
Possibly one of the oldest churches in Sindh, St. Patrick's Cathedral in Saddar dates back to 1881. On those premises, a church was first constructed in 1845.
The 170 feet-long cathedral, on the other hand, was built close to it as the local Catholic population grew. However, the church was destroyed during a storm in 1885.
Empress Market
One of the most well-known places in Karachi, Empress Market in Saddar, was named after the Empress of India, Queen Victoria. Its construction began in 1884 and was completed in 1889.
Today, hundreds of years later, Empress Market is still one of the most-visited markets in the city, which sells everything from fruits and meat to textiles and crockery. Empress Market remains extremely crowded throughout the week despite being located in a highly congested area.
Merewether Clock Tower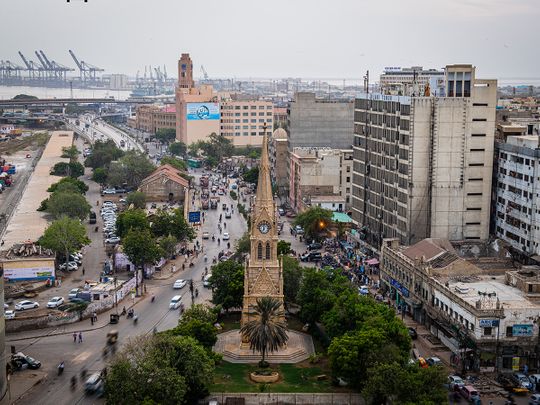 The Merewether Clock Tower, located on I.I. Chundrigar Road, was constructed in 1892. Sir Evan James, the Commissioner of Sindh at the time, ordered its construction as a tribute to his predecessor, Sir William L. Merewether.
The tower is 102 feet tall, with four clocks on each side and a huge bell at the top. The intricate design was inspired by Gothic Revival-style architecture.
Sindh High Court
The Sindh High Court building, the highest court in the province, was constructed in 1929. The original plan of the historical complex in Saddar Karachi's center had five judges and a single main building.
But, as time went on, new structures were erected, and the complex today houses the offices of the following:
Attorney General

Deputy Attorney General

Advocate General Sindh

Secretary Ministry of Justice

Parliamentary Affairs

Registry of the Federal Sharia Court

Sindh Bar Council
Karachi Port Trust Building
Karachi Port Trust Building is one of the most important monuments in the city. The yellow-stone building is situated in the Kharadar neighborhood of Saddar. It was built in 1915 by the architect G. Witted, also known for designing Mumbai's Gateway of India.
The Karachi Port Trust now has its headquarters there. The KPT building's architecture appears to have been influenced by Gothic, British, and Hindu, an amalgamation of all three of these styles.
However, the huge dome at the top of the building is similar to the style of early Roman buildings. The building is entirely made of teak wood, a highly expensive material.
Frere Hall
The well-known Frere Hall in Saddar, one of Karachi's most recognizable colonial-era structures, represents the city's regal past.
Originally, Frere Hall was intended to serve as Karachi's town hall. However, it is currently a gallery as well as a library. Several festivities are organized in the enormous gardens surrounding the historic structure throughout the year.
The magnificent Venetian-Gothic building, built between 1863 and 1865, was named after a British politician named Sir Henry Bartle Frere. Frere Hall is a popular tourist destination in Karachi due to its exquisite interior.
Other Notable Landmarks Near Saddar, Karachi
Saddar's proximity to key city areas also adds to its significance. Following are some of the most important areas nearby:
KMC Building

Old Radio Pakistan's Building

Regional Passport Office

Pakistan Stock Exchange

Election Commission

Karachi Press Club

Wazir Mansion

The Provincial Assembly of Sindh

Arts Council of Pakistan

Sindh Club

Khaliqdina Hall & Library
Restaurants in Saddar Karachi
One of Karachi's most important food streets is Burns Road in Saddar. It is home to some of the city's oldest eateries, which is why it is a great place for those who enjoy authentic Indian food.
Other popular restaurants in Saddar include Chaudhary Farzand Ali Kulfi, Sabir Nihari, Zahid Nihari, Peshawari Ice Cream, Baloch Ice Cream, Hijaz Dairy, Dilpasand Bakery, and Fresco Sweets, to name a few.
You can even find outlets of several major national and international fast food brands in Saddar.
Markets in Saddar, Karachi
Many markets in Saddar are famous for items like clothing, antiques, etc. Following is a list of the markets located near Saddar:
Bohri Bazaar

Zainab Market

Jodia Bazar

Saddar Electronic Market

Cooperative Market

Gul Plaza
Bohri Bazaar
Founded years before Pakistan's independence, Bohri Bazaar is one of Karachi's oldest and biggest bazaars. Some businesses in the enormous Bohri Bazaar are almost a century old. This market offers everything, from clothing and kitchenware to hardware and wooden items.
Zainab Market
Saddar is also home to Zainab Market, one of Karachi's most renowned retail districts. Zainab Market is the hub of a variety of retail malls and offers a great range of export-quality leather items, denim, handicrafts, and antiques.
Jodia Bazar
Jodia Bazar is one of the country's oldest wholesale markets, dating back to the pre-partition era.
Saddar Electronic Market
Saddar Electronic Market offers a range of electronics from phones and computers to TVs and vacuum cleaners. Regal Chowk and Abdullah Haroon Road in Saddar are home to the city's busiest electronic markets.
Cooperative Market
The Cooperative Market in Saddar is conceivably the greatest place in Karachi to purchase wooden and copper handicrafts and unique vintage items.
Gul Plaza
For unique and affordable home décor goods, Gul Plaza in Saddar is a famous location to pay a visit to.
Top Schools in Saddar, Karachi
Some of Karachi's most well-established schools are located in Saddar.
St. Joseph's Convent School

St. Patrick's High School

The Mama Parsi Girls' Secondary School

Bai Virbaiji Soparivala Parsi High School

Karachi Grammar School
These institutions offer both matriculation and O/A-level education as well as provide excellent educational standards.
Saddar is also home to some of the most prestigious government, semi-private, and private colleges and universities in Karachi, including Government College of Commerce and Economics, Sindh Muslim Law College, D. J. Sindh Government Science College, and St. Joseph's College for Women.
Why You Should Invest in Saddar, Karachi
Saddar Town, the center of the city's economy, is a highly coveted location for investors in Karachi. There are many well-developed apartment complexes if you want to buy a flat here. In Saddar, a 2-bed apartment typically costs between PKR 25 lakh and PKR 1.6 crore, whereas the cost of a 3-bedroom apartment ranges from PKR 30 lakh to PKR 1.9 crore.
Of course, the real estate project in question, infrastructure, amenities, specific location, and proximity to surrounding commercial areas all significantly impact these prices.
The surrounding areas of Saddar and Jodia Bazar are the most popular places to buy commercial properties if you're looking for shops in Saddar Karachi.
Saddar's distinctive features make it an excellent residential and commercial area. For more informative blogs, visit Graana Blog.