With rapid urbanization, space scarcity is becoming a rising concern. People have been moving to metropolitan areas in quest of better employment opportunities, lifestyle, and educational prospects. This puts a huge strain on urban cities to facilitate the rising number of people. People must make space compromises while balancing the myriad additional advantages of major cities. It is easy to become bored with small spaces, especially when you have more possessions that need to be fitted in. Small spaces can cause chaos when creating your perfect home, especially as more city residents choose micro-living. However, there are some innovative ways to make a small space look bigger that you can incorporate to increase the appeal of your home and make your life simpler. It is less expensive than moving altogether. 
Graana.com, the smartest property portal, brings you 15 ways to make a small space look bigger.
1. Natural Light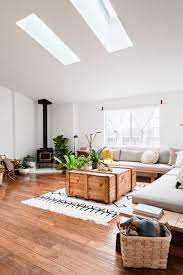 Allowing natural light into your space can make a small space look bigger. We tend to seal off any potential entry points for dust. We also wind up restricting the path of natural light in the process. A well-lit space appears larger, whereas a room with insufficient light appears smaller. Be aware of this and allow natural light to enter to make your space look brighter and spacious.
2. Lighter shades of paint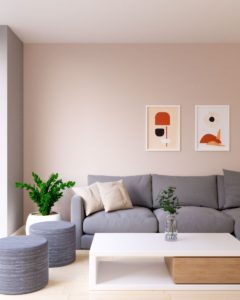 Dark colors have a pleasant appearance, but they also make the area appear smaller. By painting the walls in bright colors, homeowners can make a tiny living room or bedroom appear larger. Colors like red, orange, blue, and brown may not be appropriate for small spaces. Lighter-shaded textured walls are a good choice. It is one of the easiest ways to ways to make a small space look bigger.
3. Declutter
Declutter your space to make room for your important possessions. This may look like an obvious thing, but it can make a huge difference. After all, how many of us have accumulated 'essential' items that take up valuable floor space. Focus on keeping things tidy, organized, and minimalist. It will be a great catalyst in making a small space look bigger.
4. Multi-purpose furniture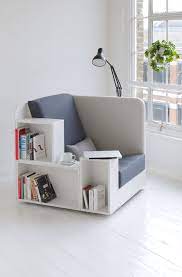 The more items of furniture a room must accommodate, the more congested and small it appears. As a result, keep furniture to a bare minimum. Also, rather than purchasing several small objects, invest in a single huge piece that will serve a lot of functions. Smart furniture is a great choice that can completely transform your interiors. Minimalism in architecture and design is the new thing and all for the right reasons. It not only makes a small space look bigger but also adds an aesthetic appeal to your space.
5. Placement of furniture
Furniture placement and positioning considerations can change your little living space into something spectacular and much bigger.  Be strategic about where you position the furniture.  To free up a space, tuck couches in corners and use less obtrusive lighter furniture.The right choice of furniture can play a great role in making a small space look bigger.
6. Use of Mirrors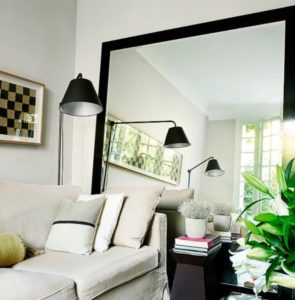 It may be the oldest trick to make a small space look bigger. Strategically placed mirrors can make any space appear larger than it is. Because mirrors can double your interior space and reflect light, they can give the illusion of more square footage. 
7. Wall-mounted shelves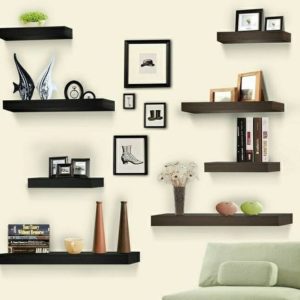 One of the smartest ways to make a small space look bigger is through mounting shelves, decor elements, or storage places on the walls. It is not always necessary for furniture to be placed on the ground. To save crucial floor space, wall mount floating wall shelves, cabinets, televisions, or TV consoles, depending on how solid your walls are. Hanging smaller items on wall-mounted rails might be useful for home offices because you'll have more desk space and your workspace will be less cluttered. 
8. Use of Wallpapers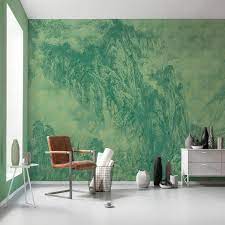 Bring the natural environment factor inside your space by using landscape wallpapers you find most relaxing and appealing. Textured wallpapers or layered graffiti paint produce the appearance of depth. Wallpapers can completely amp up the look of your interior. Spacious and close-to-nature home decor can have a positive influence on mental health. 
9. Add Strips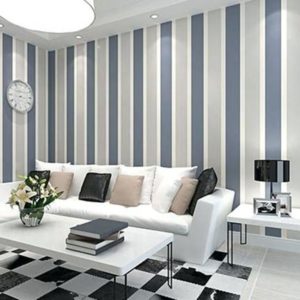 Striped patterned walls can provide the perception of more space and make it look bigger than it is. Vertical stripes lead the attention upward, while horizontal stripes make a room appear larger. Make sure the colors you choose complement the balance of the room's surfaces and upholstery.
10. Ceiling Design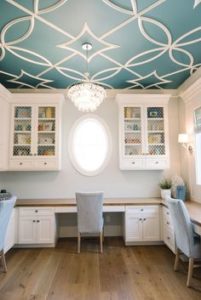 A high-gloss ceiling with a fancy plaster texture reflects the light and makes the area look bigger. Installing a strip of tiny molding around the entire space, about a foot down from the ceiling, can create an illusion of a much bigger space than it is. Paint the ceiling above the molding a different color than the rest of the wall below it. Lighter-colored ceiling designs should be used in such cases e.g white or cream ceilings in contrast with pastel-colored walls. 
11. Simple upholstery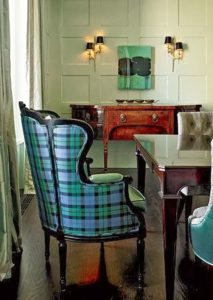 To make a small space look bigger, opt for plain, solid-color upholstery rather than items with busy designs. A narrow space will feel more open and less chaotic as a result of this. Plain upholstery also preserves the clean lines of furniture, giving a room a tidy and organized appearance.
12. Light Curtains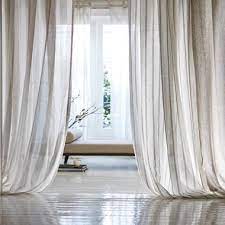 Use light curtains to give your space an airy and spacious look. Try to keep your curtains the same color as the walls. It eliminates contrast and gives the impression of more smooth and integrated space. Avoid heavy or dark curtains that are bulky and might make the area appear smaller because compact rooms require as much natural light as possible. Use light window treatments like slatted or roller blinds that can be raised or sheer curtain fabrics instead.
13. Wall Paneling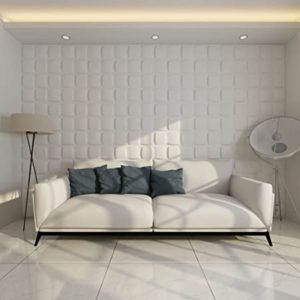 Paneling is a simple method to give your walls texture and depth. Great for all sorts of houses, especially new constructions, because it adds individuality and intrigue even when architectural characteristics are minor. When utilized vertically, this method is perfect for small rooms since it makes the walls appear taller.
14. Scale and Proportion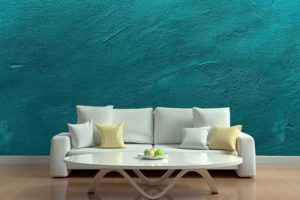 Scale your furniture to meet the size of the space to maximize your room arrangement and make a small space look bigger. There's nothing more unappealing than out-of-scale furniture. Consider a large piece of furniture that takes up the entire space or a rack that keeps slamming your legs as you walk around it. Choose furniture and decor that is proportional to the size of your room. Otherwise, going out of scale might make even a larger place appear small.
15. Large Artwork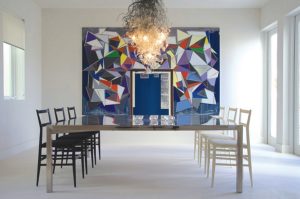 Your walls, like your floor area, require decluttering. Don't put everything on a busy gallery wall, whether it's artwork or family photos. Instead, focus attention on one large, main painting or frame on the wall. This will be far more effective than a jumbled collection of tiny artworks.
Keeping in mind the aforementioned ways to make a small space look bigger, you can completely revamp your home and decorate your house on a budget.