The importance of windows can not be denied in a house. They allow cross-ventilation, let natural light come in, and make the house more energy-efficient. While constructing their house people need to carefully consider the type, placement, and size of windows they are going to install.
Windows not only serve the purpose of functionality but also enhance the aesthetic appeal of the structure.
Graana.com, Pakistan's smartest property portal has come up with a list of different materials that are used to make windows in contemporary houses in Pakistan, which you can consider according to the unique needs of your house.
Popular Types of Windows in Pakistan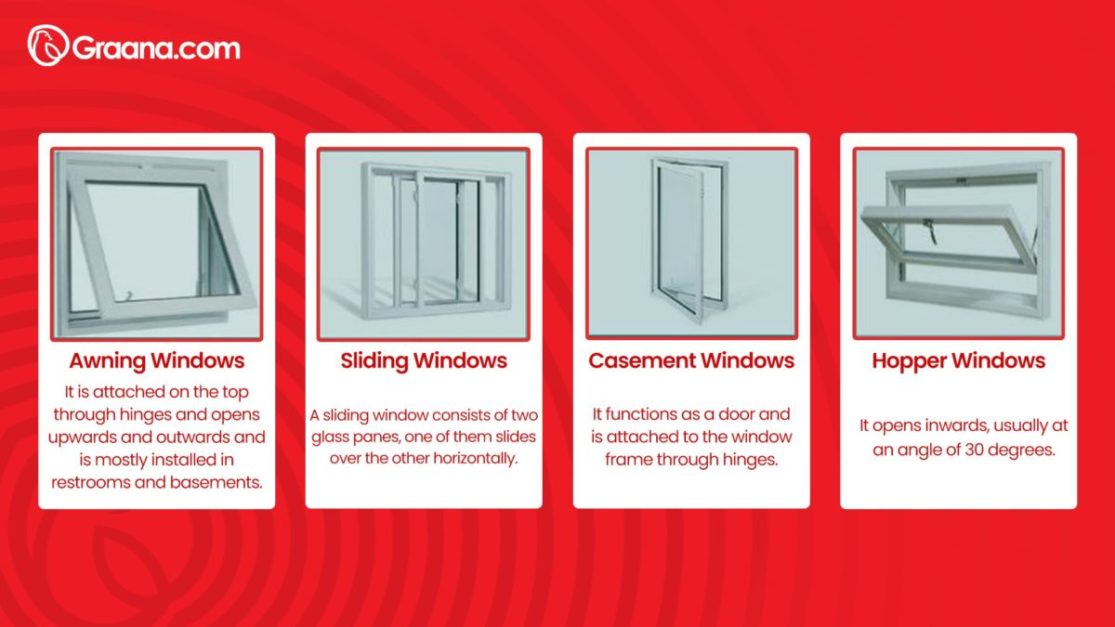 Rates of Commonly Used Materials for Windows
| | |
| --- | --- |
| Material | Rates/sq ft |
| Aluminium Windows Price in Pakistan | Rs 2000 – 2500 sq ft |
| Wooden Window Price in Pakistan | Rs 1500 – 2500 sq ft |
| UPVC Window Price in Pakistan | Rs 1500 – 2000 sq ft |
Sliding Windows
Sliding windows are one of the least expensive and widely used window styles in Pakistan. This type of window consists of two glass panes, one is fixed while the other can slide through the frame.
When you want to let the fresh air come in, simply slide the window open. You will find a few different varieties in terms of design in sliding windows from which one can choose.
The two different varieties of sliding windows have been listed below.
Two-Panel Sliding Window– it comes with two glass panels, one is fixed while the other slides over it.
Three-Panel Sliding Windows – It has three glass panels with the middle one usually fixed while the two on each side slide over it.
The width of a three-panel window is always more than that of its height, making it ideal for areas where the window opening is wider.
Pros
Sliding windows are really easy to operate as you can simply slide them to open and close.
Less material is required to make sliding windows, which makes them low maintenance in comparison to traditional windows.
Sliding windows are more durable as they do not have materials that can wear down over time.
Another advantage of sliding windows is that they provide an unobstructed view of the outside and let plenty of sunlight in.
Cons
To clean the outside of the glass panels, you will have to remove them, unlike other window styles that can be cleaned easily.
All the sashes of sliding windows can not be opened, as one is always fixed.
Sometimes, water can get stuck inside the sill of these windows after rain, especially if the drainage holes get clogged. It can cause problems such as erosion of the frame
Casement Windows
If you are the kind of person that loves traditional style decor inside your home, casement windows will be the perfect option for you. In Pakistan, this style of windows is really common, particularly in old houses.
A casement window is attached to the side of the frame with two or more hinges and opens either inwards or outwards. The other name for casement windows is crank windows.
Pros
As the windows open at an angle of 90-degree, it is easier to clean the inside and outside of the window and frames.
The seal of casement windows is much tighter than various other types which makes them one of the top energy-efficient options.
Cons
There is a chance that you might walk into an open casement window.
Awning Windows
Awning windows are hinged on the top and open outward from the bottom, allowing for ventilation and protection from the rain. They are often placed higher on walls for privacy, or in combination with large stationary windows for a better view.
Pros
These windows provide better ventilation because of the placement, size, and design.
Another advantage of using a traditional awning window is that they are cost-effective.
They provide excellent insulation which in turn helps save energy. You can save up on your electricity bills if you have installed these windows.
The security they provide to the house is much greater than sliding windows.
Cons
If you have younger kids in the house, they might walk into an open awning window.
Hopper Windows
In case you live in a tiny place and can't install big windows, hopper windows are the answer to all your window requirements. These windows are usually found in basements and tiny places.
It is similar to awning windows, with the only difference being that they open inside at 30 degrees angles.
Pros
It takes up much less space as compared to sliding and casement windows, and comes in handy in providing ventilation.
It is energy-efficient as it is airtight when closed, and provides the best insulation.
In case of emergencies, it can prove to be a safe exit.
Cons
If they are not installed properly, they can cause you a lot of hassle. It can allow water to come inside the structure in case of rainfall.
Materials Used for Various Types of Windows
Among all the materials that are used to make windows, these three are the most popular ones in Pakistan.
Aluminium
UPVC (Unplasticized Polyvinyl Chloride)
Wood
Aluminium
Due to its lightweight sturdiness, aluminium is widely used for the production of windows and frames. If you are looking for better and more economical options than wooden windows, and you prefer more windows in your home then you should opt for aluminium.
Moreover, being a light material, it can be moulded into any shape. Aluminium windows price in Pakistan is much less than that of wooden windows.
UPVC (Unplasticized Polyvinyl Chloride)
In the past, people only used metals for window frames. However, now we can witness a shift in the paradigm as people are opting for other materials such as UPVC.
The reasons behind its increasing popularity are that it does not decay or get infected, and is environment friendly.
Wood
Wood has always been a favourite material of Pakistanis when it comes to windows. The reason is that it is strong, durable, and easy to craft.
Moreover, they are aesthetically appealing, also you can paint them in any desired colour. However, wooden windows can be quite costly. Get to know curtains and blinds.
Hopefully, the information given above was helpful for you in case you want to install windows to your place and are looking into different options, for more information, visit Graana blog.
Read more: